Landscape and Garden Design
The objective of the Landscape and Garden Design Certificate program is to prepare students to apply basic design principles and techniques in creating beautiful, environmentally responsible landscapes. Utilizing graphic skills and plant knowledge, students will work through the design process to develop a presentation plan.
For more details about our programs, or to receive personalized class recommendations from our helpful staff, please feel free to contact us at edu@phipps.conservatory.org.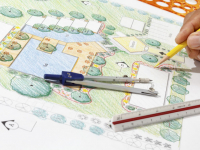 Landscape Construction | Joshua Beblo and Bob Vukich
Mondays: June 1, 8, 15 and 22 | 6:30 – 8:30 p.m.
$88 members | $98 nonmembers
Offered as a live webinar through Zoom
Objective: To be able to use techniques for building simple and well-designed constructed walls, walks and patios
Level: Intermediate
Prerequisite: None
Discover the fundamental construction techniques for building features that will withstand the forces of nature, such as yearly freeze and thaw cycles. Learn how to detail, specify for and construct simple walls, paving systems and steps, and discuss garden structures and drainage. Landscape and Garden Design Certificate core course; Sustainable Horticulture Certificate elective
Landscape Design IV | Michele Frey McCann
Thursdays: July 23 and 30, Aug. 6, 13, 20 and 27 | 7 – 9:30 p.m.
$295 members | $325 nonmembers
Phipps Garden Center in Mellon Park
Objective: To be able to create a landscape design incorporating skills and processes learned in the Landscape and Garden Design Certificate program and related elective courses
Level: Advanced
Prerequisites: Landscape Graphics and Landscape Design I – III
Develop a final landscape design and planting plan in this project-based course. The Landscape and Garden Design Certificate culminates with this course. Class size is limited. Landscape and Garden Design Certificate core course
Goodbye Grass with George Weigel
Thurs., Aug. 27 | 6:30 – 9 p.m.
Individuals: $25 members | $35 nonmembers
Couples: $35 members | $40 nonmembers
Phipps Garden Center in Mellon Park
Tired of reseeding, fertilizing, weed-killing, watering and constantly mowing your big "low-maintenance" lawn? Explore ways to downsize your lawn, such as groundcovers, low-care mixed gardens and other alternatives to grass. George will name some of the best plants for replacing lawns, both ones that can tolerate some foot traffic as well as ornamentals, including many native and deer-resistant varieties. Light refreshments will be served from 6:30 – 7 p.m. with the opportunity to meet the speaker. Books will be available for sale. The presentation begins at 7 p.m. Sustainable Horticulture, Landscape and Garden Design, and Native Plant Landscapes elective
George Weigel has written five gardening books, including Pennsylvania Getting Started Garden Guide and Pennsylvania Month-by-Month Gardening. George writes a garden column for The Harrisburg Patriot-News and other online gardening posts for pennlive.com and his own website. He is a retired Pennsylvania Certified Horticulturist, has written for several magazines, including Horticulture, Central PA Magazine and Pennsylvania Gardener, and for 18 years created commissioned drawings and consults for home gardeners. George's books will be available for purchase after his talk.