Explore our SciTALK Series for grades 9 – 12. This program introduces teens to the possibilities of a science-focused career through meetings with scientists in different fields each week. To learn even more, please call 412/441-4442, ext. 3925.
Learn more about the guest scientists who will be joining our SciTALK Series in our new blog post here.
Wednesdays, Jan. 13, 20 and 27 | 4 – 5 p.m.
GRADES 9 – 12
$45 MEMBERS | $65 NONMEMBERS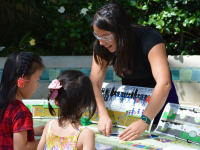 SciTALK Series
There are so many possibilities in the world of science! Each week in this series, teens will meet two scientists from different fields to talk about research, career paths, schools and what life is like as a scientist.