Science Sleuths: Summer Camps
Please note that if your child must entirely miss a course listed below due to concern of illness or to comply with a health advisory, you will receive a full refund; contact us at 412-441-4442, ext. 3925 with any questions.
This full-day program immerses campers in the world of Phipps for a week of scientific discovery. To learn more, please call 412/441-4442, ext. 3925.
AGES 9 – 13
8:30 a.m. – 4 p.m.
$345 MEMBERS | $360 NONMEMBERS
Interested in a class that's already sold out? Email us to be placed on our waiting list.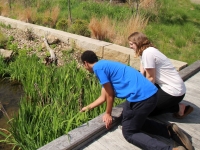 Conservation Crew
July 27 – 31
Dive into conservation science and use the scientific method to think critically. Then, conduct hands-on research and service projects and connect with scientists.
Photos © Brian Cohen and Paul g. Wiegman