Let's Move Pittsburgh High School Cooking
Put your cooking skills to the test and gain new knowledge in our cooking class for junior and senior high schoolers! To learn even more, please call 412/441-4442, ext. 3925.
AGES 13 – 17
March 12 | 5 – 6 P.M.
$40 members | $45 nonmembers per session
Interested in a class that's already sold out? Email us to be placed on our waiting list.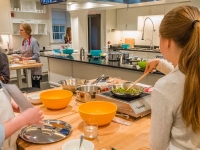 Indian Cuisine
Learn about cooking science and the history and culture of Indian food as you work in teams to prepare delicious Indian dishes from scratch!

Made Possible with Support from



Presented by



Select photos © Paul g Wiegman