Little Sprouts: Winter Programs
Attend a one-hour camp on plants, bugs and more with a curious preschooler in your life. Each session includes stories, songs, interactive lessons and a healthy snack. Adult accompaniment is required for each of these programs. To learn more, please call 412/441-4442, ext. 3925.
AGES 2 – 4
MONDAYS, 9:30 – 10:30 A.M. OR 11 A.M. – NOON
Single Class: $15 MEMBERS | $20 NONMEMBERS PER SESSION
Full Series: $85 MEMBERS | $120 NONMEMBERS PER PERSON
Center for Sustainable Landscapes Classroom
Interested in a class that's already sold out? Email us to be placed on our waiting list.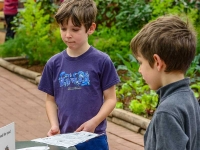 Little Sprouts Winter Camps Full Series
Purchase the full series of Little Sprouts Winter Camps to experience all the fun!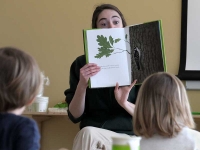 Winter Water
Mon., Jan. 20
Learn about ice and snow — from a glass of water that keeps us healthy to snow banks that melt into our streams. Try experimenting with ice, too!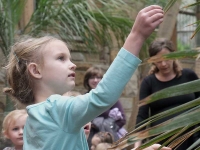 Wintering Hives
Mon., Jan. 27
Learn about what bugs and insects do in the winter when it is cold outside and their important roles in our ecosystem.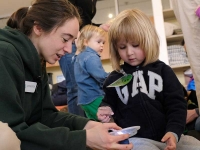 Shapes of Winter
Mon., Feb. 3
Winter is full of nature's geometry. Learn about all of the different shapes we see in nature — from circles to fractals!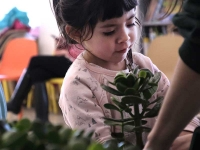 Digging Wintery Dirt
Mon., Feb. 10
Soil is full of dark leaves, smooth clay and even a few colorful rocks. Learn about the beautiful colors of winter soil.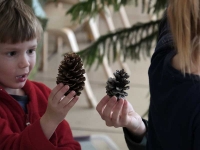 Sleepy Winter Forest
Mon., Feb. 17
Learn about the changes in an icy forest and dissect plants and twigs!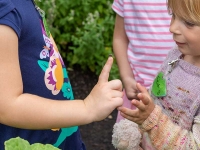 Wake Up, Pond!
Mon., Feb. 24
Many creatures make their homes in water. Discover how aquatic plants and animals adapt to the chills of winter and prepare for the rush of spring.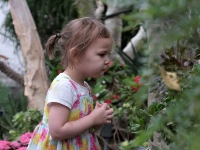 Bud Burst
Mon., March 2
Spring is just around the corner. Explore the outdoors by taking a closer look at the buds and blooms that will soon share our world.
Photos © Cory Doman, Paul g. Wiegman and Phipps staff