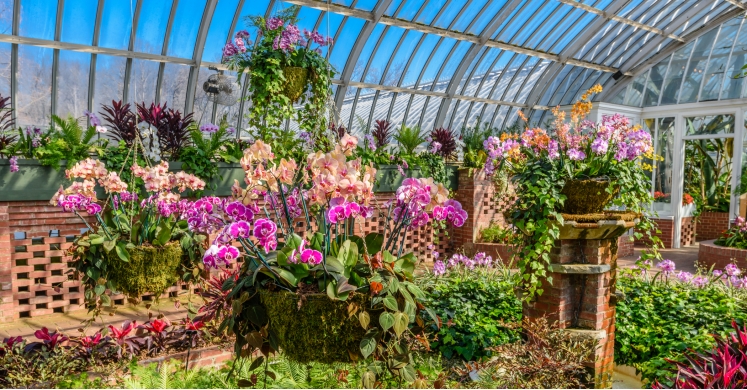 This Week at Phipps: Jan. 9 – 15
There's always something new to see and do at Phipps! This weekly blog post provides a run-down of the latest happenings so you can plan your visit. Events listed below require no advance registration unless noted otherwise.
Open Daily:
Orchid and Tropical Bonsai Show | Opens Sat., Jan. 14
Escape to tropical paradise with the spectacular sight of vibrant and gorgeously varied orchids, and see unique intricately cultivated selections from our permanent collection of tropical bonsai.
Garden Railroad: 200 Years of Pittsburgh
For Pittsburgh's bicentennial, ten miniature railroad snapshots of different time periods in city history are brought to life with interactive stations that adults and children will delight in. Visitors can turn a hand crank to elevate the Duquesne Incline or push a button to send Three Rivers Stadium into raucous applause and illumination as the Buccos play ball.
Tropical Forest Congo
Explore some of Africa's lushest landscapes and see botanical specimens never before showcased at Phipps.
Mon., Jan. 9:
Make-a-Craft Mondays | 10:30 a.m. – noon
Create your very own Phipps masterpiece! Every Monday, children are invited to engage in nature-inspired arts-and-crafts projects using recyclable materials.
Wed., Jan. 11:
Story Time Wednesdays | 10:30 a.m. and 1 p.m.
Kids will love listening to our storytellers weave tales about gardens, fruits, vegetables, animals and other fun topics.
Fri., Jan. 13:
Pot-a-Plant Fridays | 10:30 a.m. – noon


Every Friday, children are introduced to the important connections between people, plants and the planet by potting their own fun plants to take home.

Café Phipps Pop-Up Prix Fixe | Seatings available from 6 – 7 p.m. | R.S.V.P. required
Friday evenings, we're reinventing date night as our award-winning Café Phipps transforms into a gourmet restaurant. A delicious four-course meal provides the perfect prelude to a romantic stroll through the moonlit conservatory.
Friday Nights of Winter Lights | 5 – 10 p.m.
Take one more walk through the dazzling light displays in our Outdoor and Children's Discovery Gardens while our indoor spaces showcase orchids, bonsai, and garden railroad displays.

Have dinner at

Café Phipps

through 7 p.m.!

Enjoy the Conservatory by twilight; we're open until 10 p.m.!
Sat., Jan. 14:
Sun., Jan. 15:
Bonsai | 1:30 p.m.
Receive expert advice on training bonsai.
Photos © Paul g. Wiegman