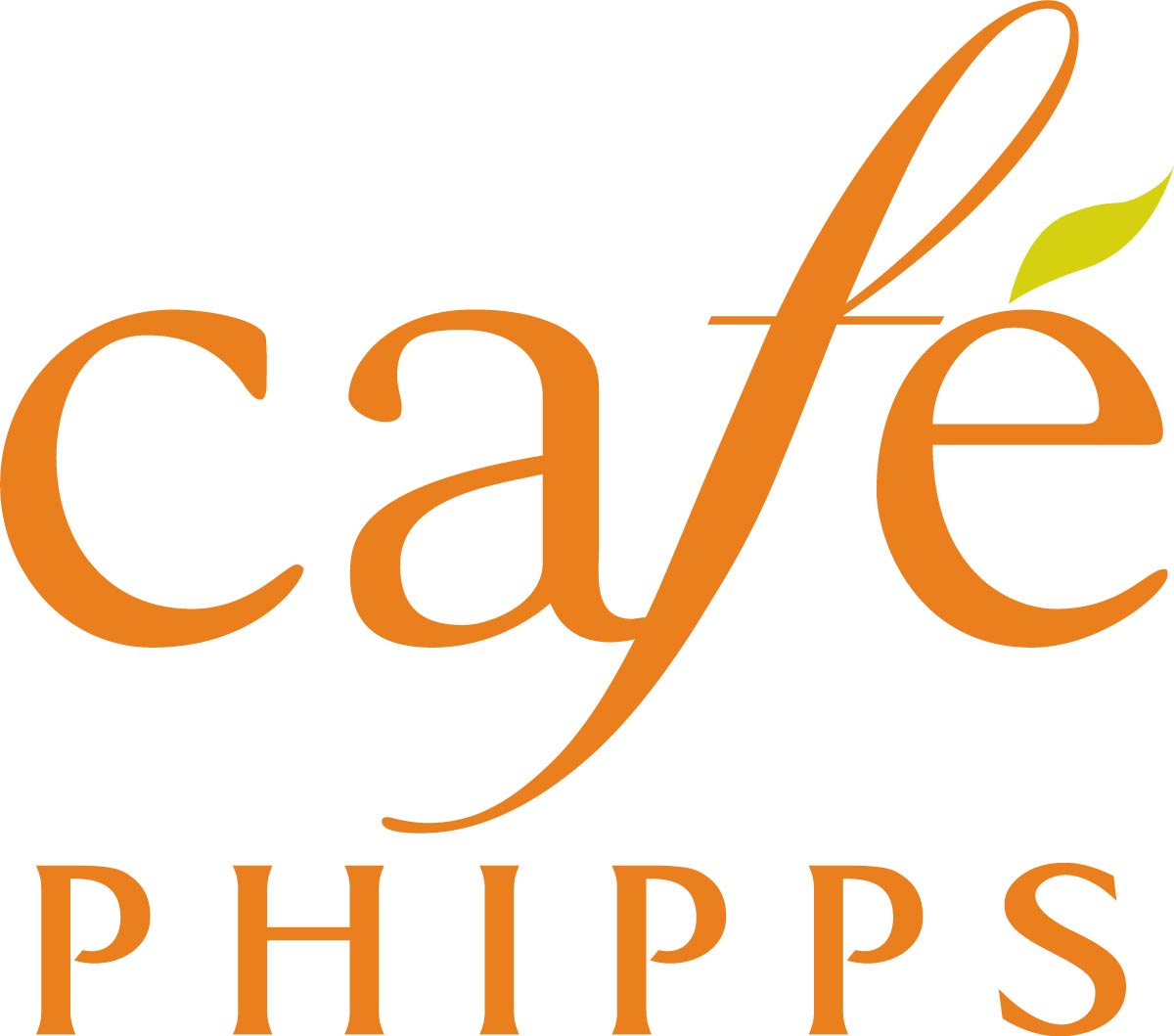 Café Phipps offers a variety of dishes that awaken the senses with colorful presentations, complex aromas and fresh flavors. Dine in or grab a snack to go, and walk away feeling refreshed.
Featured by



as one of the
Best Museum Restaurants in the U.S.
Regular Hours
MONDAY – THURSDAY
Full Menu: 11 a.m. – 2 p.m.
Grab-and-Go Menu: 10 – 11 a.m., 2 – 4 p.m.
FRIDAY
Full Menu: 11 a.m. – 7 p.m.
Grab-and-Go Menu: 10 – 11 a.m., 7 – 8 p.m.
SATURDAY – SUNDAY
Full Menu: 11 a.m. – 2 p.m.
Grab-and-Go Menu: 10 – 11 a.m., 2 – 4 p.m.
Phipps is closed on Thanksgiving Day. For the Christmas holiday, Phipps closes at 5 p.m. on Dec. 24 and reopens at 9:30 a.m. on Dec. 26.
Current Menu
VG Vegetarian V Vegan GF Gluten Free DF Dairy Free

Grab-and-Go Salads
Grilled Corn Salad V DF GF – Phipps salad greens, roasted sweet corn, radishes, red onions and caramelized carrot vinaigrette
Summer Harvest Salad VG GF – Phipps salad greens, broccolli, tomatoes, cucumber, feta and toasted sunflower dressing
Garden Salad V – Phipps salad greens, tomato, cucumber, red onion and basil vinaigrette
Add-On: Choice of Protein GF DF – Grilled, herb-marinated organic chicken breast, grilled tofu or roasted salmon can be added to a salad

Sandwiches
All sandwiches are served with fresh fruit and coleslaw
Rachel Panini – Herb-roasted turkey, house-made pickles, Swiss cheese and thousand island dressing with house made slaw on marble rye
Beet Steak Sandwich V – Roasted Beets, Cashew Cheese Sauce, Peppers, and Onions, Hoagie roll.
Hawaiian Pulled Pork Sandwich DF – Pineapple miso roasted pork topped with grilled pineapple and kimchee on a sandwich bun

Phipps Features
Cuban Style Chickpea Stew V GF – Chickpeas, butternut squash, sweet potatoes and Cuban spices served over rice with a side salad
Summer Tomato Bruschetta V – Heirloom tomatoes, roasted garlic, fresh herbs, balsamic and Parmesan cheese on Tuscan bread served with a cup of soup
Hummus Sampler V DF – Roasted beet hummus, carrot hummus and garlic hummus served with crudite and focaccia crisp
Focaccia Pizza Bread VG – Topped with vegetable Bolognese and mozzarella cheese
Wild Mushroom Pizza – Topped with roasted wild mushrooms, vegetable Bolognese and mozzarella cheese

Kids' Menu
Meals served with carrot sticks, green salad and milk
Almond Butter and Berry Sandwich V – Organic berries and almond butter on whole wheat bread
Gluten Free Pasta GF V – Served with a vegetable Bolognese
½ Focaccia Pizza Bread VG

Grab-and-Go Snacks
Yogurt Parfait GF
Fresh Fruit Salad V GF

Beverages
Fresh Brewed Organic Iced Tea
Coffee (Regular/Decaf)
Beer and Wine Selections
About Café Phipps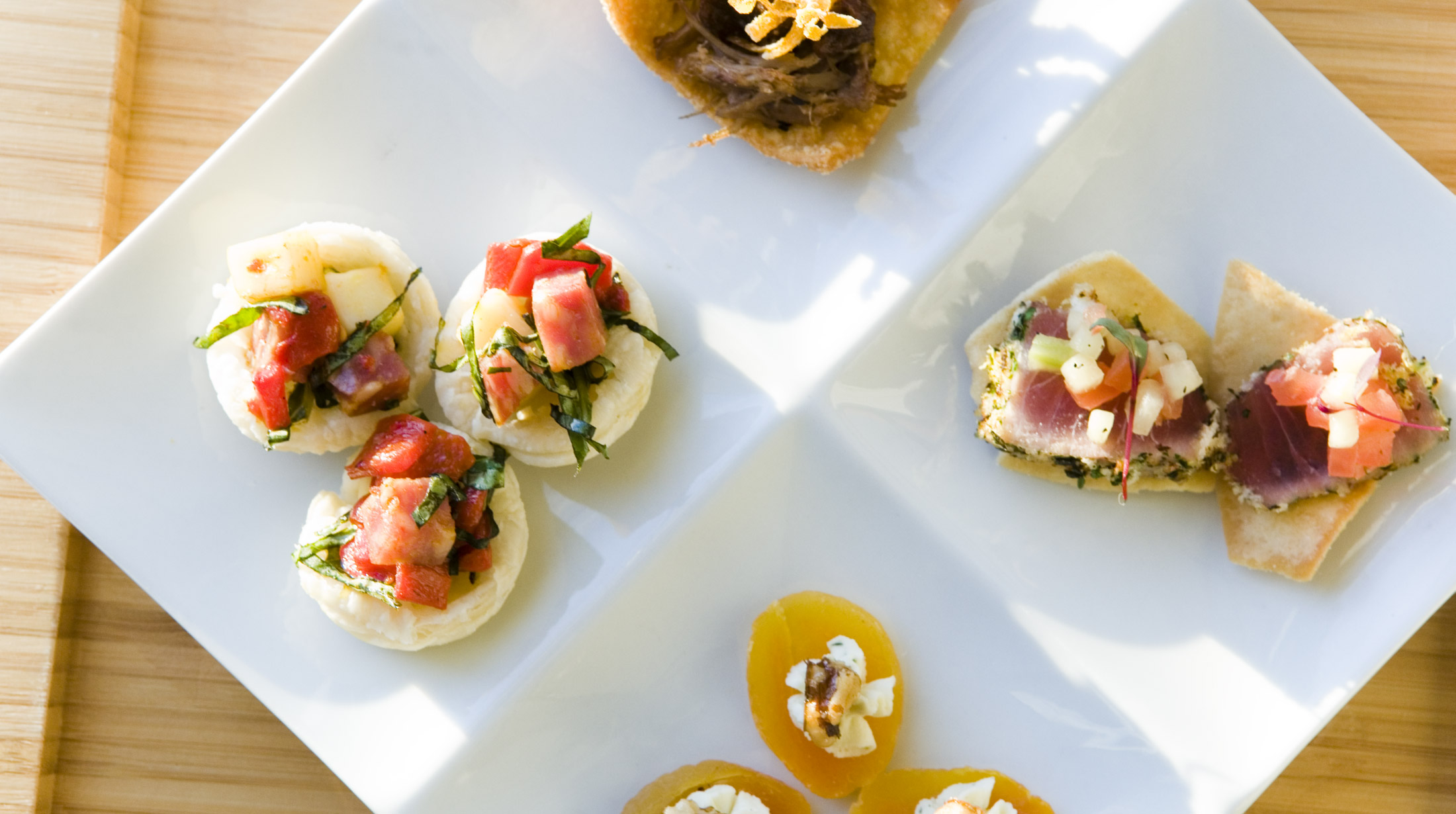 A Healthy Planet, a Healthy You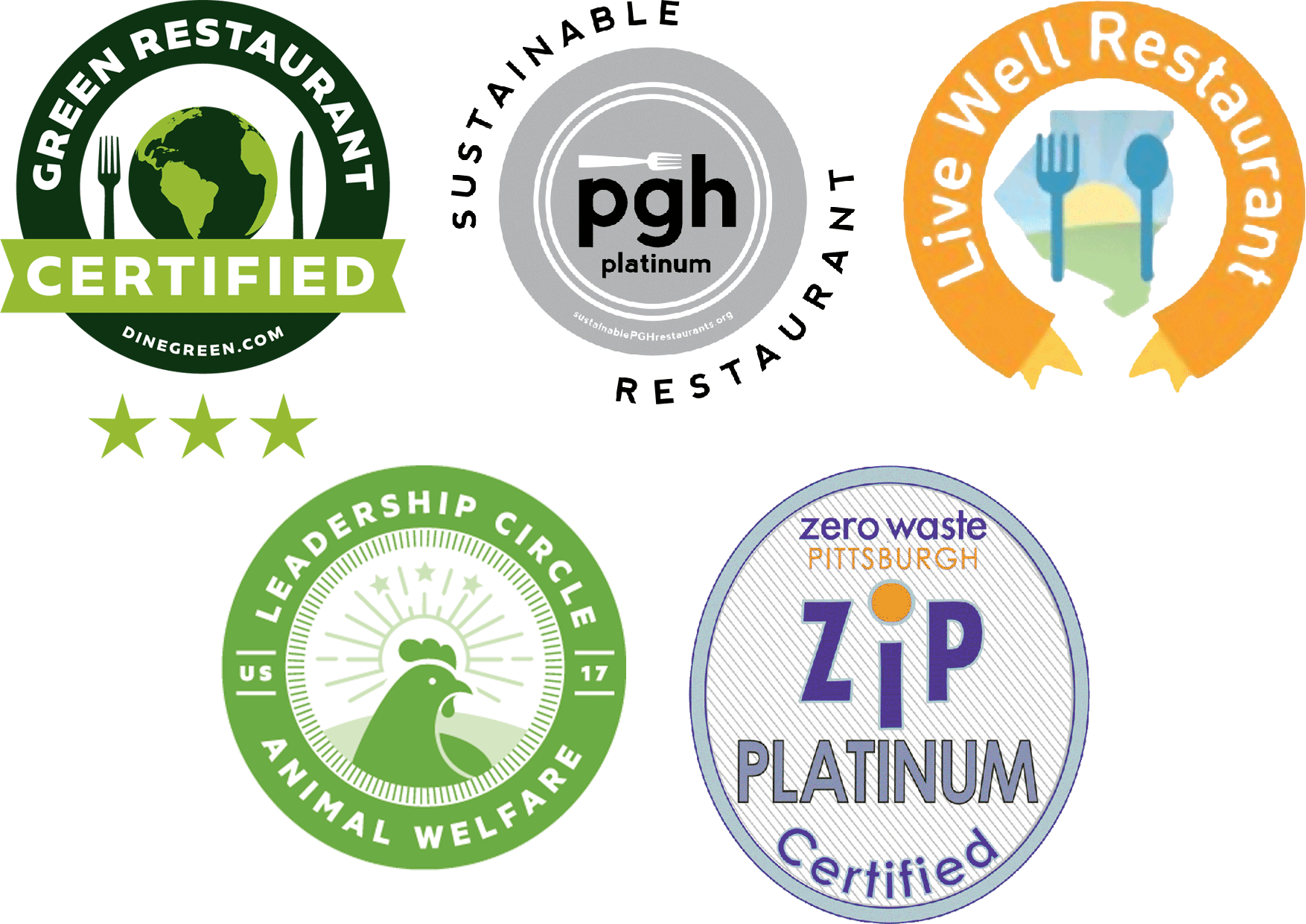 Nestled inside our LEED® Certified Welcome Center, Café Phipps is proud to be a 3-star Green Restaurant Certified® eating establishment, a Platinum designated Sustainable Pittsburgh Restaurant, a Farm Forward Leadership Circle Member, a Live Well Allegheny Restaurant and a Hobart Center for Foodservice Sustainability award winner with the following sustainable features:

•    Organic, local and sustainable foods 
•    Vegan, vegetarian and Meatless Monday options
•    Real serviceware and china as alternatives to disposables 
•    100% compostable cups and paper products
•    no soda or junk food
•    96% of food and material waste is recycled or composted
•    Cleaning products are biodegradable and GreenSeal™ certified
•    Low and no VOC interior sealants, paints and materials 
•    Filtered rather than bottled water eliminates demand for plastic

A Fresh Approach
Going hand in hand with environmental stewardship is our commitment to offering the cleanest, freshest food available, with a focus on organic and/or local produce. During the harvest season, many vegetables and herbs even come straight from our organically managed green rooftop Edible Garden. Meat, dairy and eggs used in our dishes are also locally sourced as frequently as possible.
Safeguarding the health of our young visitors, our children's menu features whole grains, organic fruits and vegetables, and ingredients that are minimally processed, low fat and low salt with no added sugar*. We have also eliminated beverages with high sugar content, including soda.  
* A small amount of unrefined sugar is used in desserts and other special occasion treats.
 
Try a Phipps Splash™
Our signature Phipps Splash™, a delicious fruit beverage now available in a variety of flavors, is a healthy alternative to soda that the whole family will love. Try one on your next visit!
Mission Statement
Delicious food that is good for you and the planet
Mission Statement
The mission of Café Phipps is to provide our visitors with fresh, healthy meals featuring local, organic, sustainably produced  and seasonal ingredients whenever possible; to create an enjoyable green dining experience for visitors of all ages; and to highlight the important connections between people, plants and the planet.
Healthy Eating Plate Model
At Café Phipps, we use the Healthy Eating Plate model created by the Harvard T.H. Chan School of Public Health as a guide in creating healthy and delicious meals — which emphasizes vegetables, fruits and whole grains —  as our guide in creating healthy and delicious meals. The primary oil we use is olive, and our menu ingredients are minimally processed and low in fat with no or little added sugar. We use no artificial ingredients, trans-fats or high fructose corn syrup.
Children's Menu
Children are more sensitive to residual pesticides than adults, so our children's menu always features organic fruits and vegetables. Other ingredients used are minimally processed, low fat and low salt with no/low added sugar. Whole grains and/or mostly whole grain breads and pastas are featured, and gluten-free options are available.  
Fruits and Vegetables
Whenever possible, we use organically grown produce from local farms or our own seasonal edible garden.  Fruits and vegetables known as the "Dirty Dozen" — types of produce that retain the highest levels of residual pesticides — are always organic at Phipps, along with all fruits and vegetables on the children's menu. The majority of our organic foods are produced in the U.S. and Canada, and many come from farms within 150 miles of our café.
Veg Default
We offer plant-based meals by default for over 90% of our menu options and give our diners the choice to add tofu, salmon or chicken if desired. 
Meat
We are beginning to see a resurgence of loyalty to small family farms as more consumers seek sustainable and humane alternatives to products from large-scale industrialized operations. In response to this demand, we have found some suppliers who are starting to meet our minimum requirements for animal husbandry, which include access to adequate food and water, vegetarian diets with no hormones or antibiotics, freedom from stress, and adequate space to exhibit normal behaviors. Alternately, tofu can replace meat in most of our dishes.
Dairy
We offer local milk from Schneider's Dairy, a farm which has pledged not to use rBST or any other hormones. Additionally, we do not sell artificially sweetened or flavored milk products for children, or commercially prepared fruit yogurts which can be high in sugar. Instead, we offer plain organic yogurt with fresh fruit prepared on site. We also use local and regional cheeses as they are available.
Eggs
All eggs we use are produced regionally from 100-percent vegetarian-fed chickens raised in a cage-free environment.
Fish and Seafood
Café Phipps strives to source the highest-quality sustainably caught or raised seafood. We use the Monterey Bay Aquarium Seafood Watch as our guide in selecting choices for our menu.
Vegetarian and Vegan Options
We offer a variety of vegetarian and vegan salads, sandwiches and soups on our daily menu. Eating meat and dairy-free at least one day a week helps reduce our carbon footprint and can be healthier for us, too. We also invite our guests to support the Meatless Monday campaign by offering an extra vegetarian selection at the start of each week.
House-made Meals
To ensure guests have access to the freshest foods with minimal added preservatives like nitrates and salt, many of our offerings are made in-house. Three varieties of soup are crafted from scratch every day, with at least one vegan and vegetarian option. Sandwich meats, like beef and turkey, are roasted in our kitchen. We do not sell highly processed meat products like hot dogs and chicken tenders, and very little of our food is fried. We also prepare a variety of fresh salads every day that are served with house-made dressings free of refined sugar. 
Snacks
At Café Phipps, we place an emphasis on healthy snacks, like fresh fruit and vegetables paired with house-made hummus. We do not sell highly processed junk food.
Soda versus Phipps Splash™
In 2011 we stopped selling soda, or any other fountain and bottled drinks and juices that contain high levels of sugar or artificial sweeteners. According to the Harvard School of Public Health, just 12 ounces of cola contains about 10 teaspoons of sugar — an amount equal to 150 calories. With our commitment to promoting healthy living, and curbing the epidemic of childhood obesity, we instead offer Phipps Splashes™ in both adult and child-appropriate sizes. These healthier refreshments, which are crafted on site, have less than 40 calories and consist of sparkling water flavored with freshly squeezed juice from varieties of fruits. Green drinks, made with whole vegetables and fruits, are also made to order.
Coffee and Tea
Café Phipps offers organic and fair trade coffee from La Prima Espresso Co., which ensures that farmers receive an appropriate wage for their products. Our tea options are all organic.
Water
In 2009 we eliminated bottled water from our entire facility. Phipps provides drinking water that has been filtered on site. We also offer reusable water bottles for purchase.
Serviceware
Since 2006 all our china and silverware has been washable and reusable, which eliminates the energy, material and water resources necessary to produce and haul disposable serviceware. Our cups are made from compostable, vegetable-based starches, and our napkins are made of 100-percent unbleached recycled paper.
Takeout
We provide compostable containers and serviceware for takeout orders.
Compost
We compost all pre- and post-consumer organic waste from our café and more than 90 percent of the products used in our café are compostable.
Certification and Recognition
Nestled inside our LEED® Certified Welcome Center, Café Phipps was recognized in Food & Wine Magazine as a Best Museum Restaurant in the U.S, in 2014 and 2019. Our café is proud to be a 3-star Green Restaurant Certified® eating establishment, a Platinum designated Sustainable Pittsburgh Restaurant, a Farm Forward Leadership Circle Member, a Live Well Allegheny Restaurant, Zero Waste Pittsburgh Platinum certified and a Hobart Center for Foodservice Sustainability award winner.
 
Photos © Adam Milliron