Help us continue to thrive and grow.
Planting a garden is a symbol of hope that the future will be bright and beautiful, and it is our honor to plant the gardens of Phipps, which the people of Pittsburgh have shared and enjoyed together for over 125 years. This work wouldn't be possible without support from our members, donors and partners. If you're inspired, please show your support today!

To pay by check: Make your donation payable to Phipps Conservatory and Botanical Gardens and send to One Schenley Park, Pittsburgh, PA 15213-3830.
CARES Act Provisions
Signed into law on March 27, 2020, the CARES (Coronavirus Aid, Relief, and Economic Security) Act makes the following tax-saving provisions:
If you'll be taking the standard tax-deduction on your 2020 return, you may claim a new "above-the-line" deduction of up to $300 for cash donations to nonprofits like Phipps. In this way, you'll also gain the ability to decrease your adjusted gross income (AGI), meaning that you may qualify for other tax advantages.
If you'll be itemizing your tax-deductions for 2020, you may now deduct 100% of your charitable contributions from your AGI. This had generally been capped at 60%. If you're a business owner, the 10% limit has been increased to 25%. This measure applies to cash gifts to public charities like Phipps.
This has been provided for informational purposes only. Please consult your tax professional for advice on how to proceed on these and other tax provisions.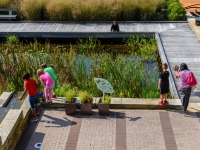 The Phipps Fund
Help keep us growing as a place of inspiration and innovation by contributing to our annual appeal. Gifts to The Phipps Fund provide vital support for our horticulture, research, education, and sustainability programs. Your support makes everything we do possible, and it allows us to imagine and plan for an ever brighter future.
The Phipps Monthly Giving program allows you to help support Phipps exhibits and programs in convenient, ongoing installments.
Pay tribute to a loved one while providing important funds to fuel the great expectations we all share for Conservatory programs.
Questions? Contact 412/441-4442 ext. 3701.
A Four-Star Charity
Phipps Conservatory and Botanical Gardens is a proud recipient of Charity Navigator's coveted Four Star rating for financial accountability and transparency for five consecutive years.
Phipps' code for the nation's federal employees workplace campaign is 45701. Phipps' United Way of Allegheny County code is 903797.
Photos © Paul g. Wiegman