For the past 120 years, Phipps Conservatory and Botanical Gardens has excelled in showcasing beauty. Today, this history of excellence serves as a platform to demonstrate that people, plants, health, planet and beauty are inextricably interconnected, and that sustainable action – from the construction of the world's greenest building to the planting of a raised-bed vegetable garden in a backyard – is the key to ensuring that these critical interconnections are harmonious, mutually beneficial, healthy and preserved for future generations.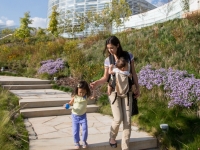 Green Healthy Spaces
Download the Green Healthy Spaces PDF for a summary of our sustainable efforts at Phipps.
Photos © Lofty Views, Paul g. Wiegman, George Meindl