Virtual Peek Behind the Petals
Sat., Sept. 25 | 9:45 – 10:30 a.m.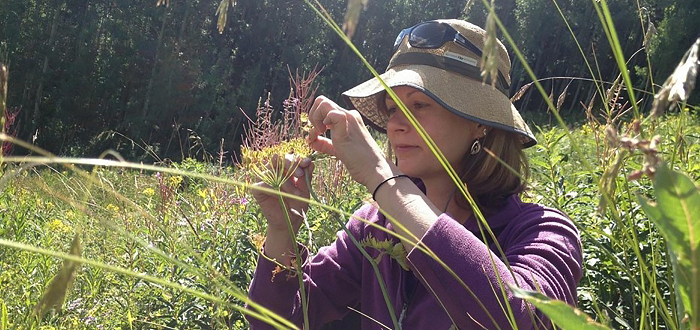 Out of an abundance of caution, September's Peek Behind the Petals event will now only be held virtually. Attendees will receive a Zoom link to attend the week before the event.
Join us from the comfort of your home as the Botany in Action fellows discuss their exciting international scientific research!
On Sat., Sept. 25, join us for a member-exclusive presentation of Peek Behind the Petals, where our Botany in Action fellows will share their research spanning a wide range of topics — from analyzing wetlands' ability to remove nitrogen from the watershed to exploring proper forest management and more. Current researchers and research subjects include:
Samantha Bosco, Skaru:rę Food Forest Project | Samantha's project reexamines the roles and possibilities for sustainable agriculture research programs to dismantle settler-colonial notions of land and agriculture.
Veronica (Vero) Iriart, Will Herbicide Pollution Cost Plants Their Mutualisms with Pollinators and Soil Bacteria? | Vero uses a combination of greenhouse and field studies to confront the challenge of predicting evolutionary outcomes of herbicide pollution on the plant-pollinator and plant-bacteria mutualism, which together produce one-third of all food outputs and improve soil quality worldwide.
Sarah Klionsky, Influence of Plant Community Traits and Microtopography on Nitrogen Removal in Restored Wetlands on Former Cranberry Bogs | Sarah studies restored wetlands on retired cranberry farms in southern New England to examine the wetlands' ability to remove nitrogen from the watershed, keeping harmful excess of this compound out of the ocean.
Rachel Reeb, Is Timing Everything? Using Phenology to Improve Restoration Outcomes in Invaded Landscapes | Rachel studies how the timing of nonnative species' lifecycle events (such as leaf-out and flowering) impact their ability to invade natural areas and compete with native plants over resources, such as light and nutrients.
Sarah Skubel, Natural Antimicrobials for the Post COVID Era | Sarah investigates how combinations of plants work synergistically to combat microbial growth in the effort to develop a more environmentally and evolutionarily sustainable antiseptic.
Emily C. Thyroff, A Key to Restoring Threatened Hawaiian Dry Forests Resides with the Endemic Santalum Species | Emily's research focuses on improving the survival and early growth of planted Hawaiian sandalwood ('iliahi) seedlings by better understanding its distinctive relationship with other plants.
Alexa S. Wagner, Understanding the Impacts of Forest Restoration on Demographic Shifts in the Understory Plant Community | Alexa's research explores how proper forest management creates resilient forests.
Taylor Zallek, of the University of Pittsburgh, Understanding How Populations of the Aquatic Plant Lemna minor Evolve in Response to Iron Pollution from Abandoned Mine Drainage Near Pittsburgh, Pennsylvania
This event can be attended virtually. This event is free for members to attend but R.S.V.P. is required for. To register, click the button below. For more information about the current Botany in Action fellows, visit phipps.conservatory.org/BIA.
More Events You'll Enjoy
Now Open

Experience the natural beauty and culture of Cuba, one of the most biodiverse Caribbean island nations on Earth, in our immersive new Tropical Forest exhibit.

Fri., Sept. 17; 8 P.M. ET, 5 P.M. PT

This exciting monthly event invites community members to come together to view environmental films and documentaries and participate in a post-screening discussion.

Opens Fri., Nov. 19

This year's exciting Sparkle and Shine theme highlights the elegant beauty of nature in Phipps' winter wonderland, with thousands of poinsettias, twinkling lights, classic holiday trees, unique topiary creations and so much more.