Garden Railroad: Treasure Island
Opens Fri., Nov. 24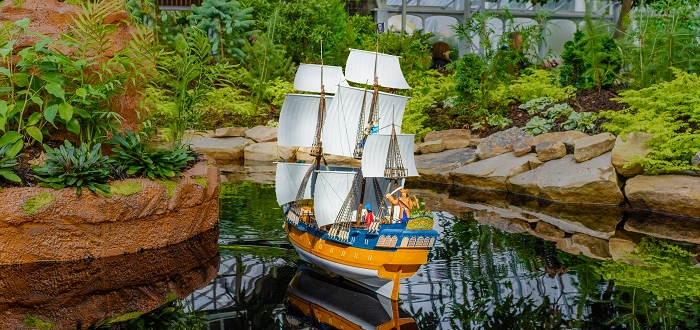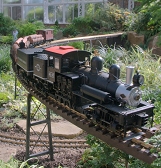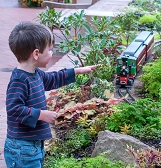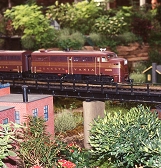 Three Shows for the Price of One
Just one ticket price this holiday season gives you access to our Winter Flower Show, Winter Light Garden, and Garden Railroad: Treasure Island exhibits. Plan to see all three!
Hit the high seas with pirates, treasures and tropical plants in this fun reimagining of our Garden Railroad.
Hoist your sails for a show that really puts the "arr!" in garden! The ever-popular Garden Railroad in our South Conservatory has been reinvented, inviting guests on a adventure through a tropical world of Treasure Island. The whole family will delight in searching for treasure, learning pirate jokes and interacting with our popular miniature trains as they chug through a dense island filled with live plants and whimsical pirate props. You won't be able to resist pressing every button to see the animated features and hear the sound effects. It'll shiver your timbers and tickle your funny bone!
Animatronics for Garden Railroad are created by Maintenance Technician Paul Widek.
Photos © Paul g. Wiegman, Pawsburgh Photography. Train sound effect © Freesound.org user eliasheuninck CC-BY
More Holiday Fun
Fri., Nov. 24 – Sun., Jan. 7
Winter Light Garden open evenings 5 – 11 p.m.*

The most magical show of the year is here! Join us to celebrate the spirit of the season with glowing evergreens, festive poinsettias, whimsical props and our stunning outdoor Winter Light Garden.