Garden Railroad: Treasure Island
Open Now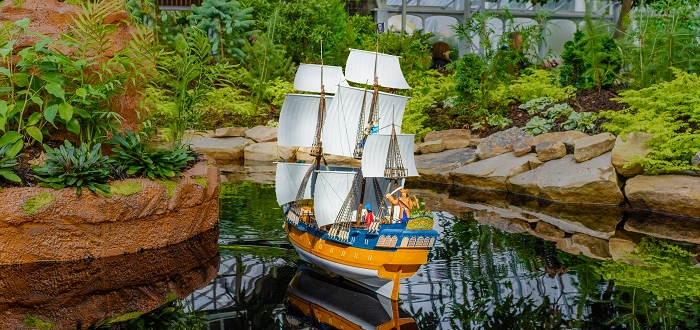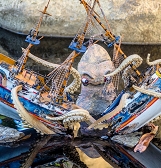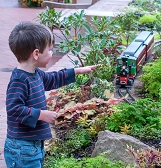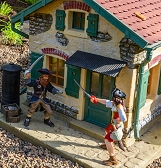 Hit the high seas with pirates, treasures and tropical plants in this fun reimagining of our Garden Railroad.
Hoist your sails for a show that truly puts the "arr!" in garden! The ever-popular Garden Railroad in our South Conservatory has been reinvented, inviting guests on an adventure through a tropical world of Treasure Island. The whole family will delight in searching for treasure, learning pirate jokes and interacting with our popular miniature trains as they chug through an island filled with live plants and whimsical pirate props. You won't be able to resist pressing every button to make exciting animated features and sound effects come to life. It'll shiver your timbers and tickle your funny bone!
Animatronics for Garden Railroad are created by Maintenance Technician Paul Widek.
Buy Tickets Online
For your convenience, you may now buy your Phipps tickets online in advance of your visit.
Photos © Paul g. Wiegman, Pawsburgh Photography. Train sound effect © Freesound.org user eliasheuninck CC-BY
More Events You'll Enjoy
Open Now

In the CSL Green Gallery, enjoy artistic photos of Phipps taken by high school students from the Learning for a Greener Future internship program.

Opens Sat., Feb. 10

Join us for a vibrant showcase of the ecology and culture of Cuba, one of the most richly biodiverse nations on Earth. See botanical specimens never before showcased at Phipps, discover the lively culture and bright-hued architecture, and explore the unique relationships between...

Sat., Feb. 3; 1 – 2 p.m.; SOLD OUT

THIS EVENT IS NOW SOLD OUT. Try your wings at ballet with this adult-and-me creative movement session brought to you by Let's Move Pittsburgh and Pittsburgh Ballet Theatre, featuring the Swan Queen of PBT's production of Swan Lake!