Garden Railroad: Memories in Motion
Open Now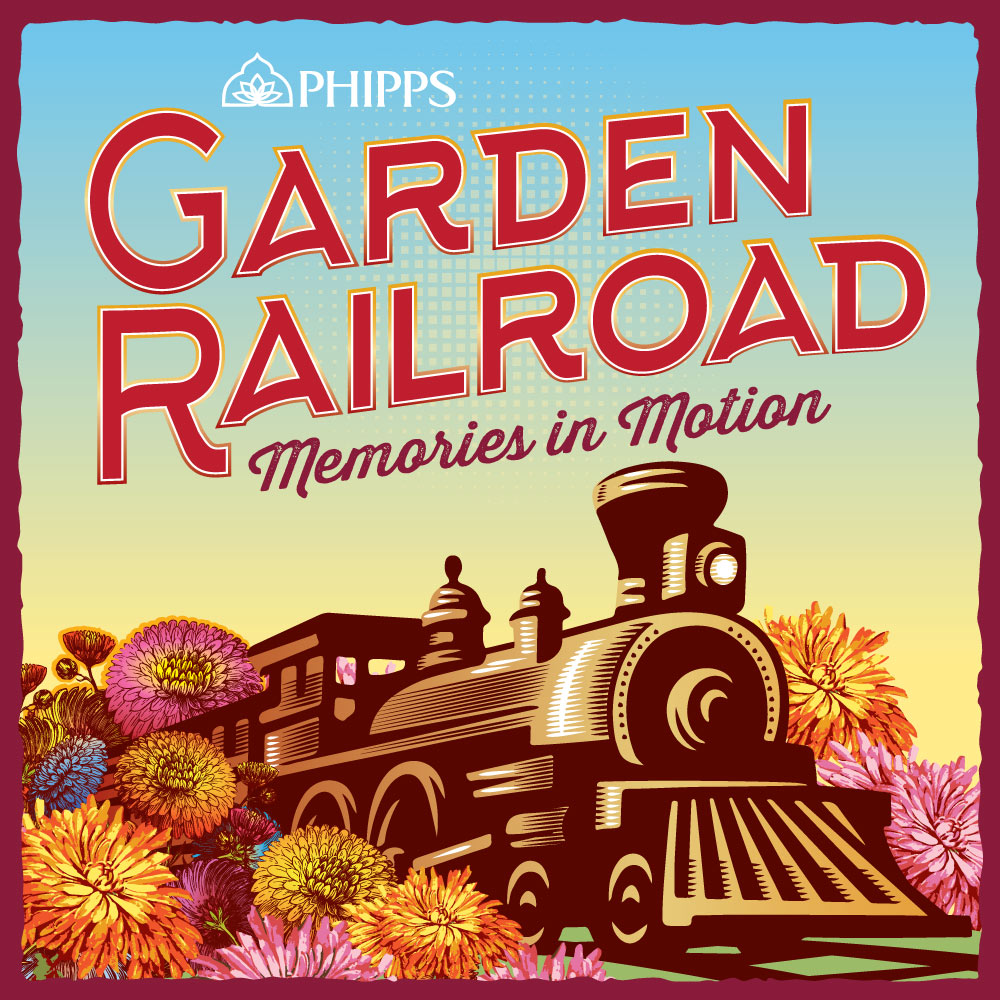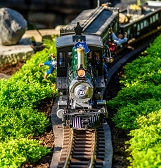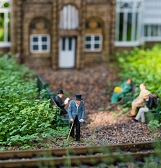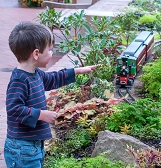 Join us on a treasured locomotive journey through the years at Phipps, with fun, interactive features at every stop.
In celebration of Phipps' 125th anniversary, this year's all-new Garden Railroad: Memories in Motion takes guests on a journey down the tracks of time, showing the dramatic transformation of the Conservatory from its humble beginnings to its modern-day status as a leader in horticultural display and sustainability — all through the magic of interactive, meticulously detailed garden-scale models! Watch as miniature locomotives chug through landscapes full of live, miniscule plants, showing scenes of Phipps and its Schenley Park surroundings in 1893 and 2018. Plus, guests of all ages will delight at interactive, push-button stations that bring these memorable displays to life.
Exhibit Features
Go back in time as a miniature Phipps Conservatory, complete with its original entrance, welcomes a flock of floral fans — including Henry Phipps himself!
Watch as trains deliver plants to Phipps from the 1893 World's Columbian Exposition.
Push a button to start miniature antique cars on a rollicking race through the serpentine roads of Schenley Park.
Follow the rail lines as a lumber mill delivers materials for construction of the South Conservatory.
Activate the lights and music of an outdoor band shell and carousel ride once located near Phipps.
Watch boats float through a miniature Panther Hollow Lake, complete with bridge and boat house.
See modern Phipps from a bird's-eye view with a miniature Center for Sustainable Landscapes, Nature Lab and the forthcoming Exhibit Staging Center, complete with interactive lagoon fountain and wind turbine.
Enjoy breathless excerpts from historic news coverage of classic flower shows and other Phipps milestones.
Animatronics for Garden Railroad are created by Maintenance Technician Paul Widek.
Buy Tickets Online
For your convenience, you may now buy your Phipps tickets online in advance of your visit.
Photos © Paul g. Wiegman, Pawsburgh Photography
More Events You'll Enjoy
Open Now

An amazing new series of "plant profile" paintings by celebrated local artist Ashley Cecil will capture your imagination and challenge your perceptions of the relationships between people and plants.

Save 50% on Admission Sundays, Feb. 3, 10, 17 and 24

Escape to a warm tropical paradise and save! Take 50% off admission every Sunday in February when you wear a tropical-inspired shirt to Phipps.

Mondays – Fridays, 11:30 a.m. – Close; Saturdays – Sundays All Day

Switch your home electricity to 100% green power while visiting our Tropical Forest Conservatory and you can receive a free Phipps membership!