Orchid and Tropical Bonsai Show
Opens Sat., Jan. 13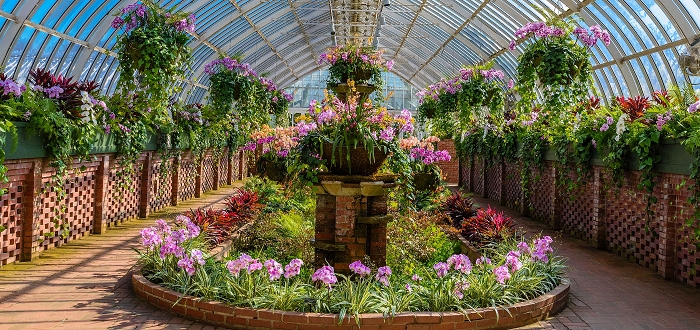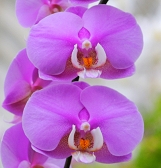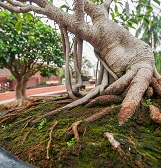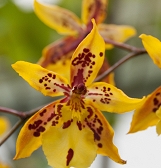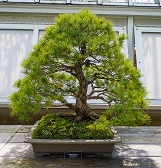 Chase away the winter blues by escaping to our tropical showcase of nature's finest specimens.
Be our guest for our Orchid and Tropical Bonsai Show and enjoy a breathtaking stroll through the gardens as you delight in two of nature's finest botanical wonders amidst vibrant tropical décor. See colorful orchids displayed in all of their glory throughout our glasshouse and admire the meticulously trained tropical bonsai in our permanent collection.
Upon entering the Palm Court, you'll be surrounded by color from floor to ceiling as hanging baskets brim with orchid blooms of yellow and orange. The Serpentine Room will come alive with stories of the past as over 25 miniature trees showcase the ancient Japanese art of bonsai amid a lush green backdrop of Kangaroo paw and Macho ferns. A rainbow of color will grace the Sunken Garden as the air fills with fuchsia, lime and peach phalaenopsis orchids hanging alongside exotic, colorful bromeliads. Our all new Garden Railroad: Treasure Island will also be on display for the duration of the show, providing one more whimsical way to indulge your senses and lift your spirits!
Orchids: A Flower Like No Other
Celebrated for their diversity — more than 25,000 species exist around the globe — and stunning beauty, orchids are truly special. Orchid and Tropical Bonsai Show features hundreds of these beloved flowers, including exotic selections from the Barbara Tisherman Slipper Orchid collection, curated in collaboration with the Orchid Society of Western Pennsylvania to be one of the world's definitive slipper orchid resources.
Bonsai: A Time-Honored Art Form
Offering a striking contrast to the orchids, Phipps' tropical bonsai — dwarfed trees trained to take on the shapes of their larger counterparts in nature. Classified by size and style based upon the shapes of their trunks, roots and branches, bonsai take many forms, from the iconic formal upright bonsai to the more dramatic slant bonsai that resemble windswept trees.
---
Tropical Sundays
Every Sunday in February, you can bask in the warmth of our glasshouse paradise and receive 50 percent off admission when your sport a tropical shirt.
---
Cultivate Your Interest
Want to learn more about orchids and bonsai? Public programs, included in the price of admission, are held on the following Saturdays and Sundays at 1:30 p.m. except where noted in the Palm Circle of the Tropical Forest Conservatory:
What is an Orchid? | Tim Choltco
Sat., Jan. 6
Learn about these special tropical plants.
Basic Orchid Culture | Demetria Marsh
Sat., Jan. 13
Learn all about basic orchid care.
Vanilla Orchids | Cyndi Fink
Sun., Jan. 14
Learn all about these aromatic beauties.
Orchid Repotting | Tim Choltco
Sun., Jan. 21
Learn to make origami flowers.
Growing Orchids on a Windowsill | Demetria Marsh
Sat., Jan. 27
Learn how to grow these beauties at home.
Successfully Start Bonsai | Dave Metzgar
Sun., Jan. 28
Learn to grow bonsai successfully.
History of Orchid Collection | Demetria Marsh
Sat., Feb. 3
Learn about Phipps' two-and-a-half decades of growing orchids.
Bonsai | Bob Dietz
Sun., Feb. 4 | 12:30 – 2:30 p.m.
Discover the secret to making origami flowers.
Vanilla Orchids | Cyndi Fink
Sun., Feb. 11
Learn all about these aromatic beauties.
Bonsai | Bob Dietz
Sun., Feb. 18
Learn how to train bonsai.
Sneaky Seductive Orchids | Demetria Marsh
Sat., Feb. 24
Learn about orchid pollination mechanisms.
Orchid Diversity | Tim Choltco
Sun., Feb. 25
Discover an amazing variety of orchids.
Orchid and Tropical Bonsai Show, designed by Phipps staff, runs from Sat., Jan. 13 – Sun., Feb. 25 and is open daily from 9:30 a.m. – 5 p.m. and until 10 p.m. on Fridays.
Photos © Paul g. Wiegman, Kristi Hoffman
More Events You'll Enjoy
Sun., Jan. 7; 9 a.m.

Join us at Phipps for a free, family-style Zumba class presented by the YMCA of Greater Pittsburgh and Let's Move Pittsburgh.

Sat., Feb. 10; 11 a.m. – 4 p.m.

Join us for a celebration of the culture and plants of Cuba! Participate in activities, enjoy live entertainment, and savor regionally-inspired food samples from Café Phipps. This event is free with admission to the conservatory.

Wed., Feb. 21; 8:30 a.m. – 4:30 p.m. (Opening Reception Tues., Feb. 20; 5 – 8 p.m.)

In this interactive workshop, Phipps will walk through some of the most important rating systems related to green buildings, human health and landscapes, and show how to use them to help you to clearly define your expectations and set yourself up for success.