Holiday Magic: Let It Glow!
Open Now
Winter Light Garden Open Evenings 5 – 11 P.M.*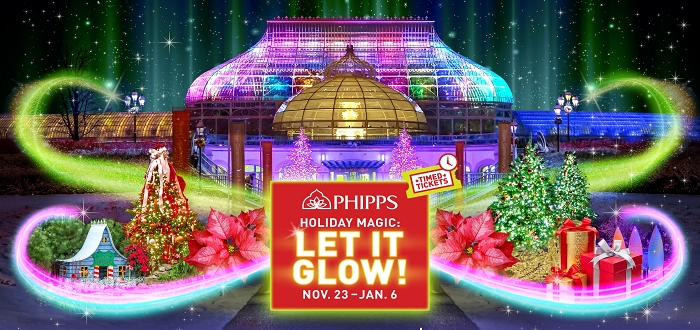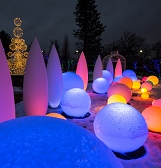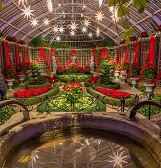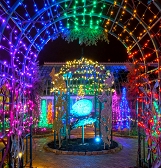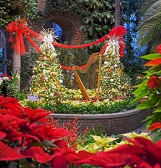 Timed Tickets On Sale Now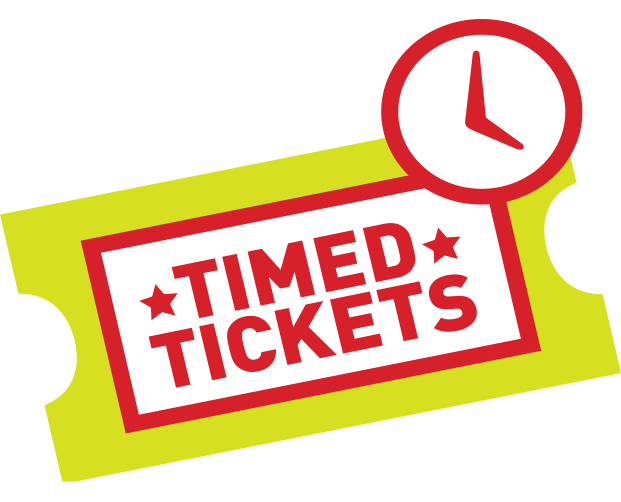 The most magical time of the year is here with Phipps' Holiday Magic: Let It Glow! Timed tickets are required in advance for all guests. Visit our ticketing page to book today.
Pittsburgh's family holiday tradition is bigger, brighter and more breathtaking than ever.
"A dazzling display of color both inside and outside!"
– Pittsburgh City Paper
"See holiday lights in a new way!"
– Pittsburgh Post-Gazette
"Truly beautiful!"
– KDKA-TV
"It is a holiday tradition and something you should see!"
– Doug Oster, Everybody Gardens
The holiday season isn't complete without a visit to Phipps, and Holiday Magic: Let It Glow! is our biggest and brightest show yet! Phipps has pulled out all the stops for this year's Winter Flower Show with dazzling new displays of holiday trees, topiaries, exquisitely detailed props, and our signature floral delights, including amaryllis, orchids and more than 2,000 poinsettias. From a newly-restored Palm Court filled with trees mounted on oversized music boxes to a Serpentine Room of nutcrackers, toboggans and tea sets, one amazing display after another will dazzle your senses and warm your holiday spirit. Plus, in our Outdoor and Discovery Gardens, our must-see Winter Light Garden will sparkle with luminous orbs, trees, fountains, a tunnel of lights and an all-new ice tower display that will mesmerize guests of all ages.
"Experience a winter wonderland of lights!"
– Observer–Reporter
"Celebrate the best time of the year at Phipps!"
– Pittsburgh Tribune-Review
"This must-see experience will be brighter than ever!"
– NEXTpittsburgh
New Features
In addition to all-new indoor displays, the show has been updated with the following exciting new features:
our newly renovated Palm Court, complete with historic ogee crest and color-changing architectural lighting that immerses visitors in a world of color;
a remarkable display of holiday trees made of tropical plants, succulents, sedums and even goose feathers leading your way to the majestic 22-foot Fraser fir glowing brilliantly over our Victoria Room's reflecting pond;
10 six-foot-tall winter ice towers designed to resemble frosted windowpanes in our Winter Light Garden;
a rotating tree mounted majestically atop an oversized music box;
a grand finale that takes you on a supersized journey beneath a decorated holiday tree with Victorian-inspired gifts, a massive tree skirt of red poinsettias, and hovering branches overhead;
and much more.
The new Garden Railroad: Memories in Motion display is on view, too, taking you on a treasured locomotive journey through the years at Phipps, with fun, interactive features at every stop, and our Tropical Forest Cuba exhibit will be accentuated with 250 feet of lights — including pink globe lights, illuminated trees and pendant lights — to give off a vibrant glow of its own!
---
NEW! Holiday Hologram Glasses
See Holiday Magic in a whole new light! Add limited-edition Holiday Hologram Glasses that use the amazing science of holographic diffraction to reveal festive snowflakes while looking at Phipps' sparkling spectacular LED displays, an added delight for all ages.
$6 per pair includes a coupon good for free popcorn or a pretzel at the Café Phipps Holiday Hut*. Purchase yours when you order your timed tickets!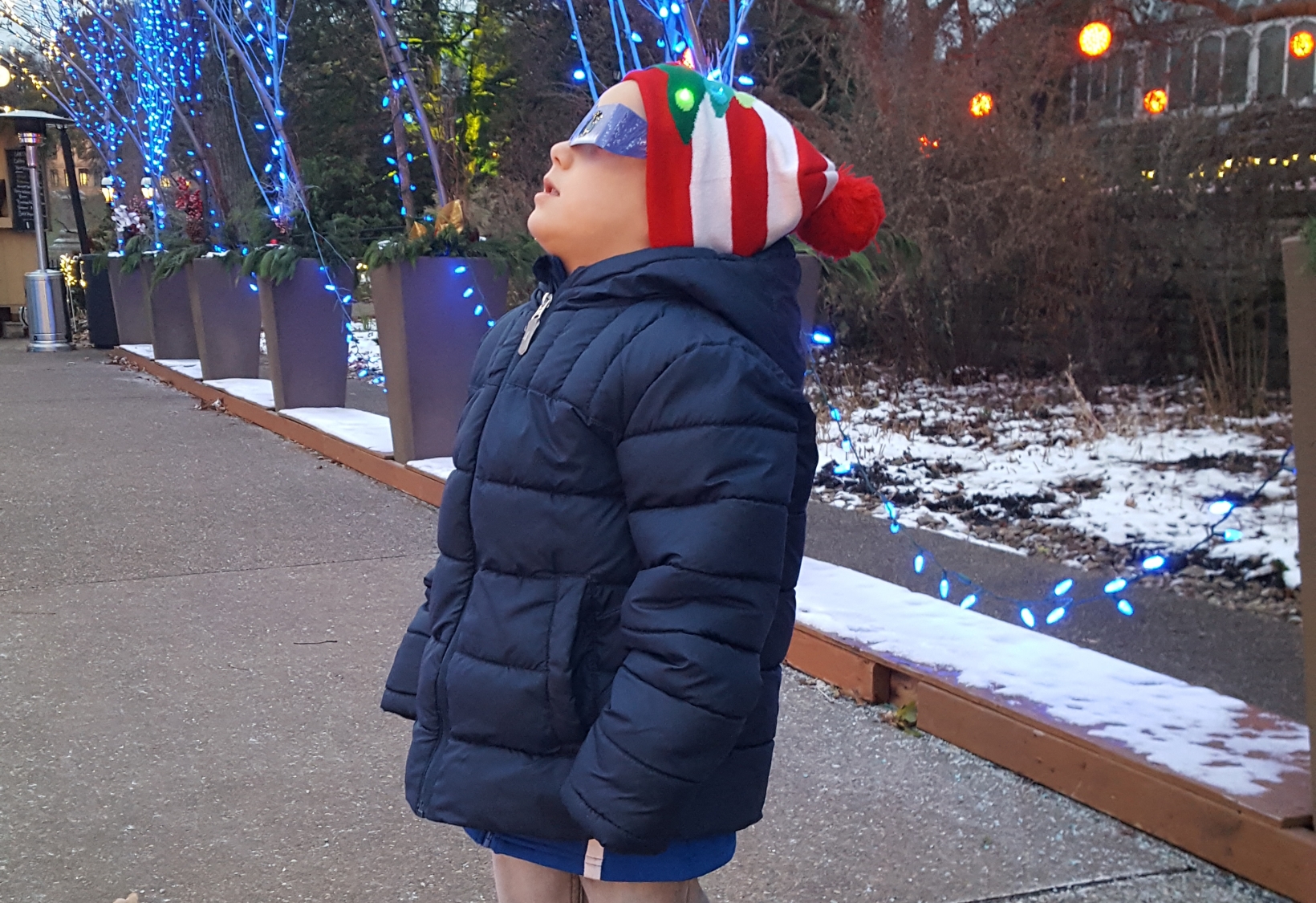 Unwanted glasses may be deposited for responsible disposal by Phipps staff at the conclusion of your visit.
*Please note: Café Phipps' Holiday Hut is open daily from 5 – 10 p.m.
---
Valet Services
Phipps will offer valet services on select days throughout the Winter Flower Show for a $10 flat rate. Visit our Directions and Parking page for a complete schedule!
---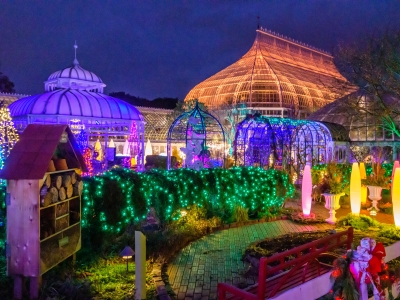 Share Your #PhippsHoliday Photos
To celebrate this year's show, Pittsburgh Beautiful and Phipps will be featuring YOUR holiday photos! Use #PhippsHoliday on Instagram, Facebook and Twitter to submit your favorite holiday photos from home, from Phipps and around the Pittsburgh region, and check out the #PhippsHoliday photo gallery for more festive fun!
---
Holiday Magic from the Air
Our new video gives you a bird's eye view of the tens of thousands of lights and countless trees, blooms and glowing panes of glass it takes to make Holiday Magic: Let It Glow! come to life.
Bright Lights, Bright Future
Human and environmental health are connected. At Phipps, we are dedicated to showing that sustainable practices are good for people, good for the planet and making the world a more beautiful place.
All of the lights used in our Winter Flower Show and Winter Light Garden are energy-efficient LEDs
Since 2005, all of the electricity used at Phipps is renewable, some of which is produced on site.
Since 2010, all of the carbon dioxide emitted in order to heat our buildings has been offset.
From 2005 – 2016, Phipps reduced carbon emissions from heating, cooling and powering our buildings by 56% per square foot, which is double the Paris Climate Agreement target of 26 – 28% by 2025.
---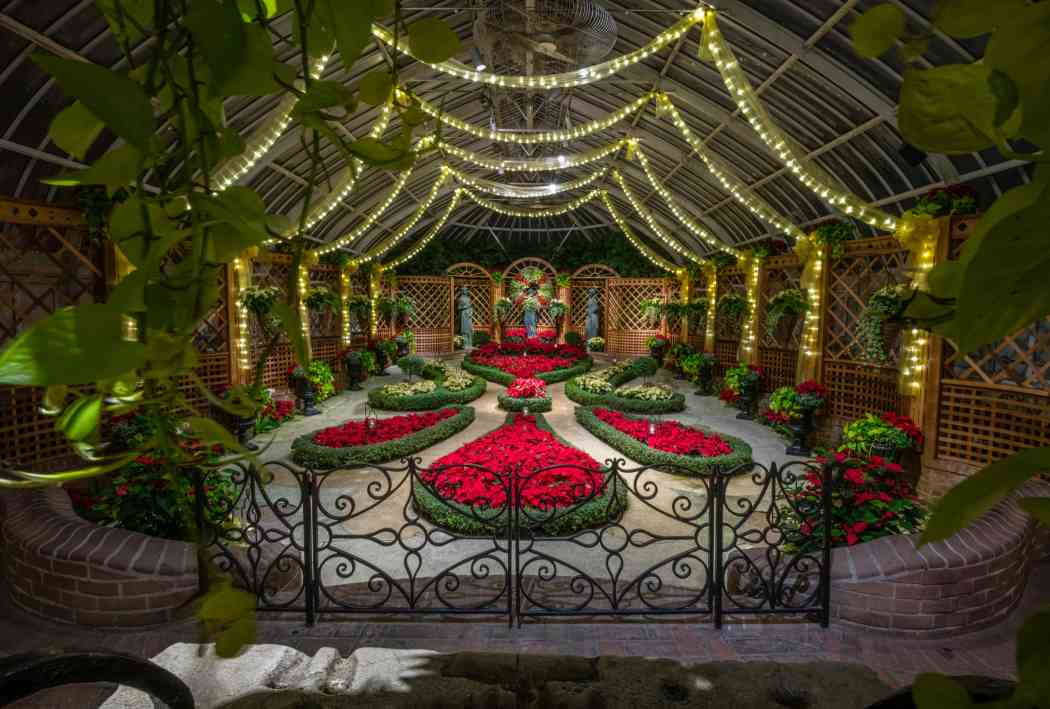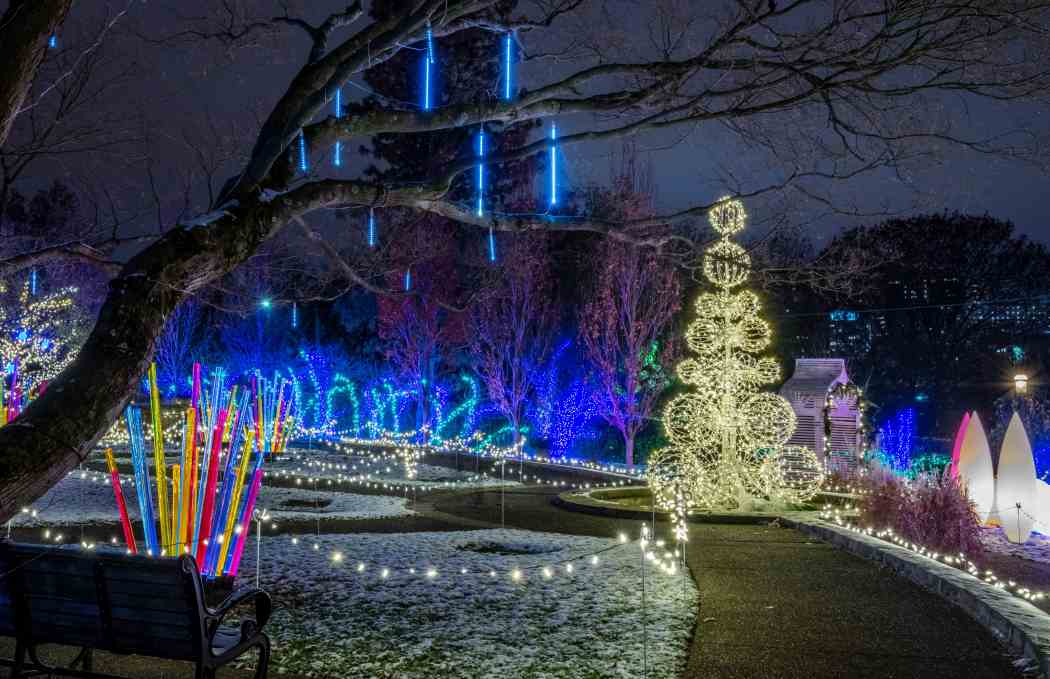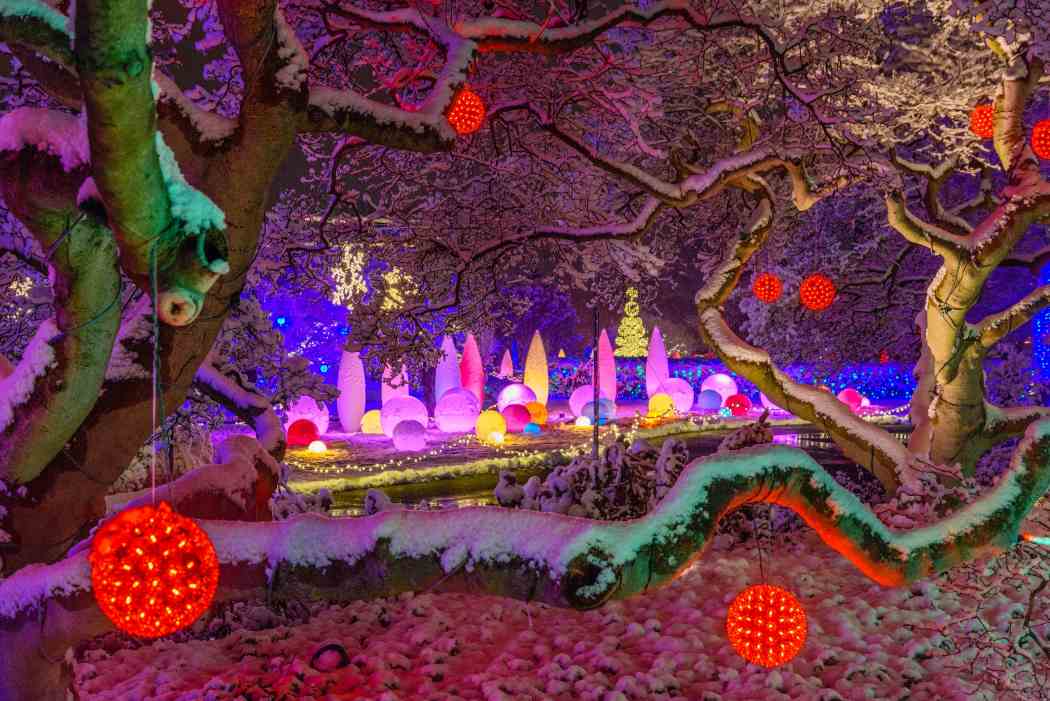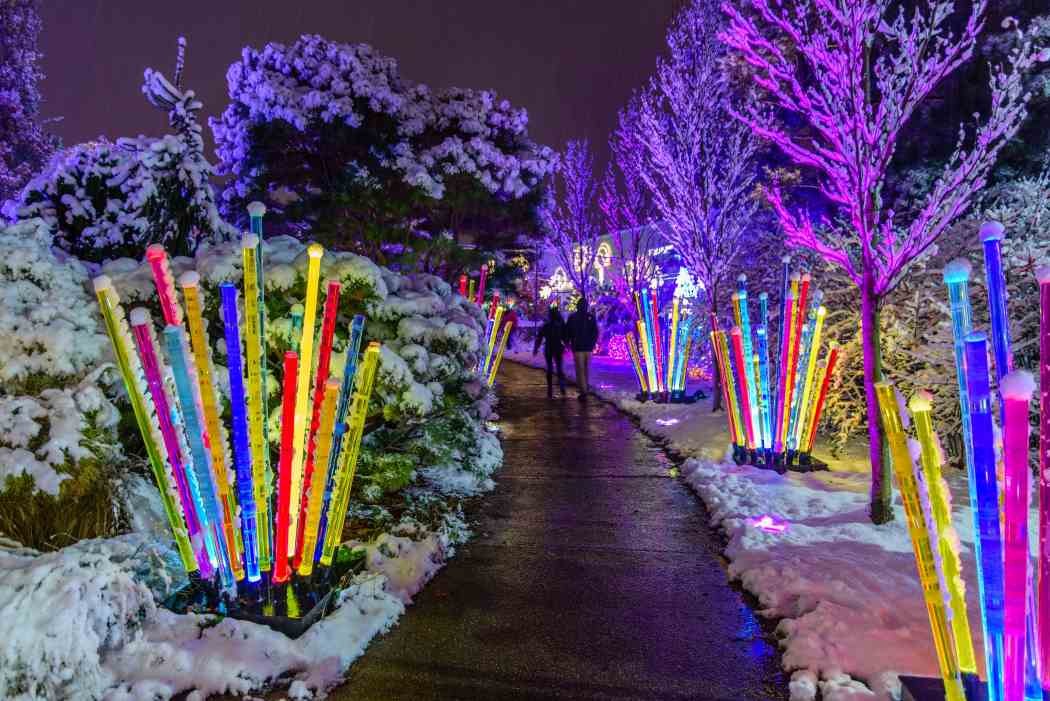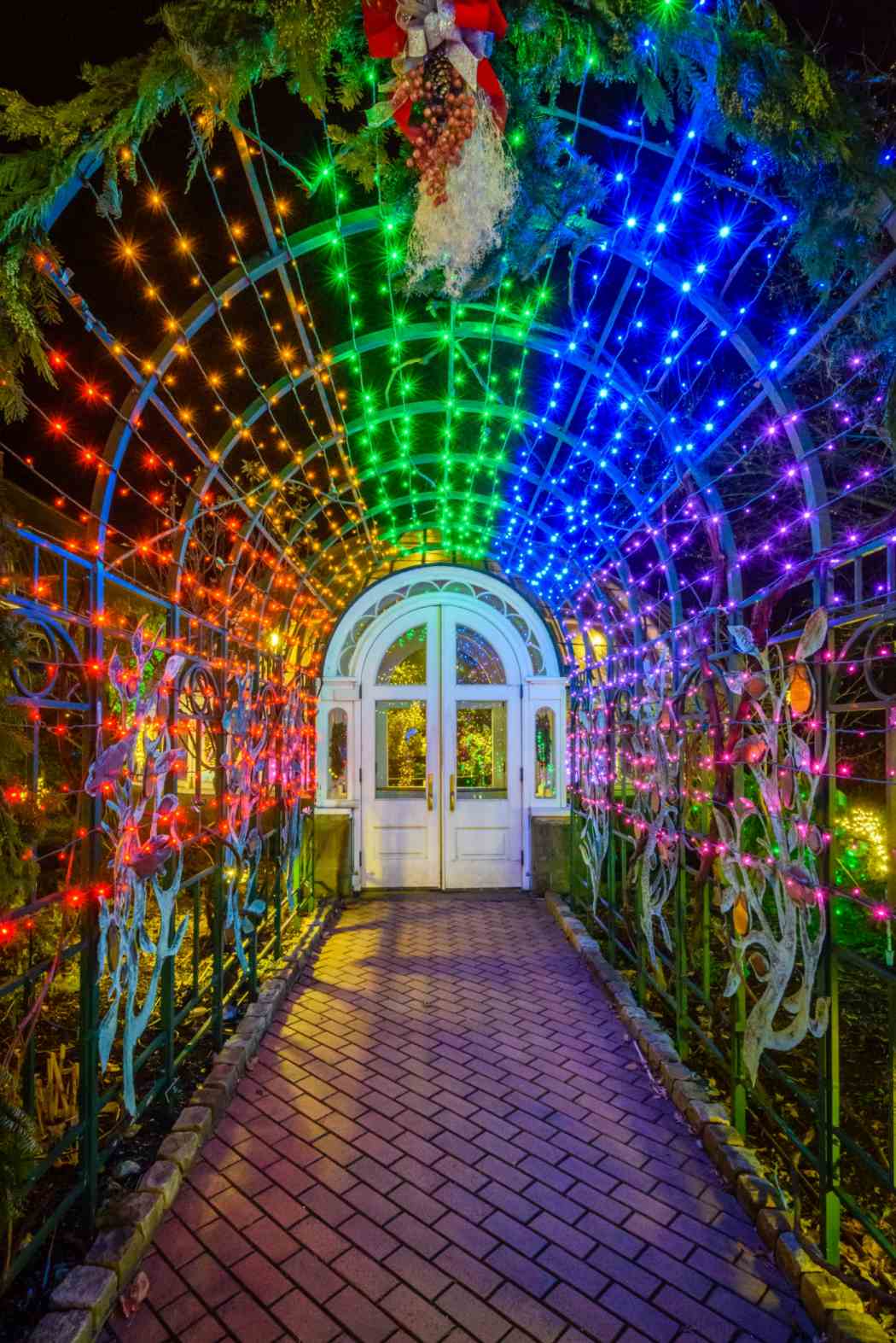 Holiday Magic: Let It Glow, featuring Winter Flower Show designed by Terra Design Studios, LLC and Winter Light Garden designed by Phipps Exhibit Coordinator Jordyn Melino, runs through Sun., Jan. 6. Admission is $17.95 for adults, $16.95 for seniors and students, and $11.95 for children (ages 2 – 18). Members and kids under 2 enter free. Daily hours for Winter Flower Show are 9:30 a.m. – 11 p.m. and 5 – 11 p.m. for Winter Light Garden. Phipps closes at 5 p.m. on Mon., Dec. 24 and reopens at 9:30 a.m. on Wed., Dec. 26.
*Inclement Weather Advisory
Winter Light Garden (outdoor spaces) may be subject to temporary closures in the event of heavy rains or other inclement weather conditions.
Photos © Paul g. Wiegman, Annie O'Neill, Brian Cohen
More Holiday Fun
Open Now

All aboard! Join us on a treasured locomotive journey through the years at Phipps, with fun, interactive features at every stop.