Phipps Conservatory and Botanical Gardens welcomes homeschooled students individually or as a group. Our standards-based field trip programs can be readily adapted for a wide age range of youth and our seasonal camps provide experiential learning opportunities for children ages 2 – 13. Join one of our scheduled homeschool programs below for just $5 per person over two years old (child or adult), or choose from any of our field trip classes, group tours or seasonal camps to meet your specific needs.
Interested in a program that's already sold out? Email us to be placed on our waiting list.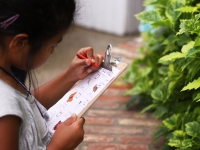 The Nature of Writing
Ages 2 – 13
Tues., Oct. 10 | 2:30 – 3:30 p.m.
Taught by Dr. Maria Wheeler-Dubas
Engage your sense of curiosity as you explore nature, practice creative writing and learn how to describe the world like a scientist would.
About the Instructor: Maria was homeschooled K – 12, and after college, she went on to earn her Ph.D. in biology from Duquesne University. She has nearly 15 years of experience working in informal science education settings, including zoos, museums and botanical gardens. She loves sharing the wonders of nature with children and families.
SOLD OUT
Bioblitz: Biology in the 'Burgh
Ages 2 – 13
Tues., Oct. 24 | 2:30 – 3:30 p.m.
Taught by Jennifer Torrance
Explore the fish, birds and insects in the Pittsburgh region through Phipps' own on-site habitat.
About the Instructor: Jennifer graduated from Allegheny College, majoring in environmental science and minoring in writing. She has been at Phipps since May 2016 and with the Science Education team since November 2016. She loves introducing children to fascinating new concepts and sparking creativity and passion for the natural world. Her goal is to encourage empathy for and exploration of the natural world, and to inspire children to seek outdoor adventure and knowledge about the sciences and the environment.
SOLD OUT
Photos © Cory Doman, Paul g. Wiegman