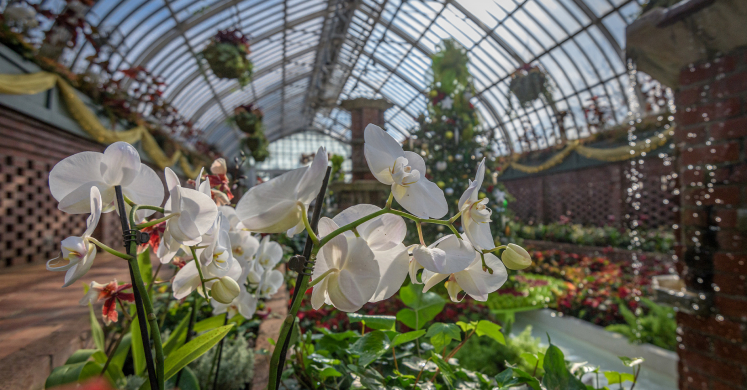 This Week at Phipps: Jan. 11 – 17
There's always something new to see and do at Phipps! This weekly blog post provides a run-down of the latest happenings so you can plan your visit. Events listed below require no advance registration unless noted otherwise.
Open Daily:
Winter Flower Show: Home for the Holidays
Winter Flower Show: Home for the Holidays will reopen on Mon., Jan. 4 and will extend through Sun., Jan. 17. All tickets must be purchased in advance, and new safety protocols are required.
Garden Railroad: Rails and Trails
Phipps' new miniature railroad display Rails and Trails invites you and your family to join our miniature friends as they enjoy the sights and sounds of nature in Phipps' Biophilia Park. Featuring a pontoon boat cruising along a lake, an audience enjoying a concert at a band shell and all-new touchless interactive features, this exhibit is sure to delight guests of all ages.
Planets Earth Virtual Exhibit
A dynamic exhibit at the Center for Sustainable Landscapes (and now online) addresses the pressing environmental issues of our time and proposes a new way of thinking about how to solve them.
Wild About Geometry: A Virtual Youth Art Exhibit
This exhibit features artwork made by area middle school students participating in the Phipps Fairchild Challenge. In this challenge titled Wild About Geometry, students discovered geometric shapes and repetitions in nature.
An Alphabet of Native Plants of Southwestern Pennsylvania: A Botanical Art Exhibit
On display online and in the Phipps Welcome Center Gallery, An Alphabet of Native Plants of Southwestern Pennsylvania is part of the Flora Project, a collaboration between Phipps Conservatory and Botanical Gardens' Botanical Art and Illustration Program and the Allegheny Highlands Botanical Art Society.
Mon., Jan. 11:
Authentic Italian at Home: Polenta and Beef Sugo | 6 – 7:30 p.m.
Learn to cook the Italian way right from your very own home. Join us live on Zoom for a cook-along class with Chef Justin Melnick. We'll send you the grocery list, recipe and necessary materials so you can follow along at home. Each class will begin with a Q&A session with our chef.
Wed., Jan. 13:
Thurs., Jan. 14:
Superfood Packed Plant-Based Meals: Breakfast: Winter Smoothie and Spiced Turmeric Pancakes | 6 – 7:30 p.m.
Join Chef Emily Larsen as she demonstrates how to add plant-based recipes packed with superfoods to your daily diet. With recipes for breakfast, lunch and dinner, you'll have great new recipes to add to your meal prep rotation!
Introduction to Smartphone Photography | 6:30 – 8:30 p.m.
Learn how to make better photos with your phone. Discover how to get the most out of your smartphone's camera and learn what to do with your photos once you've taken them. Learn about exposure, composition, your phone's limitations and advantages, and more. All are welcome.
Green with Envy: Designing with Fab Foliage | 7 – 9 p.m.
Join us to explore 'floral' designs without using actual flowers. Learn various techniques to manipulate greens to create the 'flowers' you'll use to create a design that will challenge both your crafting and design skills. In this project, it's truly all about the greens!
Fri., Jan. 15:
Combining Water Color Pencils and Colored Pencils to Draw a Pear | 12:30 – 3:30 p.m.
Join us for a live online workshop where we will draw a pear in colored pencil and watercolor pencil. Follow along with a lesson in Wendy's new book, The Joy of Botanical Drawing (excerpt will be provided). Plus, you will receive a video to watch before the workshop, showing the technique.
Virtual Environmental Film Series: No Time to Waste | 8 p.m.
Join us for a discussion about the film, No Time to Waste. No Time to Waste celebrates legendary 98-year-old park ranger Betty Reid Soskin's inspiring life, work and urgent mission to restore critical missing chapters of America's story.
Photos © Paul g. Wiegman