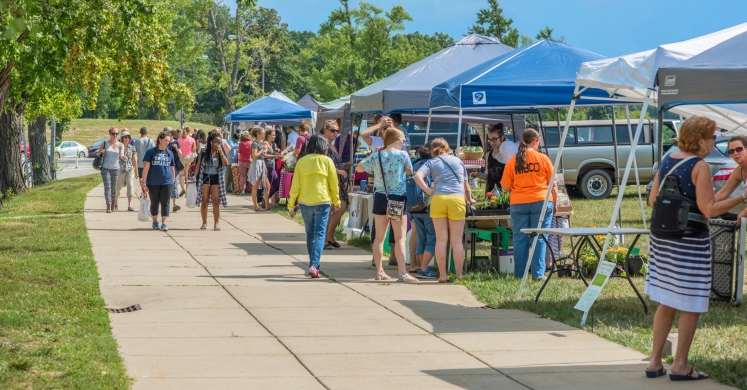 This Week at Phipps: May 30 – June 5
There's always something new to see and do at Phipps! This weekly blog post provides a run-down of the latest happenings so you can plan your visit. Events listed below require no advance registration unless noted otherwise.
Open Daily:
Romero Rises Again: A Corpse Flower at Phipps | Extended hours: Open until 8 p.m. daily Starting Sat., June 4
Get ready for the return of Romero, our famous corpse flower, and witness the growth and bloom cycle of one of nature's largest and most unusual flowers.
Butterfly Forest
Watch as gorgeous butterflies emerge from their chrysalises to flutter among the blooms. One may even land on you!
Summer Flower Show: PlayGardens
Phipps comes alive with the colors of summer fun as each room offers interactive features, vintage garden décor and more.
Tropical Forest Congo
Explore some of Africa's lushest landscapes and see botanical specimens never before showcased at Phipps.
Environmental Change: A Youth Art Exhibition


In the CSL Green Gallery, enjoy original comic-strip artworks depicting ecosystem changes created by middle and high school students involved in Phipps' Fairchild Challenge

.

Native Trees: A Botanical Art Exhibit
This gallery of work from students of our Botanical Art and Illustration program highlights native trees of southwestern Pennsylvania.
Mon., May 30:
Make-a-Craft Mondays | 10:30 a.m. – noon
Create your very own Phipps masterpiece! Every Monday, children are invited to engage in nature-inspired arts-and-crafts projects using recyclable materials.
Wed., June 1:
Story Time Wednesdays | 10:30 – 11 a.m. and 1 – 1:30 p.m.
Kids will love listening to our storytellers weave tales about gardens, fruits, vegetables, animals and other fun topics.
Farmers at Phipps | 2:30 – 6:30 p.m.
Visit our sustainably managed front lawn to browse one of only a few area farmers' markets offering exclusively organic or Certified Naturally Grown fruits, vegetables and more from local farms.
Thurs., June 2:
Story Time Thursdays | 10:30 – 11 a.m.
Kids will love listening to our storytellers weave tales about gardens, fruits, vegetables, animals and other fun topics.
Biophilia: Pittsburgh | 5:30 – 7:30 p.m. | Free to attend; R.S.V.P. required
The June Biophilia: Pittsburgh meeting will feature Norma P. Weinberg, herbal educator, writer, speaker and master gardener, who will lead a discussion on "Herb Gardening Through a Sustainable Lens."
Fri., June 3:
Pot-a-Plant Fridays | 10:30 a.m. – noon


Every Friday, children are introduced to the important connections between people, plants and the planet by potting their own fun plants to take home.

Have dinner at

Café Phipps

through 7 p.m.

Enjoy the gardens by twilight; we're open until 10 p.m.!
Sat., June 4:
Sun., June 5:
Bioblitz Festival | 5 a.m. – 5 p.m. | Free to the public
Join us for our first free, fun, family-oriented BioBlitz! Witness firsthand the amazing biodiversity right here in our local parks, participate in real-time science, create unique art, browse local vendors' products and goods, engage with interactive exhibits, enjoy live music and much more!
Let Your Summer Vacation Bloom | 1:30 p.m.


Make floral arrangements with a summertime theme.
Photos © Paul g. Wiegman