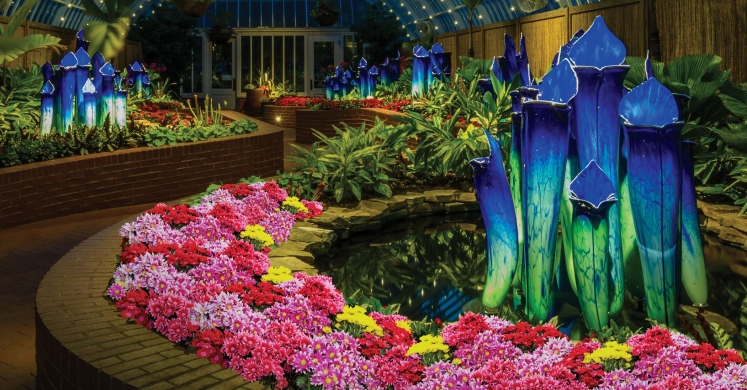 This Week at Phipps: Oct. 16 – 22
There's always something new to see and do at Phipps! This weekly blog post provides a run-down of the latest happenings so you can plan your visit. Events listed below require no advance registration unless noted otherwise.
Open Daily (Extended Hours 9:30 a.m. – 11 p.m.):
Mon., Oct. 16:
Make-a-Craft Mondays | 10:30 a.m. – noon
Create your very own Phipps masterpiece! Every Monday, children are invited to engage in nature-inspired arts-and-crafts projects using recyclable materials.
Wed., Oct. 18:
Story Time Wednesdays | 10:30 a.m. and 1 p.m.
Kids will love listening to our storytellers weave tales about gardens, fruits, vegetables, animals and other fun topics.
Green Market at Phipps | 2:30 – 6:30 p.m.
Refresh your lifestyle! Visit our front lawn to browse a colorful cornucopia of organic and sustainable goods from local vendors.
Thurs., Oct. 19:
Sweet Peas Creativity | 9:30 – 10:30 a.m. | R.S.V.P. required
Babies and toddlers up to 18 months are invited to bring their special grownups to make music and art at Phipps. Learn how the sights and sounds of nature can make beautiful songs and keepsake crafts.
Fri., Oct. 20:
Pot-a-Plant Fridays | 10:30 a.m. – noon


Every Friday, children are introduced to the important connections between people, plants and the planet by potting their own fun plants to take home.

Environmental Film Series: Yemanjá: Wisdom from the African Heart of Brazil Narrated by Alice Walker | 7 – 9 p.m.
Join us for a screening of Yemanjá: Wisdom from the African Heart of Brazil, narrated by Pulitzer Prize-winning author Alice Walker, with a post-film discussion led by Dr. Sheriden Booker, a social entrepreneur/priestess in multiple Orisha traditions with a doctorate in anthropology and Africana studies from Yale University; filmmaker Donna C. Roberts, M.S. Environmental Sciences; and Dr. Anthony B. Mitchell, Sr., professor of African and African American history at Penn State and priest of Yemaya.
Sat., Oct. 21:
Sun., Oct. 22:
African Foods | 1:30 p.m.
Join Ola Appetit Catering to learn how African foods have been translated in the Americas.
Photos © Paul g. Wiegman