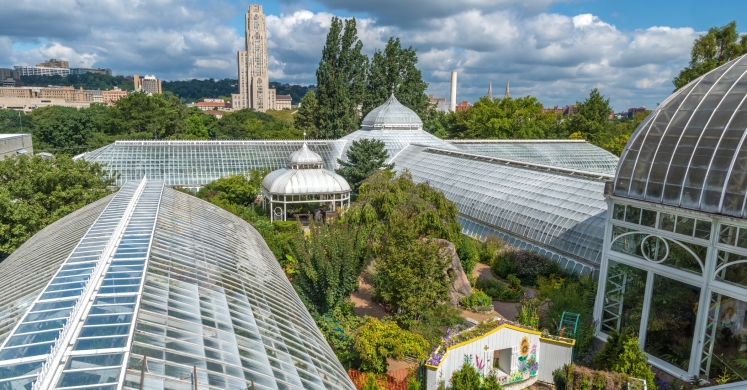 This Week at Phipps: Aug. 31 – Sept. 6, 2015
There's always something new to see and do at Phipps! This weekly blog post provides a run-down of the latest happenings so you can plan your visit. Events listed below are free with Phipps admission and require no advance registration unless noted otherwise.

Open Daily:

Wednesday, Sept. 2:
Story Time | 10:30 – 11 a.m. and 1 – 1:30 p.m.
Kids will love listening to our storytellers weave tales about gardens, fruits, vegetables, animals and other fun topics.

Farmers at Phipps | 2:30 – 6:30 p.m. | Free to the public


Visit our sustainably managed front lawn to browse organic and Certified Naturally Grown fruits, vegetables and more from local farms.

Thursday, Sept. 3:
Biophilia: Pittsburgh | 5:30 – 7:30 p.m. | Free to the public; R.S.V.P. required
This installment of our monthly discussion series will feature Dr. Anna Johnson, who will introduce the discussion topic, "Ecology for Urban Greening."

Friday, Sept. 4:
Party in the Tropics | 7 – 11 p.m. | Ages 21+
Indulge in sweet and savory morsels, taste unique cocktails, and dance to the beats of a live DJ in our Tropical Forest Conservatory.

Have dinner at Café Phipps through 7 p.m.

Enjoy the Conservatory by twilight; we're open until 10 p.m.!

Saturday, Sept. 5:
Healthy Eating for Kids | 11 a.m. – 1 p.m.
Get smart eating and activity tips in this presentation from Let's Move Pittsburgh.
SEED Classroom Open Hours | 11 a.m. – 3 p.m.
Drop in and discover the inner workings of the modular, non-toxic SEED Classroom, our revolutionary new learning space.
Fall Blooming Native Plants | 1:30 p.m.
Get selection and planting advice for fall blooms from the Audubon Society of Western Pennsylvania.

Sunday, Sept. 6:
Origami | 12:30 – 2:30 p.m.
Join the Origami Club of Pittsburgh to learn how to create your own origami flowers.