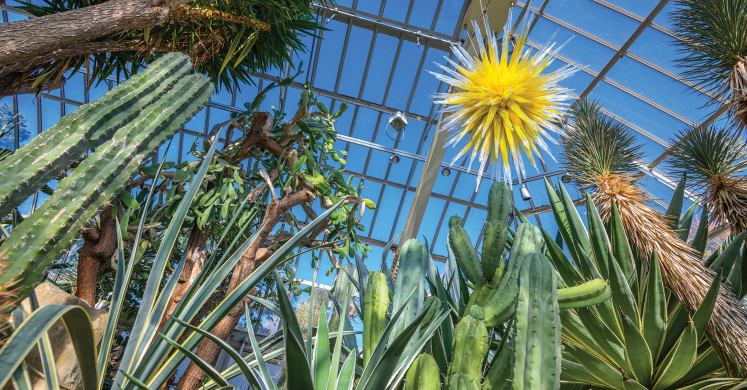 This Week at Phipps: Nov. 15 – 21
There's always something new to see and do at Phipps! This weekly blog post provides a run-down of the latest happenings so you can plan your visit. Events listed below require no advance registration unless noted otherwise.

Open Daily:
Magnified Portraits of Southwestern PA Native Plants
Beautiful illustrations of flora native to Pittsburgh and southwestern Pennsylvania will populate the walls of Phipps' Welcome Center!
Tropical Forest Cuba
Experience the natural beauty and culture of Cuba, one of the most biodiverse Caribbean island nations on Earth, in our immersive Tropical Forest exhibit.
Planets Earth Virtual Exhibit
A dynamic exhibit at the Center for Sustainable Landscapes (and now online) addresses the pressing environmental issues of our time and proposes a new way of thinking about how to solve them.
Garden Railroad: Bridges and Tunnels
Join us on a locomotive journey through a delightful miniature display of the bridges, tunnels and inclines of western Pennsylvania and beyond at this all-new Garden Railroad exhibit!
Mon., Nov. 15:
Tues., Nov. 16:
Drawing Birds in Winter Habitats | 1 – 4 p.m.
Continue with instructor Melissa Fabian as she teaches illustration of birds in their winter habitat and needs for survival.
Thanksgiving Dinner Bootcamp | 6 – 7:30 p.m.
Just in time for the holiday, get ready for your Thanksgiving meal with guidance from a professional chef.
Title | time a.m. – time p.m.
Content.
Wed., Nov. 17:
Virtual Story Time | 10:30 a.m. – 1 p.m.
Join us for stories, sing-alongs and fun activities you can do from home each Wednesday!
Sat., Nov. 20:
Sun., Nov. 21:
Pen and Ink I | 9:30 a.m. – 3:30 p.m.
Join Melissa Fabian for the final course meeting of this brilliant introductory series to pen and ink botanical illustration.
Select ​Photos © Paul g. Wiegman