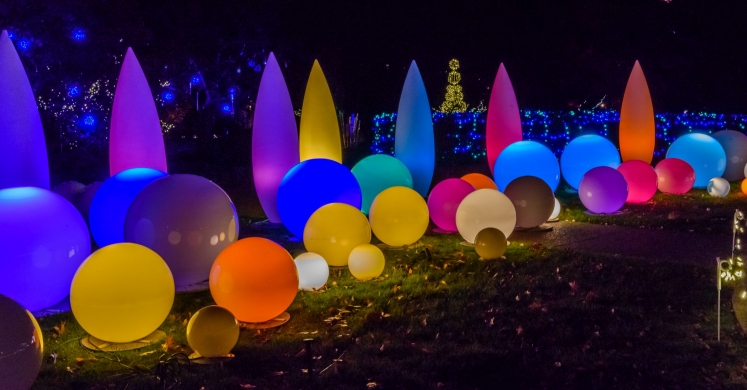 This Week at Phipps: Nov. 19 – 25
There's always something new to see and do at Phipps! This weekly blog post provides a run-down of the latest happenings so you can plan your visit. Events listed below require no advance registration unless noted otherwise.
Open Daily:
Holiday Magic: Let It Glow! I Starting Fri., Nov. 23 | Timed Tickets Required
Pittsburgh's must-see holiday spectacular promises to be bigger and brighter than ever before! Starts Fri., Nov. 23. and Phipps' hours are extended 9:30 a.m. to 11 p.m. for the duration of the show.
Garden Railroad: Memories in Motion
All aboard! Join us on a treasured locomotive journey through the years at Phipps, with fun, interactive features at every stop.
Tropical Forest Cuba
Experience the natural beauty and culture of Cuba, one of the most biodiverse Caribbean island nations on Earth, in our immersive new Tropical Forest exhibit.
Make the Switch at Phipps! Green Power Drive
Join the more than 1,000 families who have switched their home electricity to 100% green power while visiting our Tropical Forest Conservatory and you can receive free Phipps membership!
Learning for a Greener Future: A Youth Art Exhibition
In the CSL Green Gallery, enjoy artistic photos of Phipps taken by high school students from the Learning for a Greener Future internship program.
Phipps Through the Years: A Photo Exhibit
In the Welcome Center Gallery, enjoy a series of photos showing the evolution of Phipps' entrance over the past 125 years.
Mon., Nov. 19:
Make-a-Craft Mondays | 10:30 a.m. – noon
Create your very own Phipps masterpiece! Every Monday, children are invited to engage in nature-inspired arts-and-crafts projects using recyclable materials.
Wed., Nov. 21:
Story Time Wednesdays | 10:30 a.m. and 1 p.m.
Kids will love listening to our storytellers weave tales about gardens, fruits, vegetables, animals and other fun topics.
Thu., Nov. 22:
Phipps Conservatory and Botanical Gardens is closed today — have a safe and happy holiday!
Fri., Nov. 23:
Sat., Nov. 24:
Nature Lab Open Hours | 11 a.m. – 3 p.m.
Phipps' revolutionary non-toxic Nature Lab is now open for you to discover.
Santa Visits | 11 a.m. – 2 p.m.
The big man in the red suit visits Phipps for a festive photo-op! Free with admission.
Sun., Nov. 25:
Santa Visits | 11 a.m. – 2 p.m.
The big man in the red suit visits Phipps for a festive photo-op! Free with admission.
Origami | 1:30 p.m.
Join the Origami Club of Pittsburgh in learning the Japanese art of paper folding.
Photos © Paul g. Wiegman