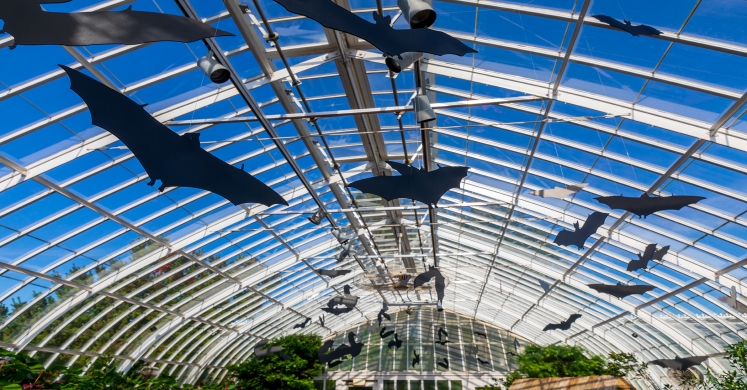 This Week at Phipps: Oct. 22 – 28
There's always something new to see and do at Phipps! This weekly blog post provides a run-down of the latest happenings so you can plan your visit. Events listed below require no advance registration unless noted otherwise.
Open Daily:
Mon., Oct. 22:
Make-a-Craft Mondays | 10:30 a.m. – noon
Create your very own Phipps masterpiece! Every Monday, children are invited to engage in nature-inspired arts-and-crafts projects using recyclable materials.
Tues., Oct. 23:
Make Your Own Terranium | Phipps Garden Center in Mellon Park | 7 – 9 p.m. | R.S.V.P. required
Learn how to create a living garden under glass while discussing plant selection, visual design, proper care and different styles of terraniums such as open versus closed and wet versus dry.
Wed., Oct. 24:
Story Time Wednesdays | 10:30 a.m. and 1 p.m.
Kids will love listening to our storytellers weave tales about gardens, fruits, vegetables, animals and other fun topics.
Fiber-Full Fare | 6:30 – 8:30 p.m. | R.S.V.P. required
Learn about the importance of fiber in your diet and how to prepare quick and easy high-fiber meals.
Thurs., Oct. 25:
Fri., Oct. 26:
Pot-a-Plant Fridays | 10:30 a.m. – noon


Kids can pot their own plant to care for at home.

Halloween Happenings | 4 – 8 p.m.
Ghosts and goblins of all ages can come to the Conservatory in costume and enjoy festive activities such as face painting, magic shows, and special Halloween games.
Enjoy the gardens by twilight; we're open until 10 p.m.!
Sat., Oct. 27:
Sun., Oct. 28:
Floral Arrangements to Die For | 1:30 p.m.
Create a unique and BOO-tiful flower arrangement fit for Fall.
Pen and Ink II | Phipps Garden Center in Mellon Park | 9:30 a.m. – 4 p.m. | R.S.V.P. required
Complete a botanically accurate and aesthetically pleasing botanical pen and ink illustration. Learn the process of creating an illustration — from observing the plant to making an accurate graphite sketch and inking the final illustration. First class in a series.
Photos © Phil Johnson II