2013 Top 10 Sustainable Plants
---
Japanese Forest Grass
(Hakonechloa macra)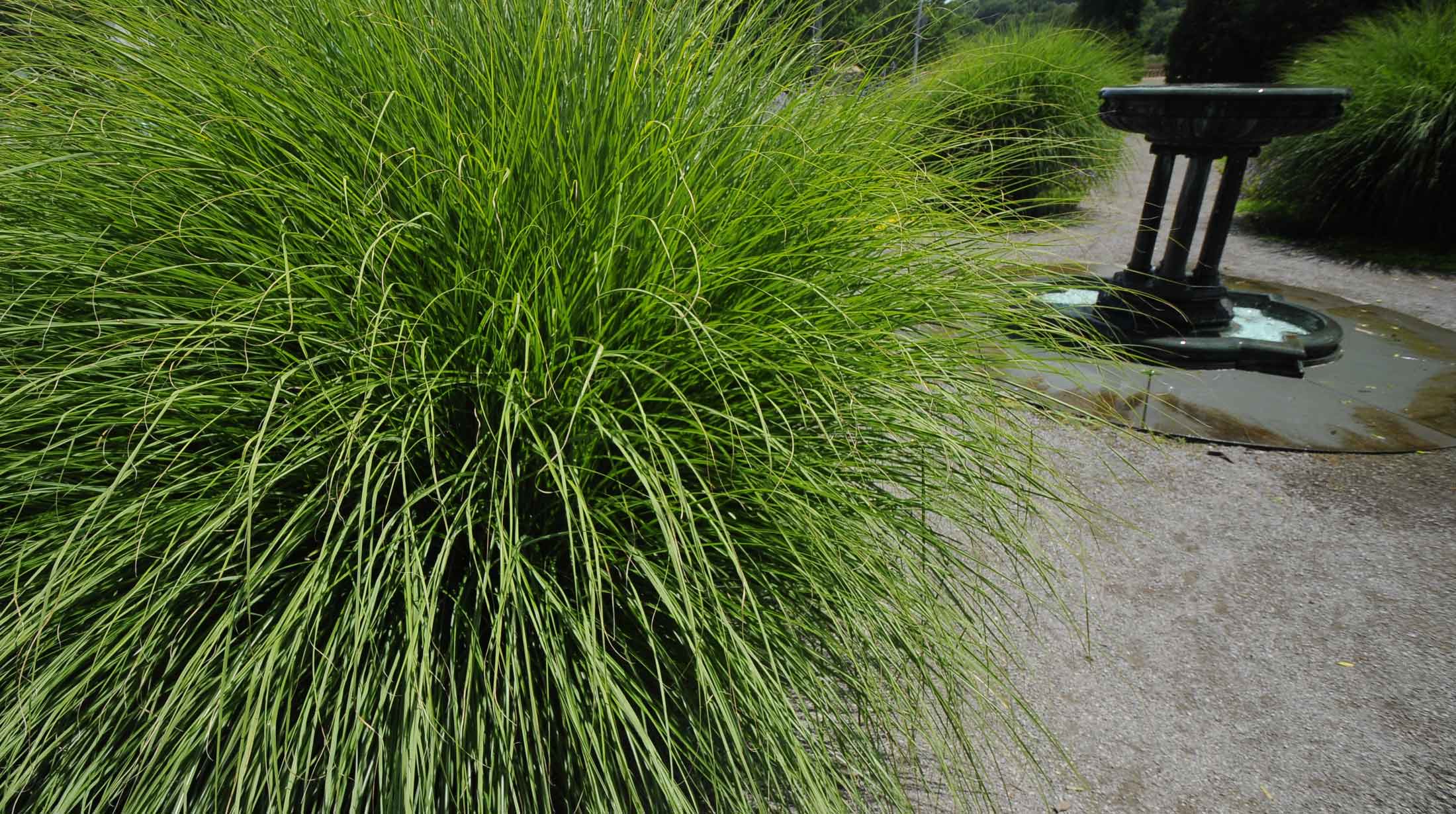 This perennial spreads slowly to form 12 – 18-inch mounds of arching, linear leaves. Great for use as groundcover, on hillsides or in containers, this grass, of which there are many cultivars, thrives in part shade to sun and moist, well-drained soil.
Photo © Paul g. Wiegman
---
Stokes' Aster
(Stokesia laevis)
This beautiful 12 – 18-inch-tall summer-blooming native perennial features frilly blue, daisy-like flowers that can be removed when spent to encourage repeat blooms. Attractive to butterflies, it grows best in full sun to part shade and moist, well-drained soil.
---
Emerald Sentinel™ Eastern Red Cedar
(Juniperus virginiana 'Corcorcor' EMERALD SENTINEL)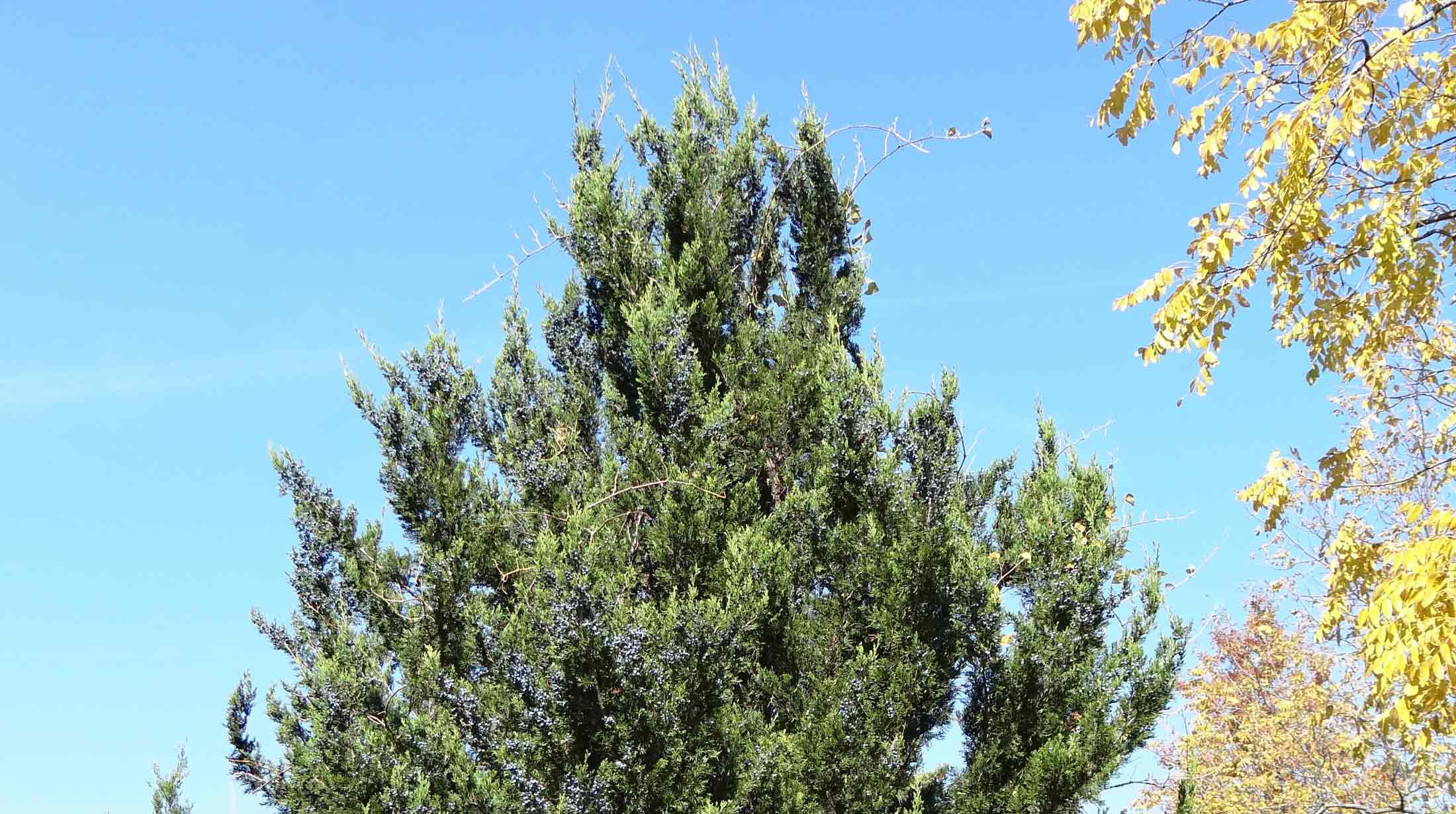 Eastern red cedar is an excellent choice for a screen, hedge or single specimen. Deer resistant and tolerant of poor soil, salt, wind and drought once established, it thrives in full sun. It has dark green needles and grows 15 – 25 feet tall by 6 – 8 feet wide. This native pyramidal shrub produces deep blue berries in the winter that are an important food source for birds.
Photo © Laurel Voran
---
Japanese Pagoda Tree
(Styphnolobium japonicum) (previously Sophora japonica)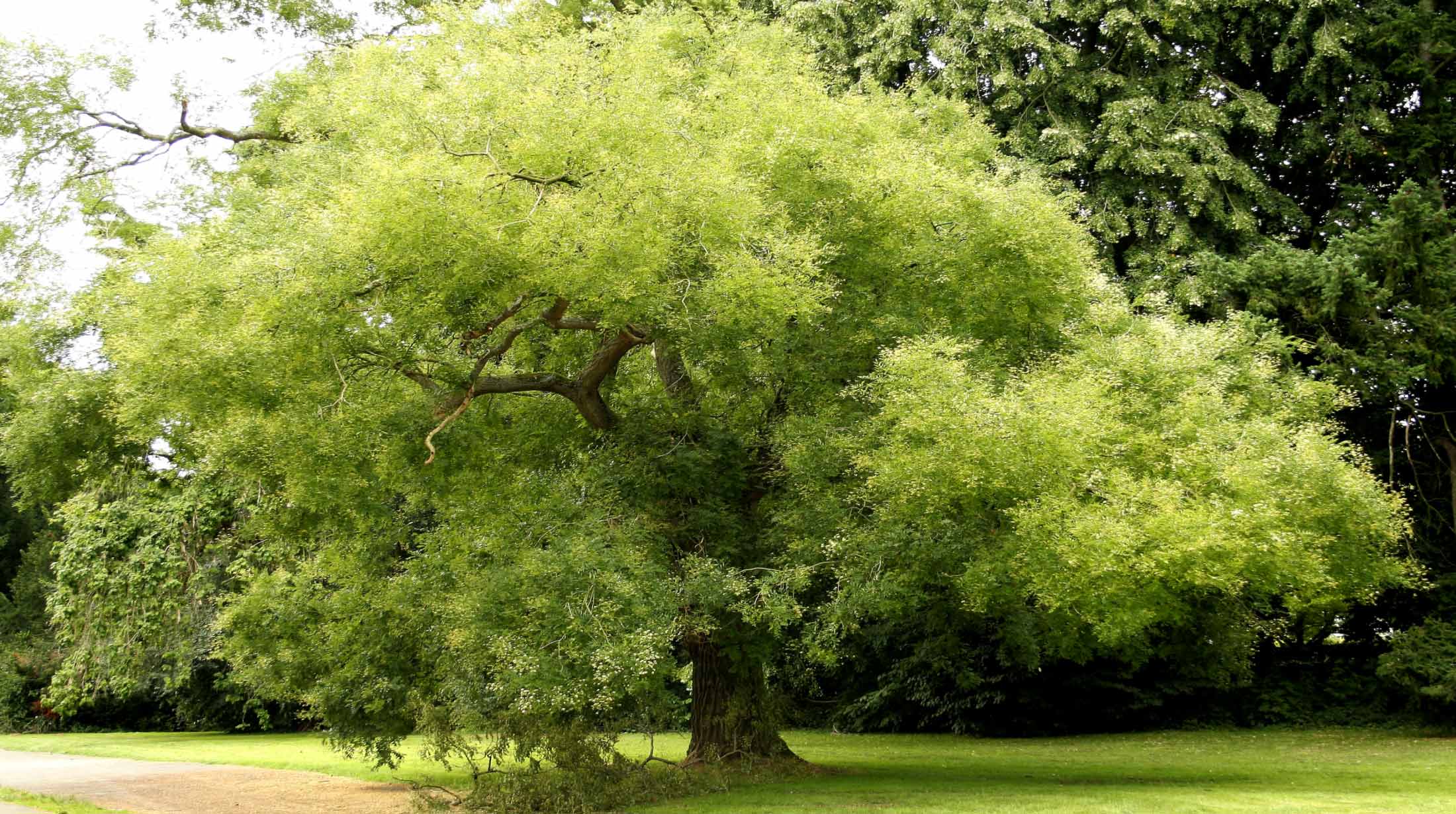 This 40 – 75-foot-tall deciduous tree features a broadly rounded crown; 6 – 12-inch-clusters of creamy-white, mildly fragrant flowers in late July – mid-August; and compound, finely textured leaves that cast light shade. Ideal for city conditions, it thrives in full sun.
Photo © Jean-Pol Grandmont
---
Cardinal Flower
(Lobelia cardinalis)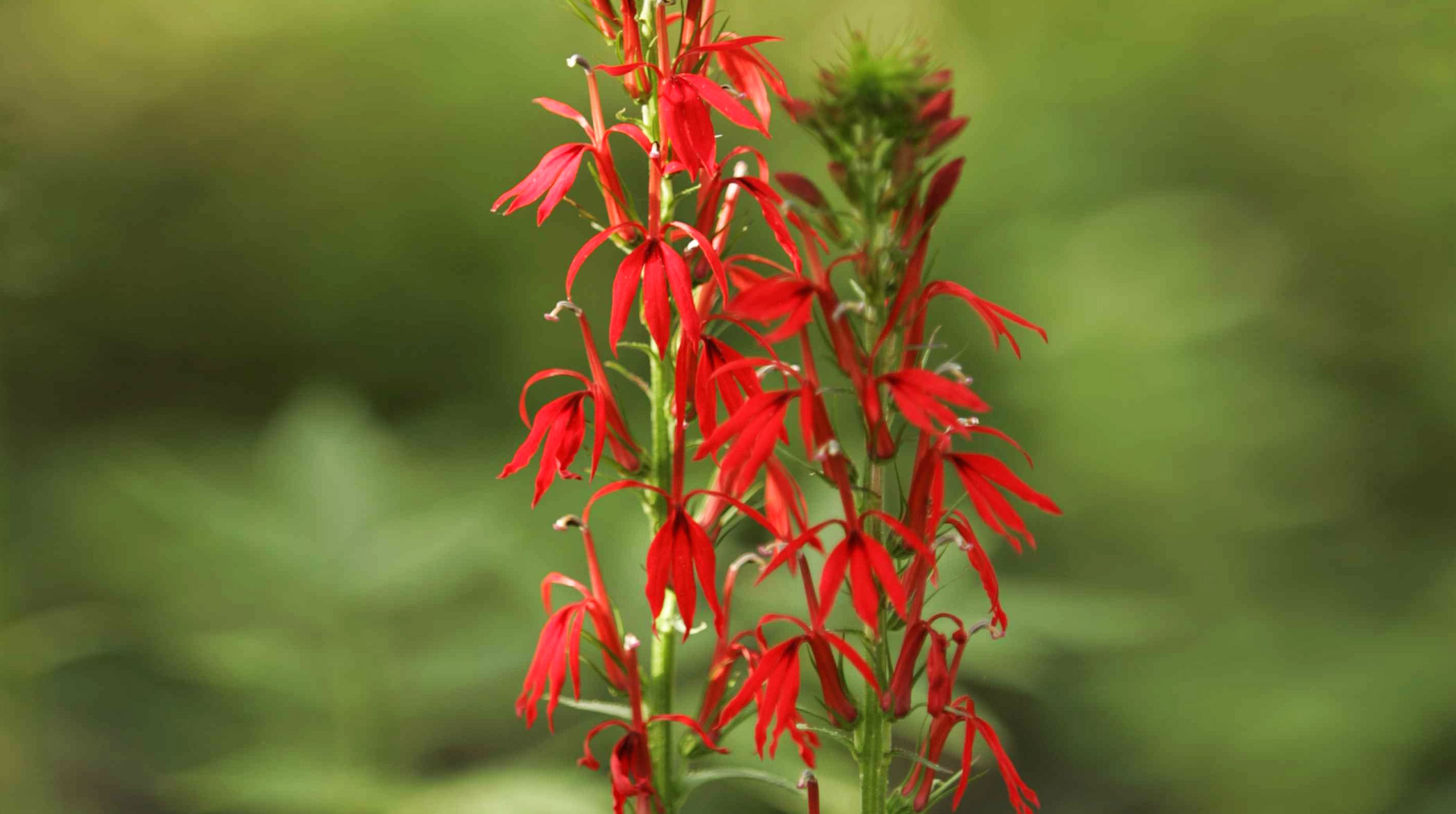 This upright 2 – 4-foot-tall native perennial for part shade to sun and moist to wet soil features scarlet flower spikes in mid-/late summer. Attractive to hummingbirds and butterflies, and resistant to deer and rabbits, it is available in other colors, too.
Photo © Steve Hillebrand, U.S. Fish and Wildlife Service
---
Japanese Snowbell
(Styrax japonicus)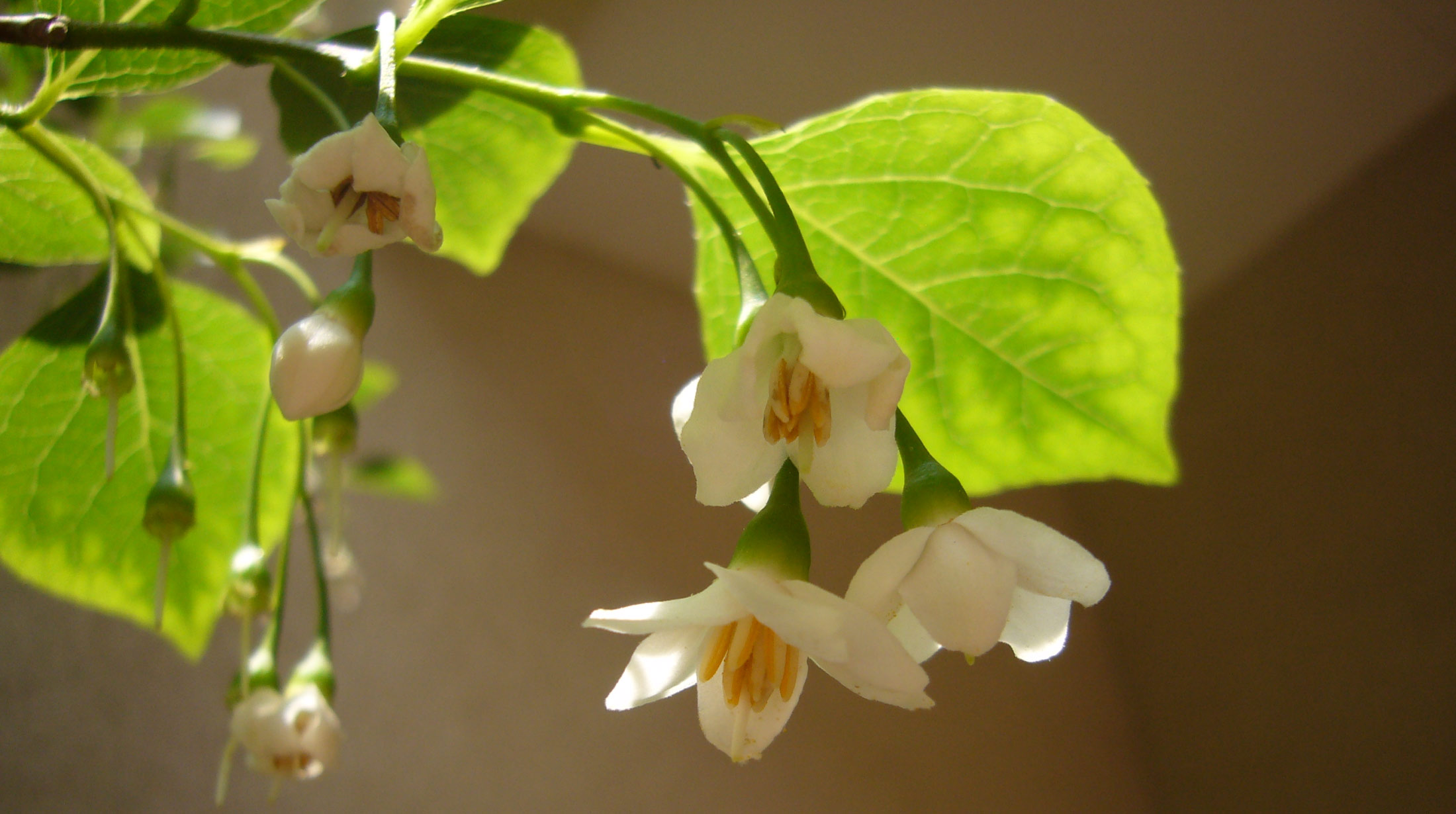 This small 15 – 30-foot-tall-and-wide flowering deciduous tree has horizontal branching habits and clusters of dainty, mildly fragrant, bell-shaped white blooms that appear in late May/early June. It thrives in full sun to part shade and in moist, well-drained soil.
Photo © User: Kurihaya, Wikimedia Commons
---
Tree Peony
(Paeonia suffruticosa)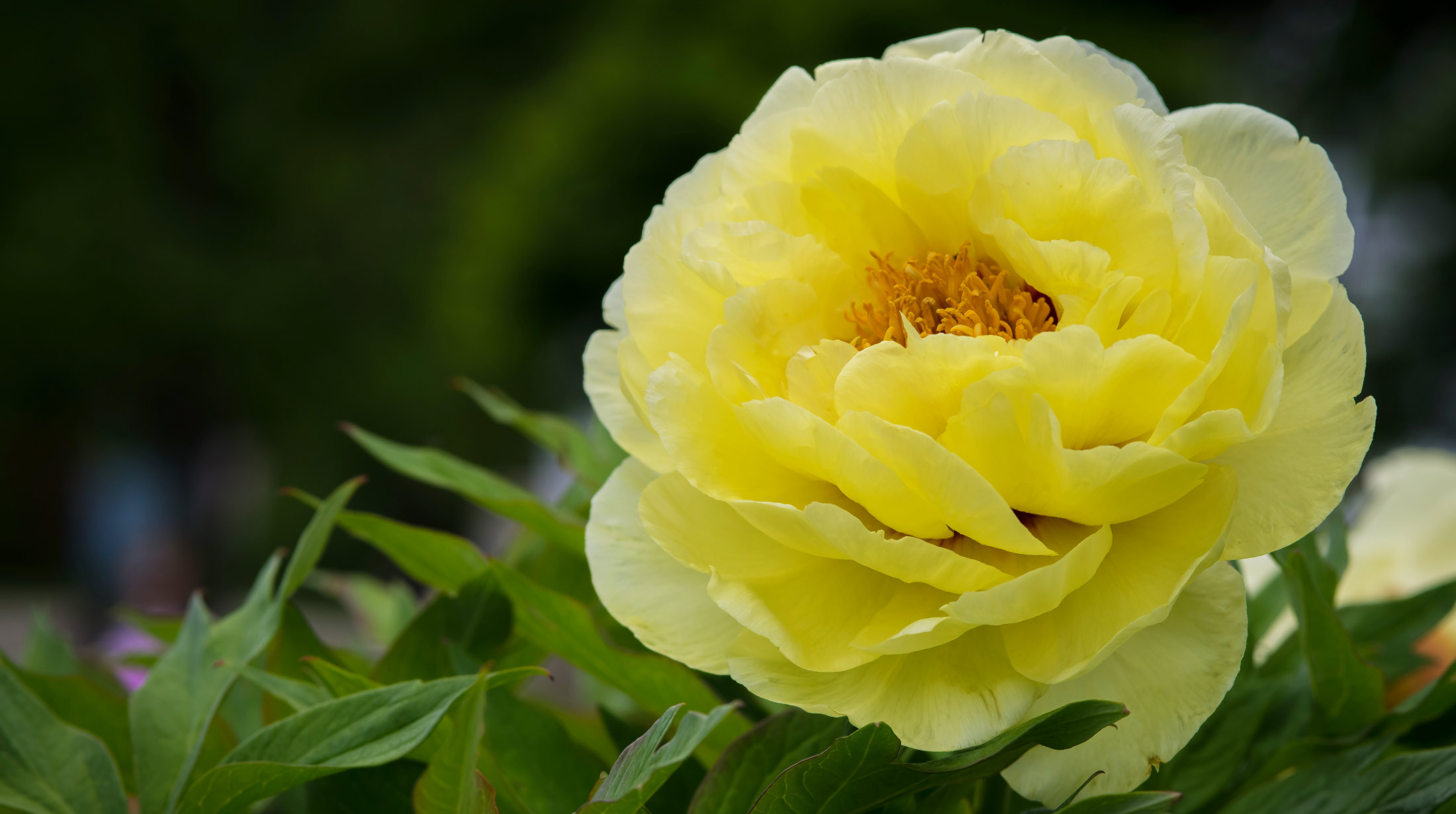 In April/May, this 3 – 5-foot-tall deciduous shrub with deeply divided, medium-green foliage features 6 – 8-inch-wide blooms available in many colors, and single, semi-double and double forms. Deer and rabbit resistant, it thrives in part shade to full sun.
Photo © Paul g. Wiegman
---
Toad Lily
(Tricyrtis formosana)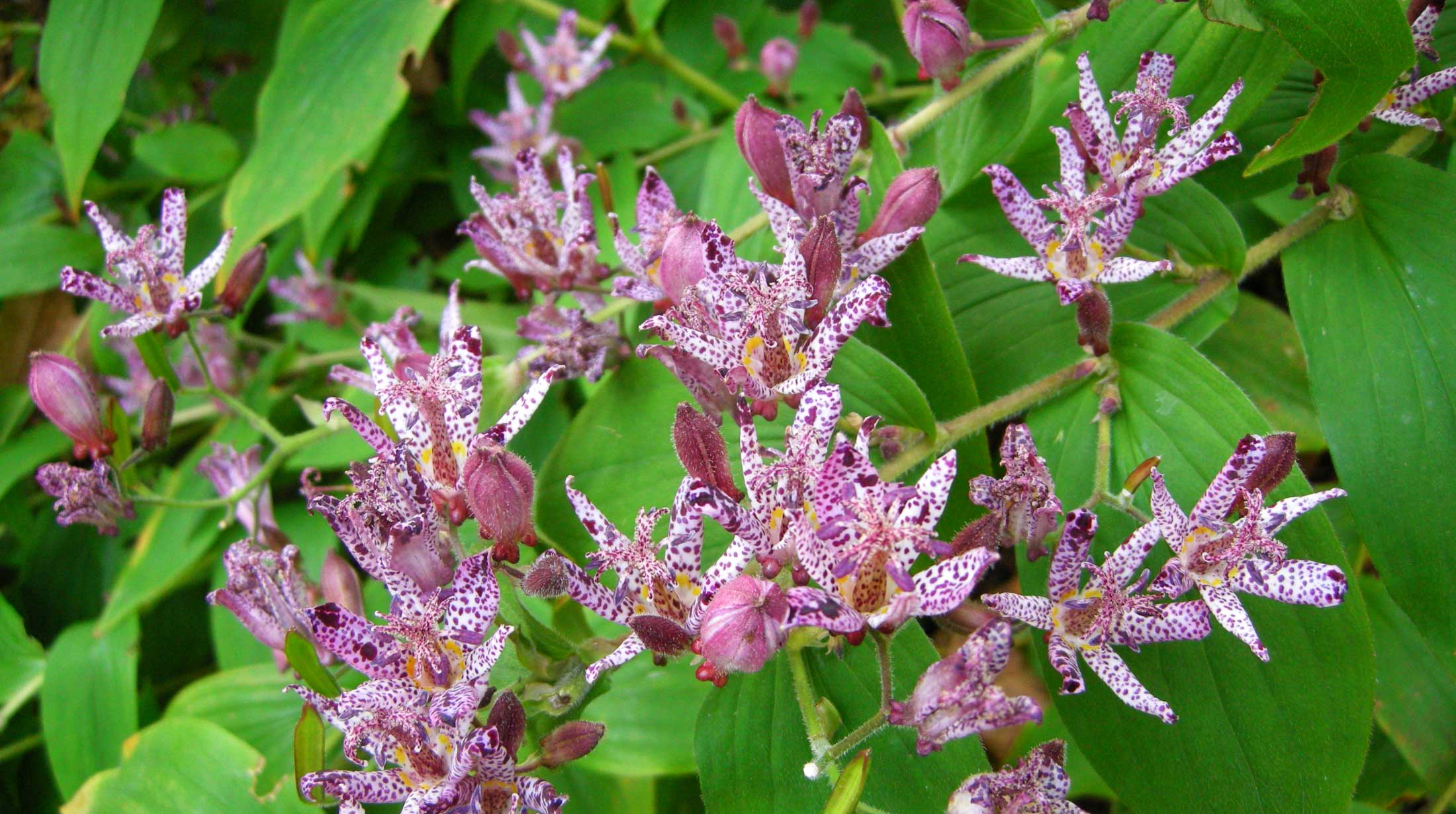 This striking, slow-spreading 1 – 3-foot-tall perennial for part to full shade thrives in moist, well-drained soil rich in organic matter. In August – September, it features lily-like white flowers with red-purple spots and yellow throats to be best enjoyed up close.
Photo © Carolyn's Shade Gardens
---
Diabolo® Ninebark
(Physocarpus opulifolius 'Diabolo' DIABOLO)
This upright 5 – 10-foot-high-and-wide spreading deciduous shrub features red-purple leaves and small white-to-pink flowers in late spring/early summer. Providing season-long interest, it can be grown in full sun to part shade in a variety of soils.
---
Weeping Alaska Cedar
(Xanthocyparis nootkatensis 'Pendula') (previously Chamaecyparis nootkatensis pendula)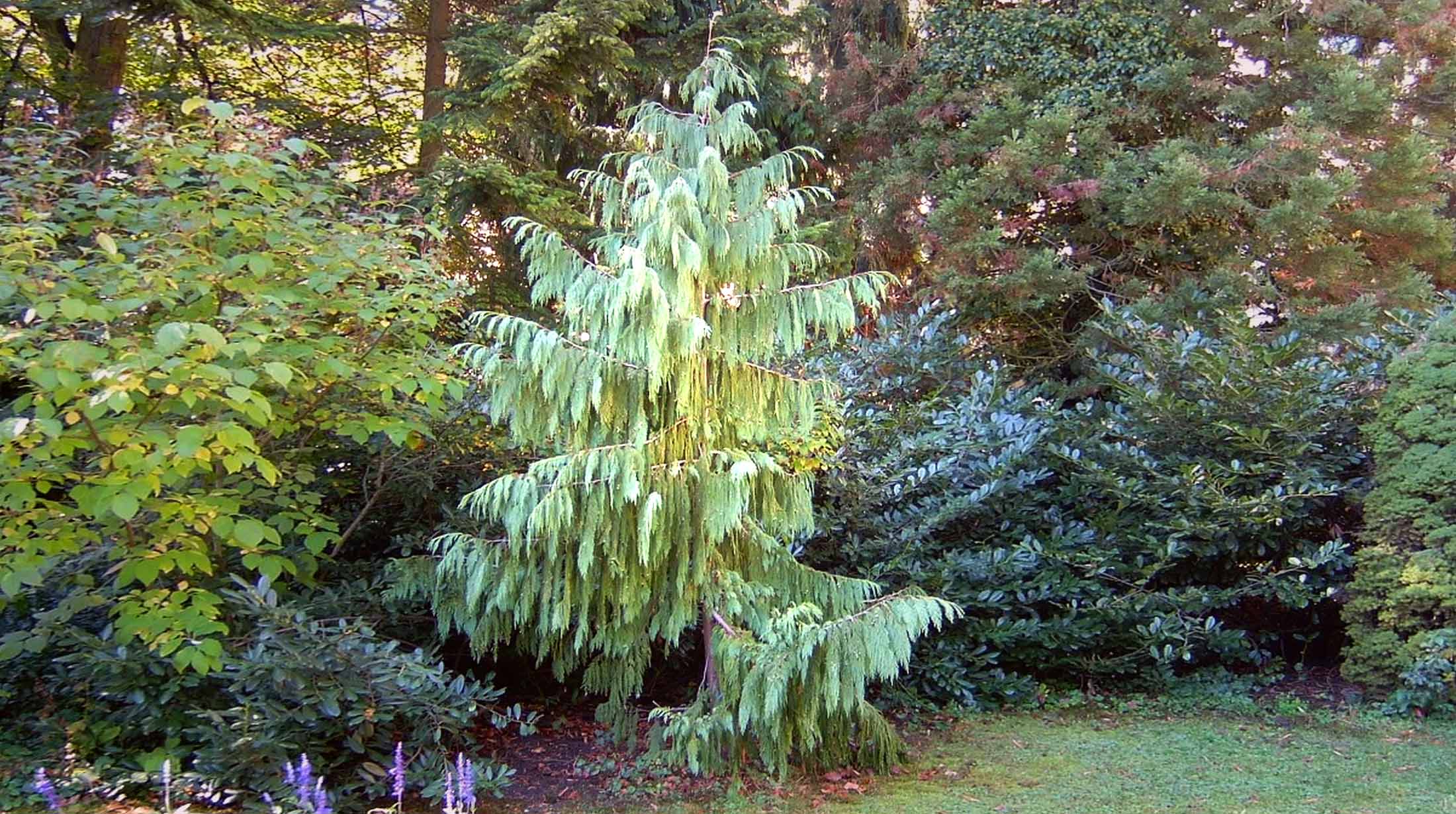 This graceful weeping evergreen conifer, an ideal sculptural specimen plant, is particularly valued for the year-round interest it provides. It grows best in moist, well-drained soil in full sun, and may reach 20 feet or more in height and 8 – 12 feet in width.
Photos © Paul g. Wiegman except where noted