2016 Top 10 Sustainable Plants
---
Watch an introduction to this year's list by Margie Radebaugh, director of horticulture and education:
---
American Hornbeam
(Carpinus caroliniana)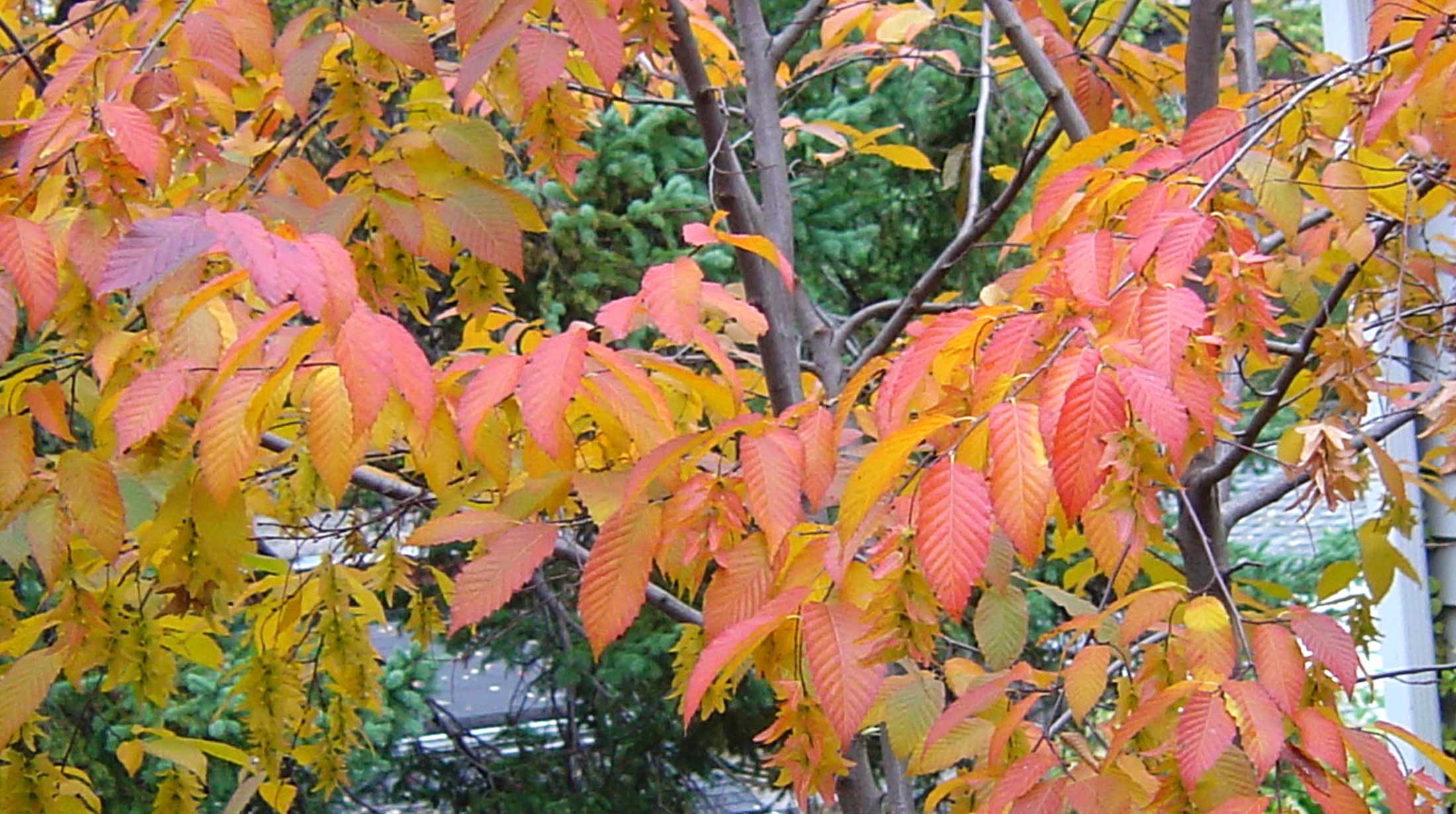 This small, slow-growing, multi-to single-stemmed tree reaches 20 – 30 foot tall and wide. Dark green summer foliage turns to shades of yellow, orange and scarlet in fall. The trunk has smooth gray bark and the large branches resemble muscles. Naturally, this native, understory tree grows best in deep, rich, moist, slightly acidic soil in partial to full shade.
---
Carolina Silverbell
(Halesia carolina)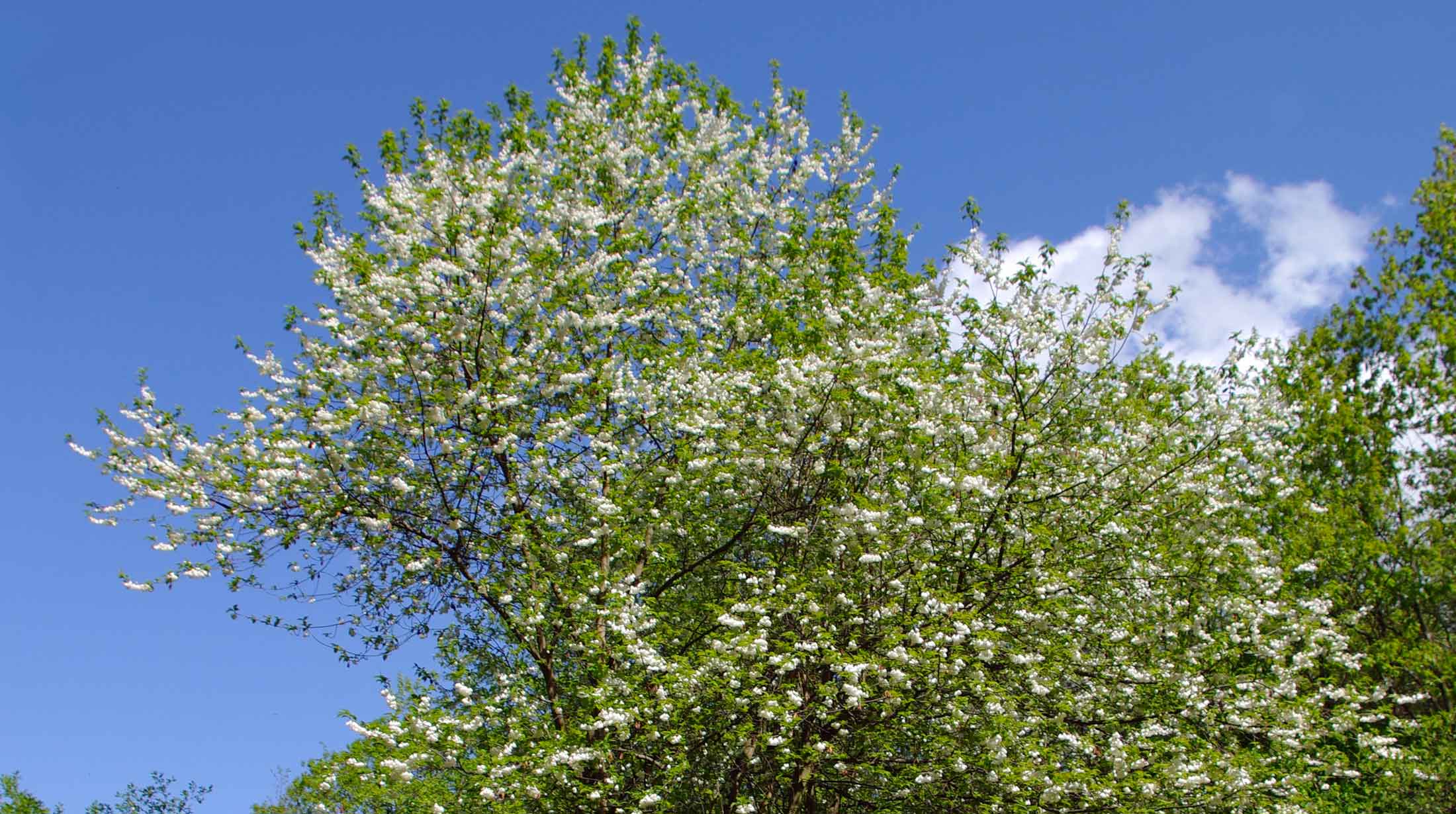 This 30 – 40 foot tall by 20 – 35 foot wide tree has a subtle beauty with clusters of two to five pendulous, white, bell-shaped flowers in April. It grows best in sun or partial shade in rich, moist, acidic soil, and it is exceptionally pest resistant. This tree is native to the Southeastern United States.
Photo © Wikimedia Commons User: Chrumps
---
Red Buckeye
(Aesculus pavia)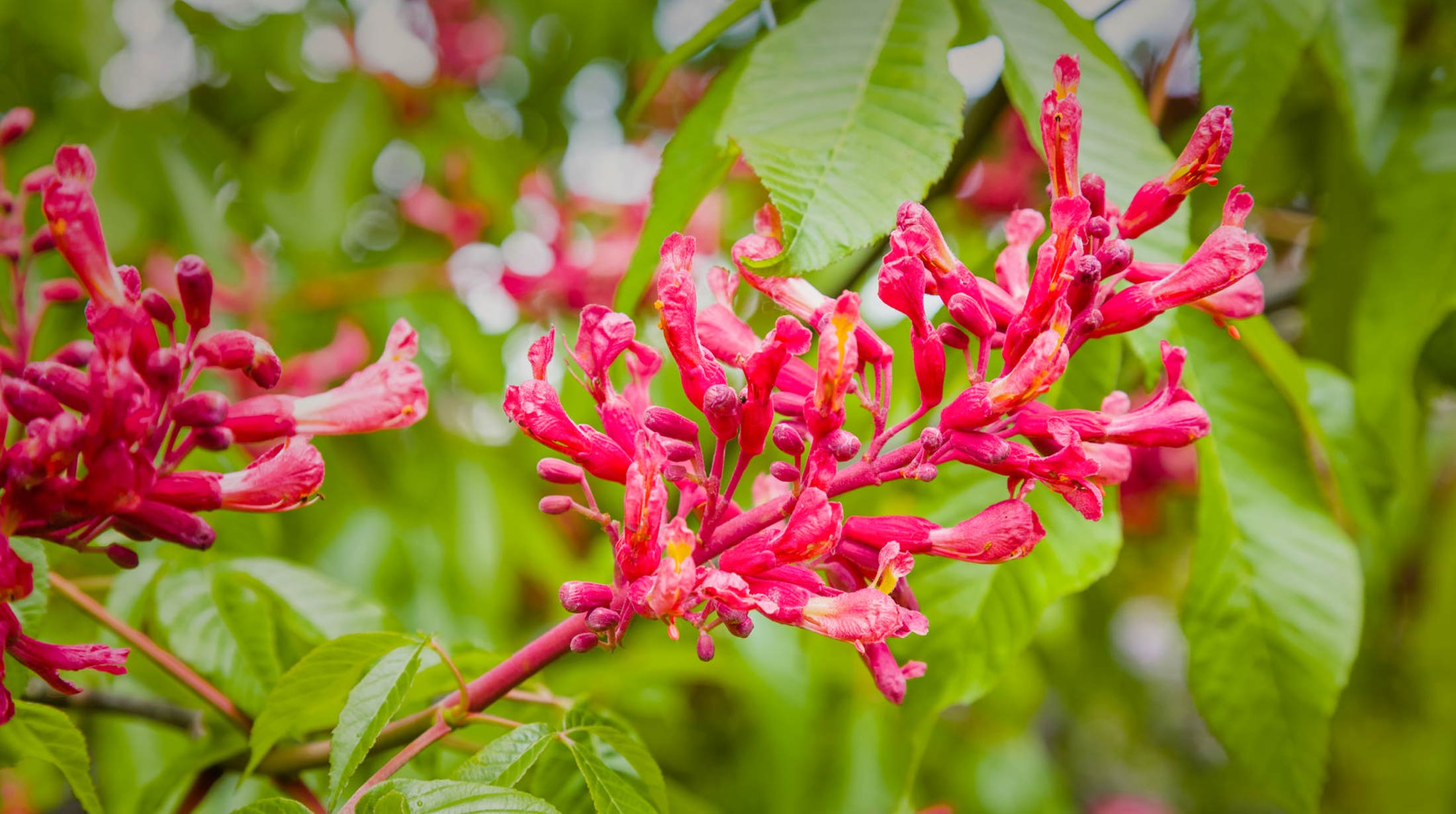 This large shrub or small tree (10 – 20 foot tall and wide) is topped by clump-forming, showy, red, upright 4 – 8 inch panicles of flowers in April to May, starting at a young age. The leaves typically drop by late August. It attracts hummingbirds and grows best in full sun to partial shade in average to moist, well-drained soil. This plant is native to the Southeastern United States.
---
Buttonbush
(Cephalanthus occidentalis)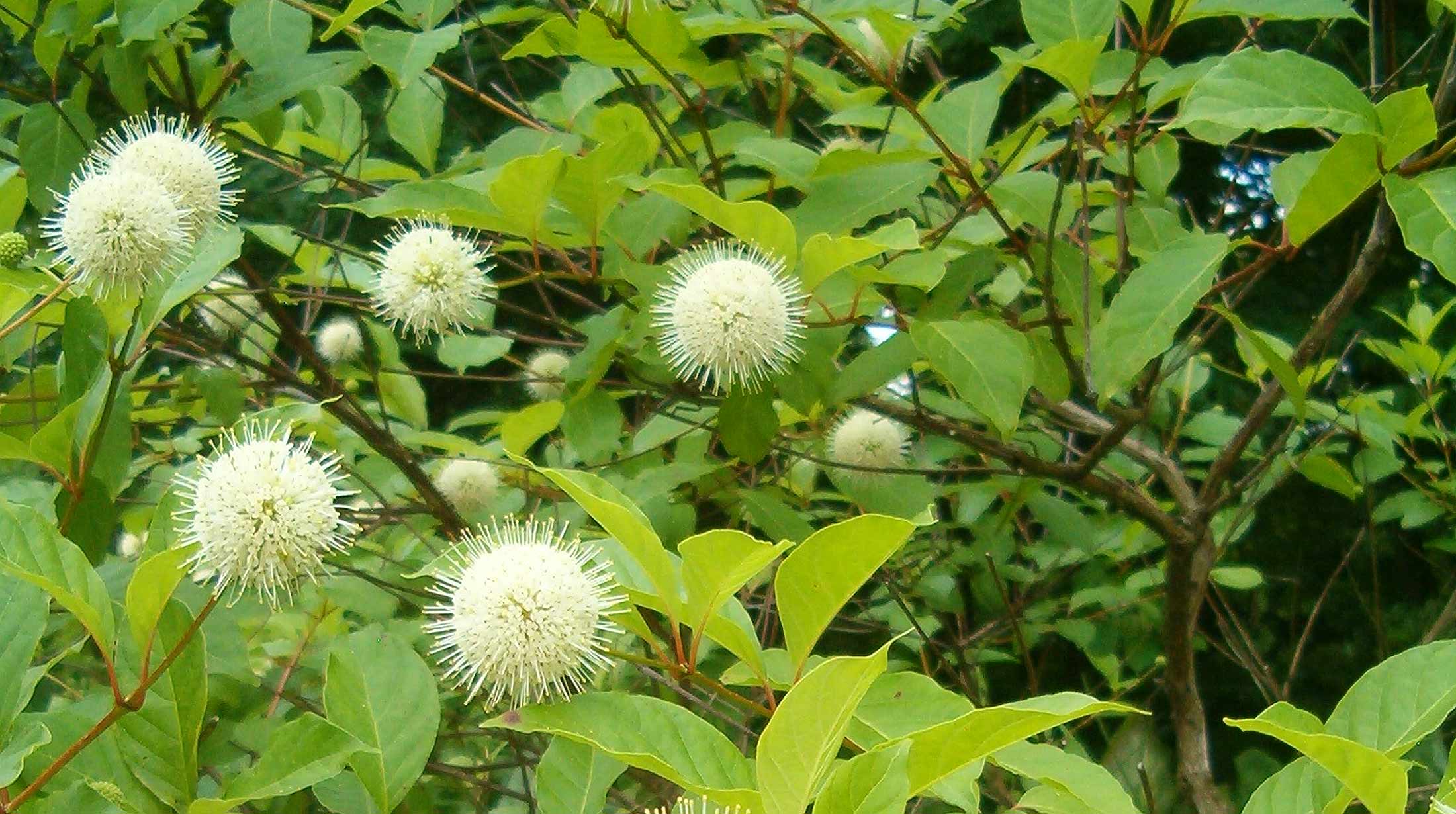 This rounded, 6 – 12 foot tall and wide shrub has glossy green summer foliage. In June, it grows unique, creamy white flowers in crowded, globular heads resembling pin cushions, 1 ¼ inches across. It should be grown in moist to wet areas in a naturalized setting or a shrub border in full sun to partial shade. This native plant attracts bees and butterflies.
Photo © Wikimedia Commons User: Botbln
---
Slender Deutzia
(Deutzia gracilis 'Nikko')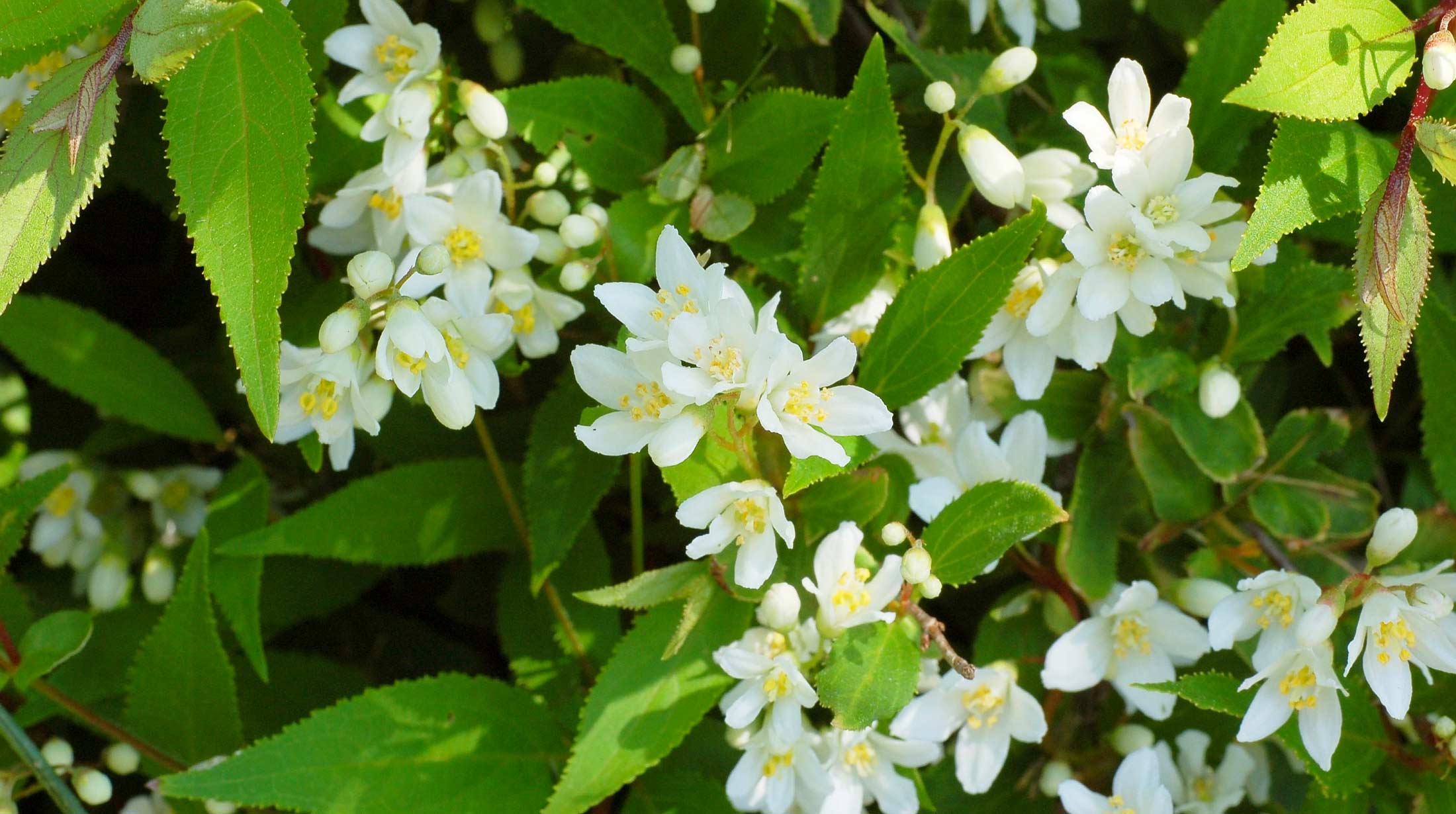 Masses of fragrant white flowers adorn this compact, fine-textured shrub in April to May. Reaching 2 foot tall and 5 foot wide, gently arching branches make this a graceful groundcover. The rich, green foliage turns deep burgundy in fall, making it a nice addition to the front of a border or a hillside. Plant this adaptable shrub in full sun to light shade in average garden soil.
Photo © Derek Ramsey
---
Seven Sons Flower
(Heptacodium miconioides)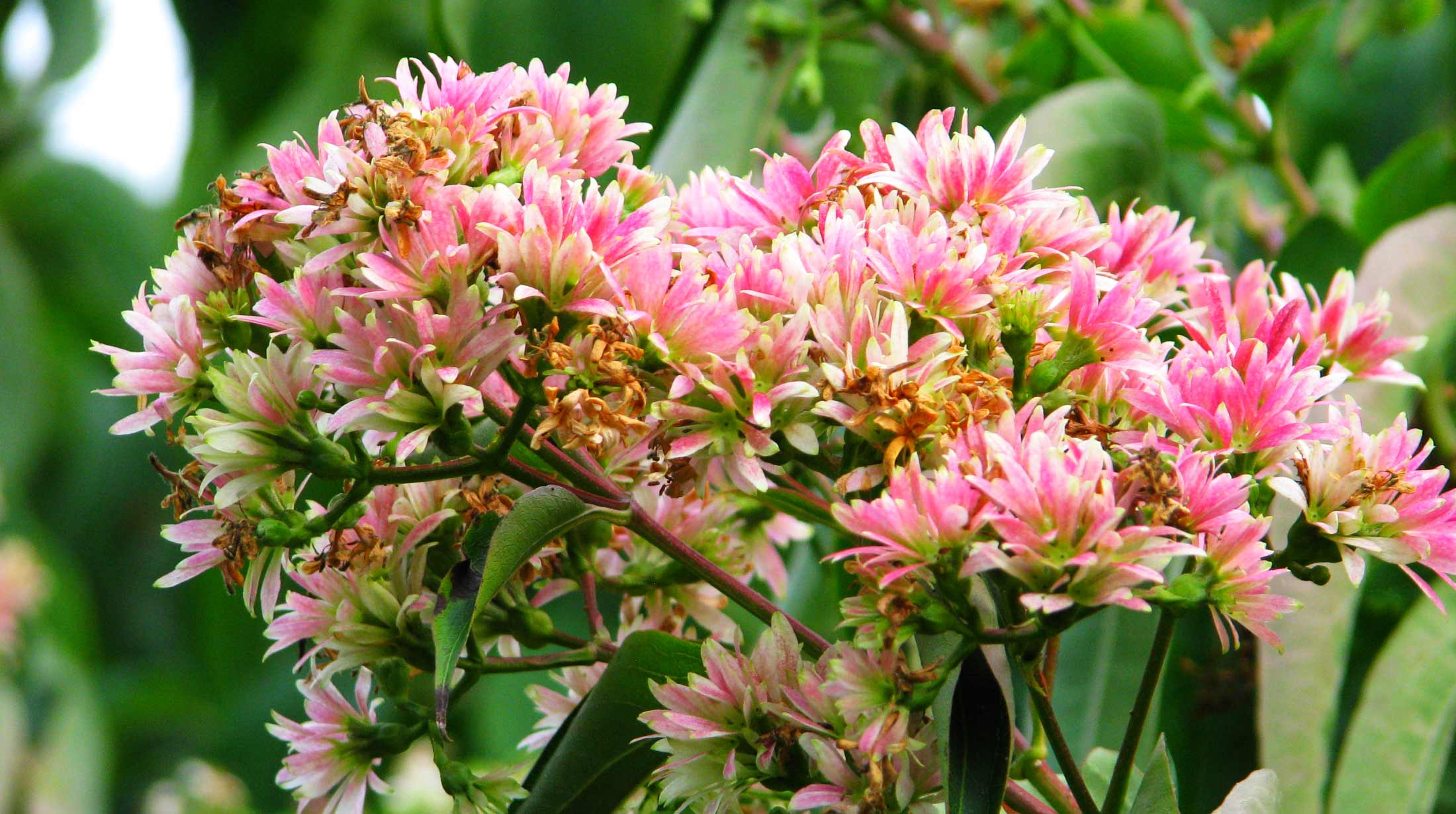 This large, fountain-shaped shrub or small tree reaches a height of 15 – 20 feet by a spread of 8 – 10 feet. In late summer, showy, sweetly fragrant white flowers last for weeks and are followed by even showier cherry red calyces that last into late fall. The exfoliating bark is tan to brown and attractive in the winter. This adaptable and drought tolerant plant requires full sun. In the fall, it is a good source of nectar for butterflies.
Photo © Flickr User: Peganum
---
Butterfly Weed
(Asclepias tuberosa)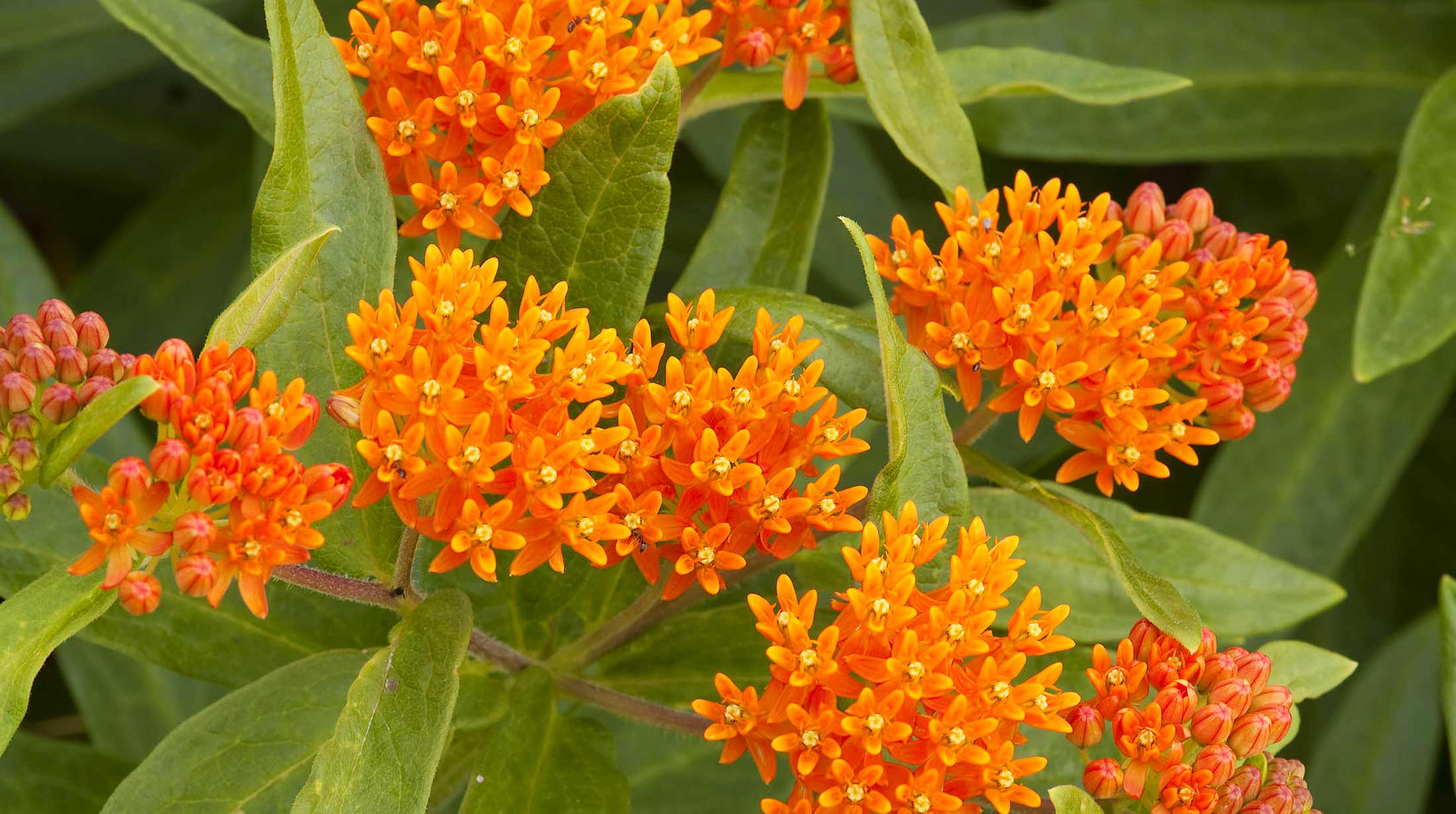 This native perennial is 1 – 2 ½ feet tall and 1 – 1 ½ feet wide. It blooms from June to August with showy, bright yellow-orange flowers. Deer-resistant, it also attracts hummingbirds and butterflies, including monarchs and queens. This plant does well in poor, dry soils.
---
Lady Fern
(Athyrium filix-femina 'Encourage')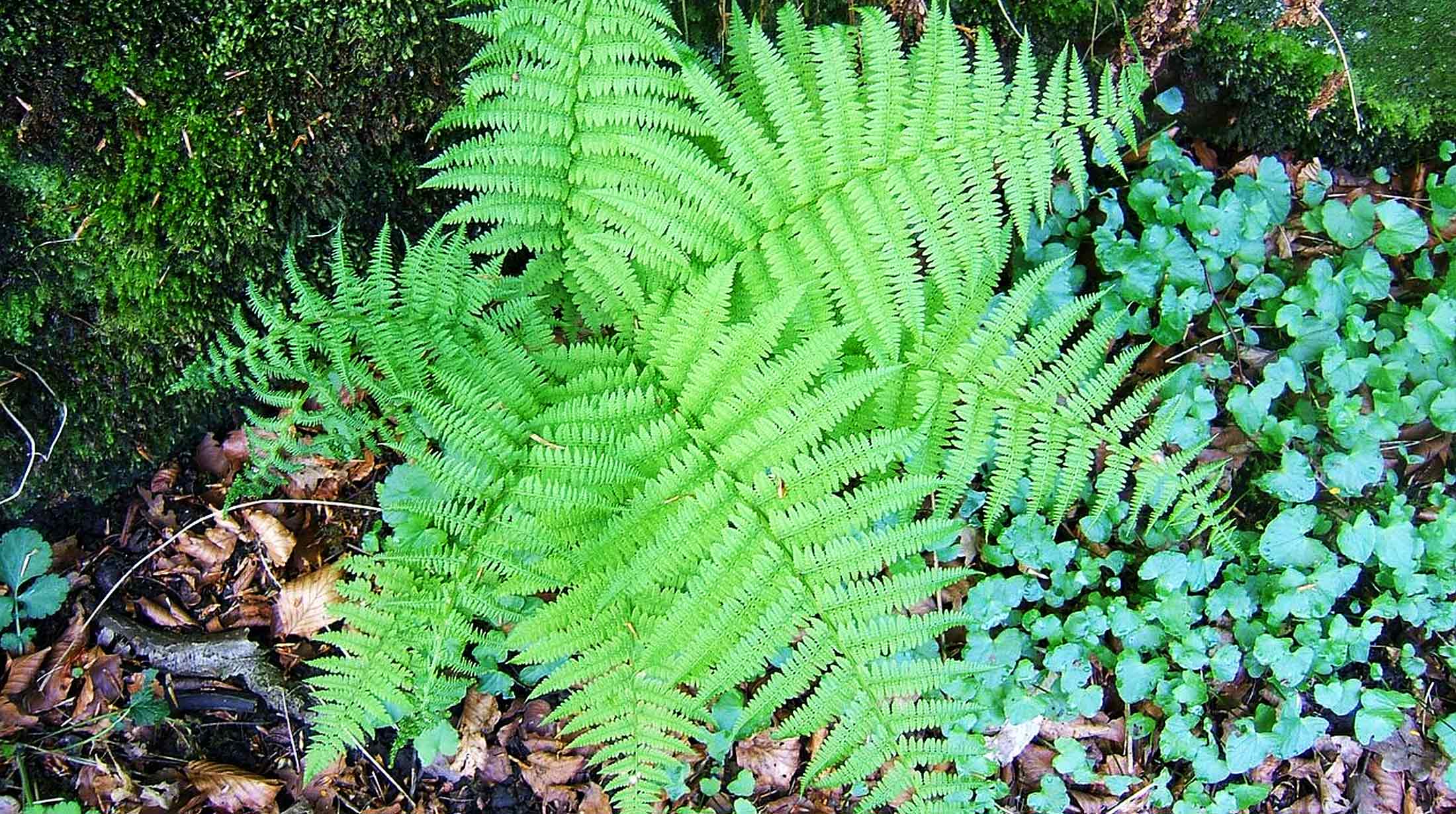 This beautiful, deciduous, compact fern (18 inches tall and 12 inches wide) has frilly, light green fronds, providing a nice look for woodland gardens or shady areas along streams or ponds. Plant this deer-and rabbit-resistant fern in full to partial shade in rich, moist, well-drained soil.
---
Virginia Bluebells
(Mertensia virginica)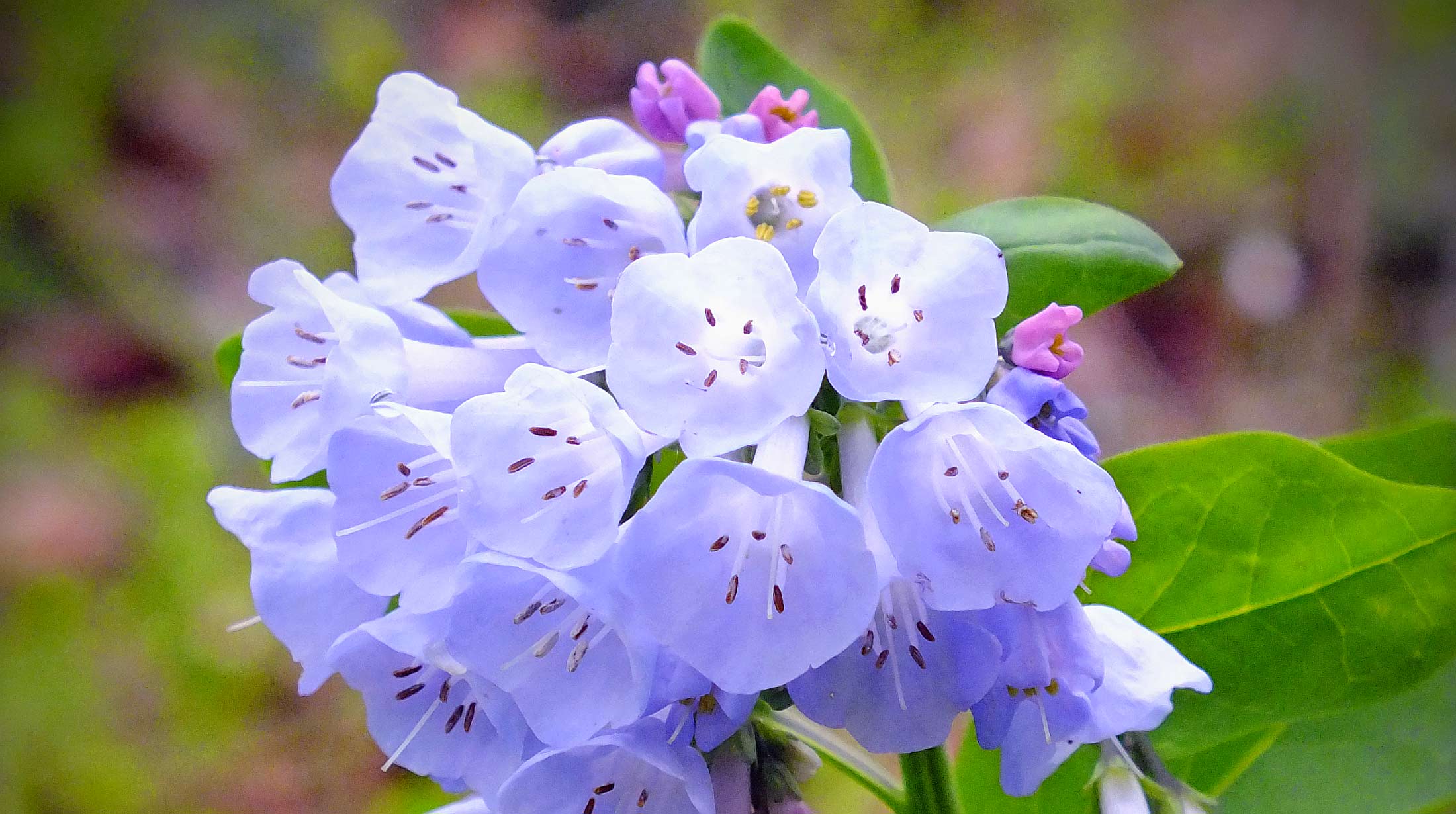 A spring ephemeral, this early-blooming perennial has clusters of pink buds opening to light blue, trumpet-shaped flowers on upright plants in March or April. This native, deer-resistant plant is spectacular in mass plantings, but the foliage dies back by mid-summer. It grows best in light shade and moist soil.
Photo © Nicholas A. Tonelli
---
Meadow Rue
(Thalictrum rochebrunianum 'Lavender Mist')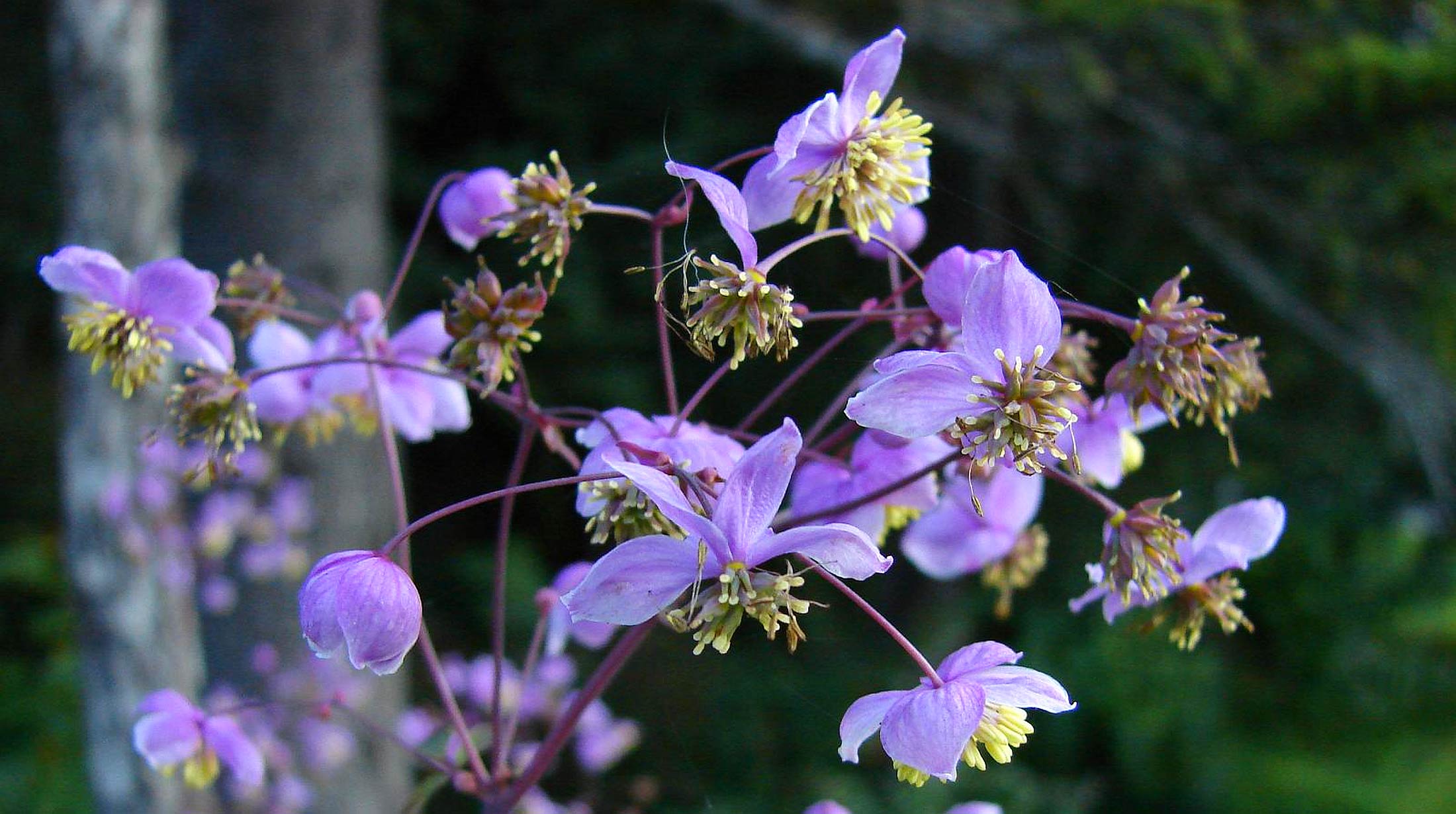 In late summer, this tall, airy perennial has delicate, fine-textured, blue-green foliage topped by sprays of nodding lilac flowers with yellow stamens. It reaches up to 5 – 6 foot tall. Plant this deer- and rabbit-resistant perennial in moist, rich soil in full sun to partial shade.
Photo © Emma Forsberg
Photos © Paul g. Wiegman except where noted