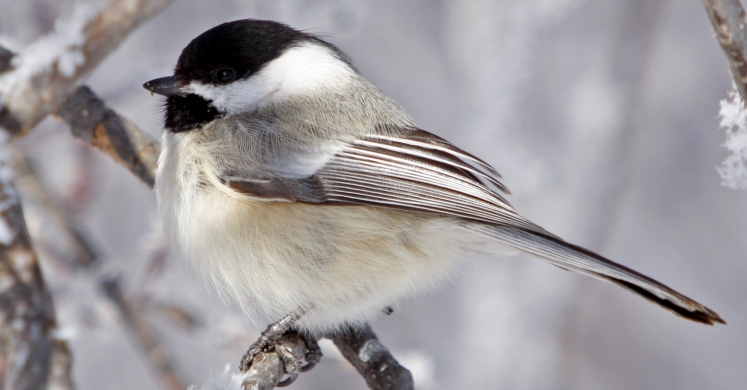 #bioPGH Blog: Year-round Feathered Friends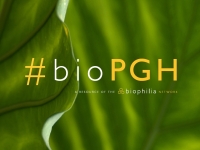 A resource of Biophilia: Pittsburgh, #bioPGH is a weekly blog and social media series that aims to encourage both children and adults to reconnect with nature and enjoy what each of our distinctive seasons has to offer. From the best times to plant seasonal flora and enjoy their peak blooms, to astronomical events and creatures to keep an eye and ear out for, Phipps will keep you in the know with what's going on in our environment!
Most of us can recite the conventional wisdom that birds fly south in the winter without even thinking about it, but we also know that, really, not all birds do. Why do some birds stay put here in Pittsburgh while others migrate hundreds or even thousands of miles every year?
Well, to understand that journey (or lack, thereof), let's first define migration. At its simplest, migration is a response to a seasonal change in resource availability or a change in resource need. Depending on where an animal lives, they may need to migrate seasonally because of food availability. This concept is what are most of us are familiar with when we think of bird migration. It's not just birds, though! Imagine the massive migration of wildebeest across the grasslands of the Serengeti and Masai Mara—the millions of hoofstock that travel in a giant loop over thousands of square miles are actually chasing green grass available from seasonal rains. Alternately, animals may migrate at different points during their lifetime because they don't need the same resources as they did in an earlier stage of life. American eels, for example, are hatched in the Atlantic Ocean but migrate to freshwaters as adults. They later return to the ocean to spawn the next generation, but migrate back to freshwater afterwards. Bottom line, though, animals don't really want to expend all the energy involved in long distance travel if they have all of the resources that they need right where they are.
For birds, the need to migrate is largely due to food availability during winter. Species that exclusively prefer fruits, nectar, or (some) insects for a meal will have much lower success in a wintry Western Pennsylvania than species who are either open to a wide variety of food sources or who have diet preferences of winter-safe foods like nuts and seeds. In fact, ten of the most common year-round resident birds in our area (dark eyed juncos, black-capped chickadees, northern cardinals, blue jays, mourning doves, American goldfinches, downy woodpecker, tufted titmice, white breasted nuthatches, and house finches) all either live entirely on nuts and seeds or are such generalists with their diets that they find plenty of food during cold months. Black-capped chickadees will even pick at frozen carcasses in winter for a little extra protein!
In the end, this means that not all birds are migratory. In fact, some species have both migratory and non-migratory populations. A number of warbler species, for example, may have populations living alongside each other during the summer, but one population migrates seasonally and the other stays put. There is also a strange phenomenon known as "leapfrog migration." Particularly noted in golden eagles migrating from Eastern Canada, leapfrog migration involves birds from farther north (e.g., Northern Quebec) ultimately traveling much further into the southern US than birds who live near the US-Canada border. So the northern birds' migratory routes "leap over" the routes of the southern birds. Think that's crazy? Now what do we do about juvenile bald eagles in Florida who migrate north seasonally? Birds are wild!
Connecting the Outdoors Tips: If you haven't already done so, now is your last chance to sign up for one of the Audubon Society's thousands of community bird counts that happen across the country at the end of every December. But if you can't make it to the birds, bring the birds to you! The Audubon Society created this perfect vegetarian suet recipe that you can set out for your neighborhood feathered friends. Just be sure the temperature is below 50 degrees outside, or your suet will get a bit gooey.
Materials:
• 1 1/2 cups shortening
• 3/4 cups any kind of nut butter
• 3 1/2 cups wild bird seed
• 1 cup quick oats
• 1/2 cup corn meal
• Ice cube tray or any shaped mold that can go in the freezer
Steps:
-Mix dry ingredients together and set aside.
-Mix together shortening and nut butter in separate bowl and melt in microwave, stir frequently until completely melted.
-Mix together melted and dry ingredients and stir well
-Spoon mixture into an ice cube tray or any shaped mold that you would like
-Freeze one to two hours
-Place the blocks in your suet feeder, and watch for fun!

Continue the Conversation: Share your nature discoveries with our community by posting to Twitter and Instagram with hashtag #bioPGH, and R.S.V.P. to attend our next Biophilia: Pittsburgh meeting.
Resources
National Geographic: Wildebeest Migration
Penn State Extension: Winter Bird Feeding—the Basics
Cornell University All About Birds: Black-capped Chickadee
Audubon Society: How Do Birds Cope with Cold in Winter?
Florida Fish and Wildlife Conservation Commission: Bald Eagles
Partial Migration in Tropical Birds: the Frontier of Movement Ecology
Western PA Audubon Society Bird Count
US Fish and Wildlife Service: American Eel
Select Photos: Wikimedia users Vaidor Otsar CC-BY-SA-3.0 and USFWS CC-BY-2.0