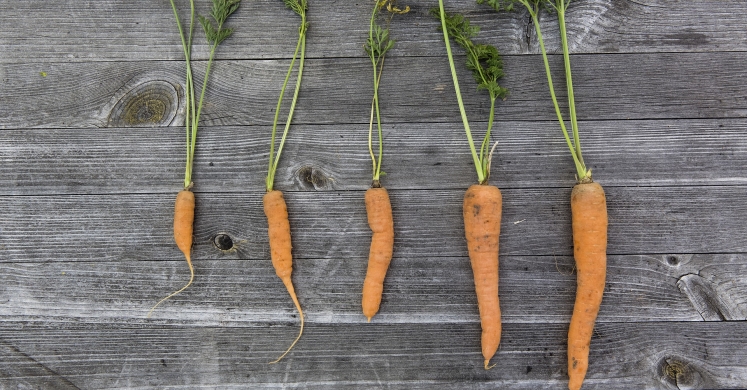 Bottom-Of-The-Bag Carrot Oatmeal Muffins
The United States has a problem: roughly 40 percent of our food supply is thrown away. According to the USDA's Economic Research Service, 31 percent of food waste is at the retail and consumer levels, which equates to approximately 133 billion pounds and $161 billion worth of groceries annually. Our land, water, and energy resources are dwindling to keep up with the demand that is almost double what it needs to be. If we continue to exploit these resources at an exponential rate, our earth, animals, and people will suffer.
So what can we do on a consumer level to reduce the amount of food waste? One powerful tip is to shop in your refrigerator first before running out to the grocery store. From slightly bruised apples to a handful of wilted spinach, these neglected fruits and veggies can be perfectly safe and delicious to eat!
Not sure where to start? Check out this food-waste free recipe below:
Bottom-of-the-bag Carrot Oatmeal Muffins:
Prep time: 15 minutes
Cook time: 25 minutes
Servings: 12 one muffin servings
Ingredients:
2 large eggs
¾ cup applesauce, unsweetened
¼ cup maple syrup or honey
1 teaspoon vanilla extract
1 teaspoon cinnamon
½ teaspoon nutmeg
1 ½ cups limp carrots, grated
1 cup rolled oats
1 cup whole wheat flour
⅓ cup raisins
⅓ cup walnuts or pecans
2 teaspoons baking powder
¾ teaspoon baking soda
½ teaspoons salt
Cooking spray
Instructions:
Preheat oven to 325 degrees F and spray non-stick muffin tin with cooking spray.
In a large mixing bowl, whisk eggs until streak-free.
Add applesauce, maple syrup/honey, vanilla, cinnamon, nutmeg, baking powder, baking soda, and salt. Mix well.
Add carrots and stir. Pour in oats and whole wheat flour and gently mix until combined. Stir in raisins and nuts. Make sure you don't overmix (click for signs of overmixing).
Distribute batter evenly between muffin tins and bake for 25 minutes or until golden brown.
Let muffins cool for a couple of minutes and transfer to cooking rack until ready to serve or store. Enjoy!
Nutrition Facts:
Serving Size: calories: 115, sugar: 6.8 g, carbohydrate: 22.7 g, fat: 1.6 g, protein: 3.5 g, sodium: 108 mg
Sources:
Food Waste Data: https://www.usda.gov/oce/foodwaste/faqs.htm
Recipe Inspired By: https://ifoodreal.com/