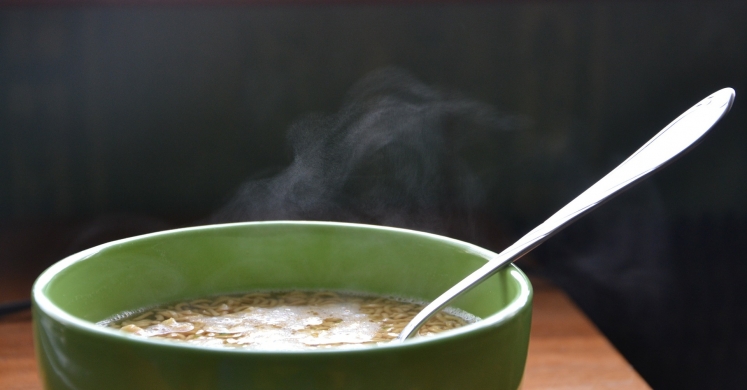 Chickpea Noodle Soup
With wintertime in full blossom, I find that I am constantly craving comfort, sunshine, and good company. Sharing a cozy, hearty soup with loved ones has a restorative effect and brings warmth to this chilly time of year. Invite your family, friends and/or neighbors over to try out this plant-forward twist on a cold weather classic.
Ingredients:
2 tablespoons extra-virgin olive oil
1 medium yellow onion, chopped
1 cup thinly sliced celery (two stalks)
1 cup carrots, peeled and cut into thin rounds (2 medium)
¼ teaspoon salt, more to taste
½ teaspoon ground turmeric
½ teaspoon curry powder (optional)
1 bay leaf
1 can chickpeas, rinsed and drained
8 ounces rotini, whole wheat
2 tablespoons chopped fresh flat-leaf parsley, plus extra for garnish
2 quarts (8 cups) vegetable broth, low-sodium
Freshly ground black pepper, to taste
Instructions:
Warm the olive oil in a large Dutch oven over medium heat. Once the oil is shimmering, add the onion, celery, carrots and ¼ teaspoon salt. Cook, stirring often, until the onions are turning translucent and softening, about 5 to 7 minutes.
Add the turmeric and curry powder, if using, and stir constantly for about 30 seconds. Add the bay leaf, chickpeas, pasta, parsley and broth.
Raise the heat to high and bring the mixture to a simmer, then reduce heat to medium-low and continue simmering until the pasta is pleasantly tender, about 10 to 20 minutes.
Remove the pot from the heat and season generously with pepper. Serve while hot, with some extra parsley and pepper on top as garnish.
Once cool, store the soup in the refrigerator, covered, for up to 5 days.
Source: