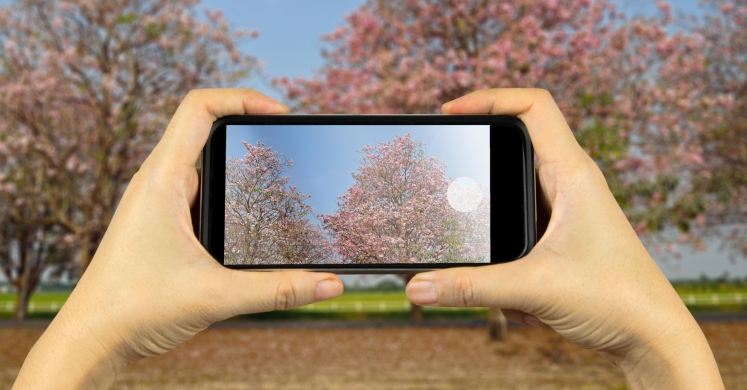 Fairchild Challenge at Phipps: Challenge #2
Challenge #2: "Eco App"
The Fairchild Challenge is officially in full swing at Phipps! Next week our panelists will be surveying the enchanting and beautifully creative first entries so now is the time for students and teachers to look forward to the next challenge.
While the first challenge encouraged venturing in the woods our next challenge takes a look at technology. Today's smartphone applications offer a wealth of information at the tip of our fingers. A 2015 national survey showed that, on average, teens use media for nine hours each day! This even excludes time spent using media for school or for homework. It is clear that humans are spending more time looking at screens and less time appreciating our surroundings. Can we turn this technology into a tool to connect to nature? Herein lies your next challenge.
For Challenge #2, we want you to research, design and pitch an original app concept that connects people to nature, encourages healthier lifestyles or exposes people to current environmental issues. We want you to think creatively: give your app a catchy name and an eco-friendly purpose; draw the reader in with appealing features and layout; and persuasively advertise your eco app.
You can find everything you need for Challenge #2, including specific requirements, posters, standards and rubrics, on our website.
This challenge is due at Phipps Conservatory and Botanical Gardens by Fri., Nov. 18, 2016. Good luck!
Have questions? Contact Emily Nye at enye@phipps.conservatory.org or 412/622-6915, ext. 3905.
Developed by the Fairchild Tropical Botanic Garden in Miami, Fl., and adopted by Phipps as a satellite partner in 2008, The Fairchild Challenge offers a menu of interdisciplinary challenges for grades 6 – 8 and 9 – 12, attracting students of diverse interests, abilities, talents and backgrounds. The Challenge empowers young people to engage in civic life and encourages them to become energetic and knowledgeable members of their communities.
Resources
The Common Sense Census: Media Use by Tweens and Teens