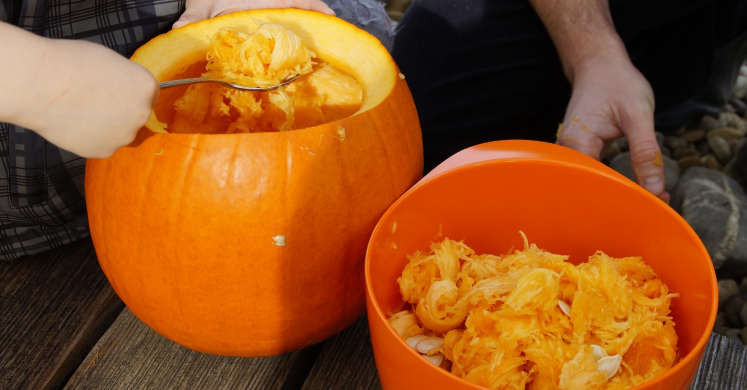 Pizza Roasted Pumpkin Seeds
Carving pumpkins always bubbles up nostalgic memories for me. On the eve of Halloween, my family and I would cover our kitchen table with old newspapers, pour apple cider in cartoon jelly jars, and attempt to carve masterpieces into the faces of hand-picked pumpkins. While we were busy at work, my mother would collect all of the pumpkin gunk we tossed aside, clean off the seeds and roast them in the oven. It always felt like magic when she transformed slimy seeds into scrumptious snacks.
I'm here to share some of that magic with a delicious pizza flavored pumpkin seed recipe. This salty, crunchy treat takes around 30 minutes to make and is the perfect edible trophy to celebrate your Jack-O-Lantern creations.
Pizza Roasted Pumpkin Seeds
Prep time: 5 minutes Cook time: 30 minutes Serves: 4
Ingredients
1 cup clean and towel-dried pumpkin seeds
2 teaspoons olive oil or avocado oil
2 tablespoons grated Parmesan cheese or nutritional yeast
1 teaspoon basil
1 teaspoon oregano
1/2 teaspoon sea salt
1/4 teaspoon garlic powder
Instructions
Pre-heat oven to 300°F. Grease the baking sheet and set aside.
Clean the pumpkin seeds by removing them from the pumpkin, and pick the large pumpkin chunks out.
Fill a medium mixing bowl with warm water. Add pumpkin seeds, and then swirl around with your hand to separate pumpkin pulp. Let rest for five minutes. The pumpkin seeds will float to the top, and the pumpkin will sink to the bottom.
Use a slotted spoon to remove the clean pumpkin seeds to a kitchen towel and pat dry.
In a small bowl, mix together basil, oregano, sea salt, garlic powder, and nutritional yeast or Parmesan.
Toss pumpkin seeds with olive oil. Then, add in the seasoning mixture and evenly coat seeds.
Spread pumpkin seeds onto baking sheet, making sure they are in one even layer.
Roast in oven for 20-30 minutes, stirring every 10 minutes, or until the pumpkin seeds are golden brown.
Remove from heat and let cool completely. The pumpkin seeds will become crispy once cooled.