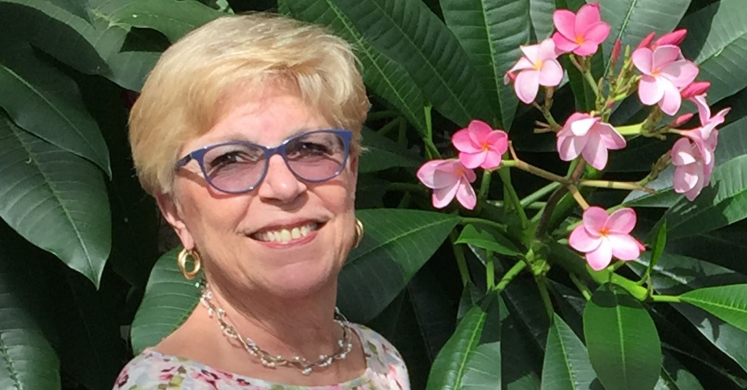 Volunteer Spotlight: Olivia Zitelli
Phipps is well-known for our beautiful gardens, seasonal flower shows, pioneering sustainability initiatives, informative educational programs and community outreach. None of our work, however, would be possible without the knowledge and dedication of our volunteers. In this series of profiles, we meet some of the people who give their time to make Phipps possible.
She may be retired, but volunteer Olivia Zitelli is not done working. Pre-pandemic, most could find Olivia greeting guests as they wandered through the winding paths of Tropical Forest Cuba. Olivia's warm, energetic spirit resonates through her and her work, making her an ideal person to help guests during their visit.

First discovering Phipps as a child, Olivia reminisces on the first time she experienced the beauty in the glasshouse on Easter Sunday. She had never seen anything so awe-inspiring and she never forgot it. As an adult, Olivia became a member of Phipps so she could invite friends from all over to experience the same feeling she felt as a child.

Olivia first started volunteering at Phipps in 2018, just a few months shy of her very well deserved retirement as a director of human resources. At first, Olivia wanted to get her hands dirty with the horticulture staff. Olivia always loved and gardening and says, "Digging in the dirt keeps me grounded." Unfortunately, there were no positions open, but that didn't stop Olivia from taking on whatever Phipps had to offer.

Olivia was then placed as a greeter in the Tropical Forest Conservatory, educating guests about the culture, food and the ecosystem of Cuba. Every shift, Olivia does her best to give a new experience for guests every time. "I do a full walk through of the exhibit to see what has changed since my last day there so I can point out interesting things that guests may miss," Olivia says, "It could be a very fragrant bloom on the jasmine plant, a beautiful orchid in a tree or even a frog in the fish tank."

When asked about what her favorite thing about Phipps is, Olivia can't pick just one! Spending time with her fellow volunteers, meeting new guests every day and experiencing all of the new shows are just a short list of what Olivia truly loves about Phipps.