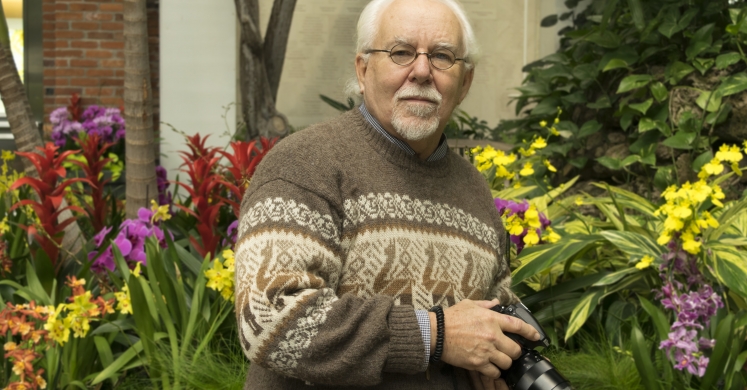 Volunteer Spotlight: Paul Wiegman
Phipps is well-known for our beautiful gardens, seasonal flower shows, pioneering sustainability initiatives, informative educational programs and community outreach. None of our work, however, would be possible without the knowledge and dedication of our volunteers. In this series of profiles, we meet some of the people who give their time to make Phipps possible.
Nearly all of the photos you see on Phipps' website, social media pages, displays and signage come from one man: Paul Wiegman, a volunteer at Phipps since 2004. "I simply enjoy taking pictures," said Paul. With a degree in botany, he says that it comes naturally to him to have to photograph plants regularly. He spent the majority of his career working for the Western Pennsylvania Conservancy, helping to create protection strategies for endangered plants. In addition, he wrote nature and natural history pieces for the Pittsburgh Post-Gazette and Tribune-Review.
At Phipps, Paul enjoys searching for unique scenes to shoot during each new show. It may come as a surprise to learn that such a talented photographer is color blind; however, Paul explains that the most important thing to consider while shooting is not color, but light. "There are continuous changes here even by the hour. You never see the same thing over again, which is what makes it fun," he said. He visits Phipps at least once a week to take photos and takes and edits approximately 100 photos per week. In between shows, he focuses on photographing individual species.
Paul is an avid biker and spends many hours on the Great Allegheny Bike Trail. He often photographs native plants while on biking excursions and would much rather spend a day in the park than working in his garden. Prints of Paul's native plant collection are available for sale at the Shop at Phipps. For about two months out of each year, Paul travels with his wife; the two usually plan international trips to see nature reserves and botanical gardens. Paul is a lifelong resident of western Pennsylvania and spends his time between homes in Regent Square and Confluence, Pa.
View Paul's work at pgwbotanicals.com.