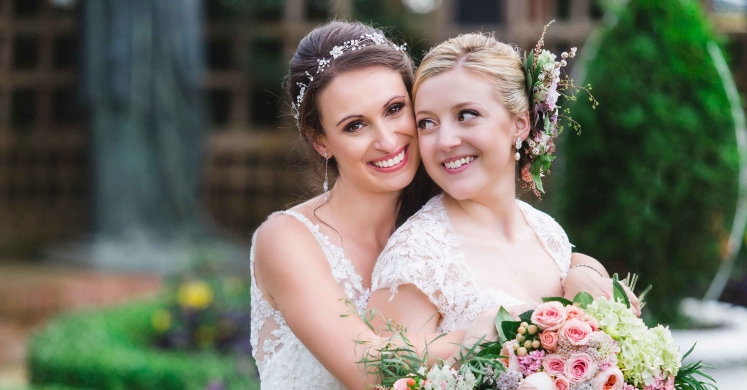 Weddings Under Glass: Ariella and Dana
Weddings Under Glass is a monthly blog series where we highlight the stories of couples who chose to begin their happily ever after in the lush backdrop of Phipps, named one of the best outdoor garden wedding venues by Elle and Harper's Bazaar.
Ariella and Dana have loved sharing everything with each other since the first messages they exchanged on OK Cupid. From their "essay-long" texts and hours-long first date to their in-depth conversations and "novel-length" wedding vows, the connection between Ariella and Dana has been strong and seamless from the beginning.
The couple's first date was at Harris Grill. Ariella remembers, "When I saw a girl leaning against a wall, I thought, 'No way, is that her? She's so beautiful!" They discussed their careers in film amongst other things, and had such a great time that Ariella was upset when it was time to leave. "I wanted to text her right away but wasn't sure about the etiquette for after-date texts," Ariella says. "But as soon as I got in my car, I texted her that I had a great time. Then the long conversations continued!"
Ariella says that Dana describes getting to know each other was so seamless and easy. "Something about it just came naturally to both of us, even though we are both hardcore introverts."
Ariella and Dana both had plans to propose to each other, and both plans involved a scavenger hunt. Ariella proposed first with clue envelopes full of meaningful, fun memories placed throughout the city. One stop was Harris Grill, where the couple had their first date, and the last was Negley Inn. Ariella got down on one knee after presenting Dana with an art project of origami, old tickets and souvenirs.
Dana's scavenger hunt proposal had immersive gaming elements, and Ariella put together puzzles to find the next clue. One clue had a color key map, and Ariella bit into a dozen cupcakes to find the right color filling to match her to the next location. "It was the most beautiful thing anyone has ever done for me in my life," Ariella says. The final clue brought the couple to Harris Grill, where Dana got on one knee.
Phipps played a memorable role in the couple's first dates, so it was one of their first choice wedding venues. "We remembered how being at Phipps always made us feel: serene, at peace and happy," Ariella says. "Phipps really became a place where we built some of our best memories." The couple loved everything that Phipps had to offer from the outdoor spaces and private mystery of the Tropical Forest Conservatory to the beautiful backdrop of the Tropical Forest Patio. "There was nothing not to love about the setting – it was perfect for us," Ariella says.
The couple's theme included light pastel pinks, yellows and greens for soft complements to their rustic, flower-filled aesthetic, and the details were beautifully chosen. Their ceremony included a chuppah made entirely out of flowers and their heart-felt vows. "Our officiant joked that both of us wrote novels to one another. She literally said, 'I hope everyone is comfortable in their seats because these are long!'" Ariella says. Some of their favorite reception details were the inside-out cake for a contrast between the dark cake sponge and the fresh floral decorations, succulent favors (which many guests still have!) and table numbers in both English and Russian. "We also had the Bachelor Boys Band provide the music, and they were perfect!" Ariella says.
Most of all, though, Ariella and Dana loved being surrounded by their family and friends in "such a beautiful setting." They felt that the botanical background gave their wedding a peaceful, joyful atmosphere and that their guests really enjoyed the Tropical Forest Patio, fountains and endless areas for photos.
After their wedding, Ariella and Dana traveled across the world to Japan to visit Tokyo, Mount Fuji, Kyoto and Osaka. "It was amazing!" Ariella recalls.
Now, the couple run their own wedding videography company, Just Hitched Wedding Films, which is now nationally recognized by Wedding Wire and The Knot Hall of Fame. "We make a flawless team," Ariella says. "We complement one another with our strengths and weaknesses." In their free time, Ariella and Dana are members of a four-person immersive theatre team, Vigilance Theatre, which creates narrative experiences that break down the fourth wall.
Would you like to plan your special day at Phipps? Please contact our events team by email or by calling 412/315-0685.
Vendors
Venue: Phipps Conservatory
Flowers: Mt. Lebanon Floral
Videographer: Just Hitched Wedding Films
Photographer: Anne Louise Photography
Band: Bachelor Boys Band
Lighting and Curtain Design: Jim at Gray Phoenix Production