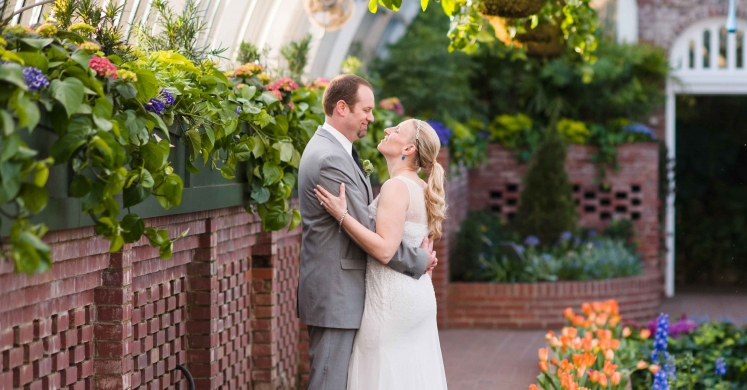 Weddings Under Glass: Jaime and Jon
Weddings Under Glass is a monthly blog series where we highlight the stories of couples who chose to begin their happily ever after in the lush backdrop of Phipps, named one of the best outdoor garden wedding venues by Elle and Harper's Bazaar.
When Jaime saw Jon's picture on Match.com, she felt a spark but wasn't sure about making the first move. Then she accidentally "liked" a photo of his online, he messaged her, they set up their first date, and the rest is history!.
After a stressful week, Jaime just wanted to relax. Jon offered to massage her shoulders, but with a special plan in mind. Her eyes were closed, enjoying the massage, when Jon asked her to open her eyes. He had a ring out. "I was so surprised!" Jaime says, "He had champagne waiting for a toast after I said yes."
The couple live in Ohio, but Pittsburgh is Jaime's hometown. "Phipps was a no brainer!" Jaime says as she explains their choice of venue. "I wanted to have a celebration somewhere that my family at home could attend without a lot of travel."
Jaime also wanted a venue that offered a comfortable temperature and appealing atmosphere in the cold month of March. "I wanted something beautiful," Jaime says, "but since it was March and you can't control the weather, we had a better chance of that inside – with the benefit of all the flowers and plants at Phipps."
Jaime and Jon celebrated their intimate civil ceremony in the Broderie Room. They wanted the style of their ceremony to be simple. "This was a second marriage for both of us, so we didn't need a lot of fuss." Jaime says. "My dress was more of a beaded gown than a wedding dress. I had no train and no veil."
Their favorite detail of the wedding? "It was very small, so it was much more intimate than the my first wedding," Jaime says. There were 17 people in attendance, including Jaime, Jon and their three children. "Our other favorite part of getting married at Phipps was the perfect scenery, and, it was so nice and warm, which made me very comfortable in my dress."
Following the ceremony, they had a private reception at the Grand Concourse and celebrated with their guests.
A few weeks after their civil ceremony at Phipps, Jaime and Jon had a religious ceremony in Cincinnati at a Catholic church. A few months later, they hosted another party to celebrate their marriage with their friends in Cincinnati, where they currently live. "We celebrated our wedding much differently than I think is traditionally done," says Jaime.
As for their honeymoon, Jaime and Jon actually had a few. "We took several trips and called them honeymoons," Jaime says. "A few days after getting married, we were in San Antonio and then Miami." The big honeymoon, though, was in the fall and halfway across the world in the Maldives.
Now, the couple are focusing on blending their families and settling into their newly built home in Cincinnati. With three children between them — an 11-year-old boy, 11-year-old girl and 8-year-old girl — Jaime and Jon are busy raising their new family. They also are making time to get away – both as a family and as a couple.
Would you like to plan your special day at Phipps? Please contact our events team by email or by calling 412/622-6915, ext. 6404.
Vendors
Photographer: Michael Will Photography