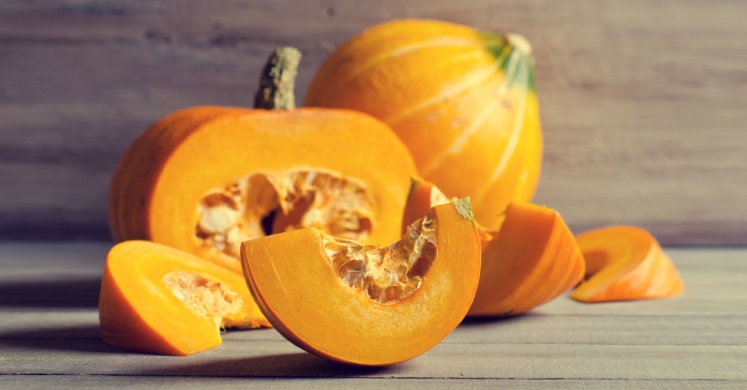 What We're Cooking With Now: Pumpkin
Looking for adventure in the kitchen? Our monthly What We're Cooking with Now post features a fresh produce ingredient, explains how to find the market's finest, and includes a recipe to try at home.
Pumpkin
Why: In just 30 calories per cup, pumpkin is an excellent, fat-free source of Vitamins A and C, and is rich in potassium.
Shopping Tip: Look for pumpkins labeled "pie pumpkins." Chose pumpkins that are between 4 – 8 lbs. and free of soft spots or big bruises.
Preparation: Pumpkin can be prepared similarly to other hard-shelled squash. Start by cutting your pumpkin in half and removing the seeds, then drizzle with olive oil and bake on a baking sheet flesh-side-down at 375 degrees until fork tender. Depending on size of the pumpkin, baking should take 30 – 60 minutes.
Recipe: Pumpkin and Black Bean Stew
1 yellow onion, diced
2 large carrots, peeled and diced
1 green pepper, cored, seeded and diced
1 cup chopped kale or Swiss chard
1 can black beans, rinsed and drained
2 cups cubed pumpkin
2 cloves garlic, minced
5 cups vegetable stock
1 tsp. curry powder
1 tsp. garam masala
½ tsp. turmeric
½ tsp. cumin
1 Tbsp. olive oil
In a medium sauce pan over medium high heat, sauté the onion, carrots and green pepper in the olive oil for approximately two minutes. Add the garlic, pumpkin and kale, and sauté another two minutes. Add spices, and continue to sauté one minute. Add black beans and vegetable stock, reduce heat to a simmer, and cook until the vegetables are tender.