Petals and Pollinators: A Youth Art Exhibition
Now Open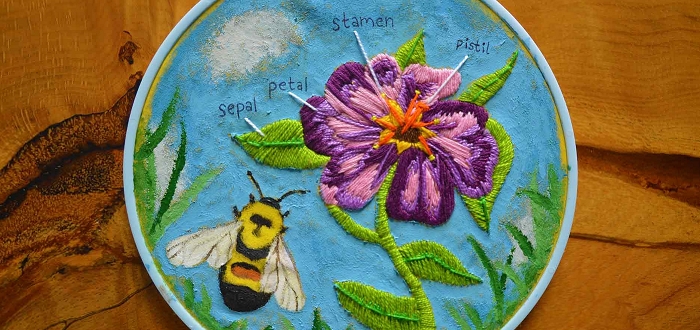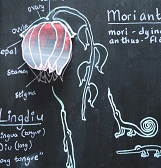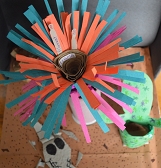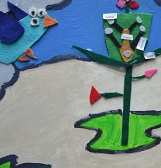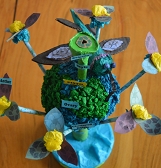 While some plants are self or wind-pollinated, most flowering varieties require some help from birds, bees and other beneficial pollinators in order to reproduce. As part of the Fairchild Challenge environmental education competition at Phipps, we we tasked middle and high school students with creating multimedia pieces depicting a fictional flower based on its co-evolution with a specific pollinator. The entries — which include both two-dimensional visual art and three-dimensional sculpture — were thoughtfully and beautifully crafted; clearly labeled with scientifically accurate plant parts; and inventive with their co-evolved flower and pollinator traits. The results are now showcased in the Center for Sustainable Landscapes Green Gallery.
Featured Artists
Elsie Carter, Will Carter, Madison Kapisak, Sydney Knicely and Jenna Mervosh
Elizabeth Forward High School
Emma ChiChilla, Madison Kober, Brianna Stephans, Kate Polechko, Zoe Smith and Alex Wargo
Penn-Trafford High School
Emily Ehrenberger
Shaler Area High School
P.J. Squire
Shaler Area High School
Zoe Cutillo
West Mifflin Area High School
Caden Ferita
Westinghouse Arts Academy Charter School
Mirabella Stump, Sarah Chormanski, Caitlin Workmaster and Benjamin Kvederis
Keystone Oaks High School
Tess Majewski
North Allegheny Senior High School
Shelby Gogal
Saint Joseph High School
Allison Wygonik
Saint Joseph High School
Elyssa Pemu and Alexia Schmader
South Park High School
Nia Gambrell and Heavynn Weir
West Mifflin Area High School
Bree Boyd, Isabele Concepcion, Mia Mamico, Max Onder, Alex Shimenko, Alicia Matthews and Briana Nesbitt
Woodland Hills Academy
Lucy Elston, Helena Marshall, Zoe Painter, Ivan Remaley, Nathan Scott and Zoe Spear
Woodland Hills Academy
Layla, Delilah, Luke, Graham, Sophie, Justice and Olivia
Western Pennsylvania School for Blind Children
Gigi Emahizer and Tali Brobst
Trafford Middle School
Brianna Elias
Trafford Middle School
Katerina Saxon, Ana Campman Sydney Avant and Avery O'Sullivan
Trinity Middle School
Sophia Green, Mackenzie Keenan, Emma Edwards and Natalie Goldsworthy
Penn Middle School
Jake Stahl, Sam Amodeo and Zachary Poppish
Christ the Divine Teacher Catholic Academy
Brandon Johnson
Elizabeth Forward Middle School
Caleb Bocianoski, William Bratkowski, Lily Dranko and Suha Joe
South Allegheny Elementary School
The Fairchild Challenge was designed and initiated by Fairchild Tropical Botanic Garden in Coral Gables, Florida. Phipps is proud to serve as a satellite site for conservation-themed activities that engage youth across the globe.
More Events You'll Enjoy
Now Open

On display in our Welcome Center, this collection of work from students of our Botanical Art and Illustration program highlights native plants of southwestern Pennsylvania that you may recognize from your own backyard.

Sept. 26 – 29; See full schedule for details

This week, join Phipps and our Botany in Action Fellows for a series of activities dedicated to engaging all ages on the benefits of scientific discovery.