Natives for Your Garden: A Botanical Art Exhibit
Now Open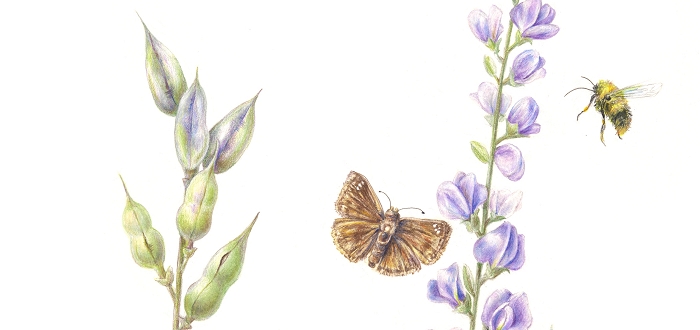 Stop by the Phipps Welcome Center to see our latest botanical art exhibit, "Natives for Your Garden," featuring plants native to southwestern Pennsylvania that you may recognize from your own backyard! This exhibit is part of the Flora Project, a collaboration between Phipps' Botanical Art and Illustration program and the Allegheny Highland Botanical Art Society, and features the work of Phipps students.
This year, the project chronicles plants that have been featured as selections of Phipps' Top 10 Sustainable Plants program during the past ten years. This annual list features trees, shrubs and perennials selected for their non-invasive habits, as well as for their resistance to disease and
insects. Once established, these plants require minimal watering and fertilizer needs.
In the Phipps Flora Project program, students learn how to research and produce a beautiful and accurate botanical painting from start to finish. Unlike most programs, the Phipps Flora Project is a long-term course with guided open studios so that the students can master their work. For more information about Phipps' Art and Illustration program and other adult education offerings, please visit the Classes and Programs page or call 412/441-4442, ext. 3925.
Featured drawings © Robin Menard, Marguerite D. Matz
More Events You'll Enjoy
Sept. 26 – 29; See full schedule for details

This week, join Phipps and our Botany in Action Fellows for a series of activities dedicated to engaging all ages on the benefits of scientific discovery.

Now Open

In the Center for Sustainable Landscapes Green Gallery, enjoy multimedia artworks depicting fictional flowers and their co-evolution with specific pollinators as created by middle and high school students involved in Phipps' Fairchild Challenge environmental competition.

Now Open

Experience the natural beauty and culture of Cuba, one of the most biodiverse Caribbean island nations on Earth, in our immersive new Tropical Forest exhibit.