Host your next special event at one of the world's greenest public gardens. A recognized leader in sustainability, Phipps Conservatory and Botanical Gardens offers a unique and beautiful setting for a sustainably minded wedding, celebration, professional meeting or other event. Through partnerships with some of the region's most trusted and experienced planners and vendors, our committed staff will work with you to make your special occasion not only memorable but also environmentally responsible.
Contact Us
To learn more about planning your special event at Phipps or to schedule a tour, contact the Phipps events team at eventsales@phipps.conservatory.org and 412/315-0685.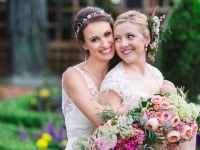 NEW! Your Guide to a Gorgeous Green Wedding
When it comes to planning your special day, there are so many details to consider that the impact on the environment may not come into the conversation. That's why a team of experts at Phipps compiled this easy guide of steps you can take to elevate the wedding of your dreams.
Our Commitment
Phipps' commitment to environmental stewardship is demonstrated through our LEED®-certified and energy-efficient buildings in combination with our sustainable operations and maintenance practices.
Phipps invests in renewable energy credits to offset 100 percent of the electricity used at our Schenley Park campus and the Phipps Garden Center in Mellon Park.

Our energy-efficient Tropical Forest Conservatory features passive cooling, a radical roof venting design, earth tubes, energy blankets, thermal massing and rootzone heating.
Our Welcome Center is the first LEED-certified visitor center in a public garden, featuring sustainable plant beds with drip irrigation systems, green roofs, non-irrigated organic lawn care practices, a captured-waste-heat snow-melt system, a recycled plastic parking grid planted under the front lawn, natural lighting and ventilation, recycled and regionally sourced materials, high efficiency restroom fixtures, and sustainable and organic options in the café and gift shop.
Our Special Events Hall was built to LEED standards and features bamboo flooring, energy-efficient lighting systems, Solarban 70XL solar control low-e glass windows, eco-friendly shading, a green roof, Integrated Pest Management practices, high efficiency restroom fixtures, and benches made with organic fabric and recycled foam.
More Campus Features
Energy-efficient lighting systems and motion sensors to reduce unnecessary lighting

High efficiency restroom fixtures and landscape irrigation practices
Low and no-VOC paints, adhesives and sealants
A sustainable purchasing policy for all durable, electronic and ongoing consumables
An extensive recycling program including all paper, plastic, glass, cans, electronics and toxic materials
Integrated Pest Management to control pests and diseases, maximize the use of organic fertilizers and minimize pesticide use
Green Seal-approved cleaning products and paper supplies
Composting of all pre- and post-consumer food waste and plant material from our entire campus
Elimination of all plastic disposable service-ware and vinyl tablecloths throughout our facility (Washable and reusable plates and cups are encouraged and used whenever possible; otherwise, disposables must be 100 percent compostable, vegetable starch-based products or recycled napkins.)
Elimination of all disposable water bottles throughout our facility (All café, catering and staff facilities are provided with filtered tap water produced on site.)
Additional Practices
All caterers are required to compost all post-consumer food waste generated at your event.
All caterers are required to recycle all paper, plastic, glass, cans, and cardboard.
All caterers offer local, organic, sustainably harvested and humanely raised food and beverage options.
Our café and catered events feature fair-trade, shade-grown, organic coffee.
What You Can Do
There are a variety of simple ways to green your event; below are some of our recommendations:
Paper Products
Send e-invitations instead of paper ones.

If you must print your invitations, use 100 percent recycled paper with soy ink.
Alternatively, use a seeded paper that guests can later plant in their gardens.
Use paper from a fair trade vendor or local manufacturer.
Minimize extra paper by creating a website with details about your event.
Eliminate paper programs, or print sparingly and encourage guests to share.
Be creative in your quest to go paper free! Use potted plants and chalk in place of table numbers, or use party favors that double as place cards.
Transportation
Provide your guests with shuttle transportation.

Transport your entire group in one bus/van/limo.
Encourage guests to carpool or take public transit.
Invest in carbon credits directly from Phipps to offset transportation pollution.
Food
Choose organic, local and seasonal foods for your appetizers and entrees.

Embrace a plant-rich menu full of fresh fruits and vegetables.
Offer vegetarian and vegan options.
Opt for chicken, turkey, or sustainably caught fish rather than beef for an emissions-conscious meat option.
Offer plated food for your guests instead of a buffet.
Choose a catering service that has recieved green certifications, and don't be afraid to ask how your catering service's food is sourced.
Serve food on washable plates and silverware rather than on disposables. (The only disposable service-ware products allowed at Phipps are compostable ones.)
Choose a baker that uses organic ingredients or provide them yourself.
Rather than serving one large cake, use smaller ones as table centerpieces.
Be mindful of ordering excessive amounts of food. Order proportionally and reasonably for your guest list.
Donate excess leftovers to a food bank or those in need.
Beverages
Serve beverages in washable glasses.

Choose local or organic wine, beer, liquor and non-alcoholic drinks.
Choose alcohol that comes in eco-friendly packaging.
Remember, water in disposable bottles is prohibited at Phipps. We will be happy to provide your guests with filtered water in pitchers.
Music
Choose acoustic musicians rather than electric.
Use local vendors to reduce emissions incurred by travel.
Registry
Register with fair trade or eco-gift vendors.

Ask guests to donate to environmental organizations in lieu of gifts.
Add a local company to your registry.
Flowers
Use potted plants as centerpieces that can be taken home by your guests or donated after the event.

Use local, organic and in-season cut flowers from a local farm or grower.
Use organic fruit or herbs in place of cut flowers.
Favors and Decorations
Give your guests seed packets, potted plants or tree seedlings to plant at home.

Give homemade jams in recycled or reused jars.
Give organic and sustainably harvested chocolate, fruit or baked goods.
Give honey from a local beekeeper.
Give compact florescent light bulbs.
Purchase carbon credits or renewable energy credits in your guests' names.
Make donations in guests' honor to Phipps or other eco-friendly institutions.
Use recycled goods or organic fruits for centerpieces.
Use place cards made from seed paper or 100-percent recycled paper.
Use recyclable or resuable decorations, or upcycle unique finds for a personalized flair.
Choose flowers that are in season and grown locally without pesticides.
Opt for dried flowers or leaves rather than plastic or paper confetti.
If possible, borrow decor from a friend or relative who has recently hosted an event.
Final Thoughts
Have a local honeymoon and spend it exploring the best of Pittsburgh.

If your group is getting ready at home for the ceremony, provide local and organic foods, and drinks in pitchers instead of bottled beverages.
Request that the room be kept at a moderate temperature.
Work with an event planner familiar with green practices.
Photo © Denmarsh Photography, Inc.