#bioPGH Special Update: Let the Wind Howl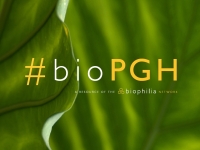 A resource of Biophilia: Pittsburgh, #bioPGH is a weekly blog and social media series that aims to encourage both children and adults to reconnect with nature and enjoy what each of our distinctive seasons has to offer.
Some days, nature is a beautiful comfort and a source of escape from our busy world; but then some days, nature surprises us with what feels like an unforgiving bluntness. Many of us here in Pittsburgh were saddened to hear that last night's windstorm toppled the nesting tree of the Hays bald eagles. This pair, who have been nesting along the Monongahela River in the Hays neighborhood for five years, have delighted many around the city and beyond through the PixController nest camera. As recently as this past Friday, eagle watchers rejoiced at the pair's first laid egg of the year! Now, it seems a cruel twist that their nesting season would be cut short.
What is important to remember, though, is that even if it feels like a troubling event now, we can still look to the future with excitement and hope. Staff from the Audubon Society of Western Pennsylvania (ASWP) were out first thing this morning to check on the birds after the tree disappeared from the nest camera. Though they confirmed that the nest was destroyed, the adults were uninjured, and both were seen flying this morning. Rachel Handel, of the ASWP says:
"We saw the adults, they are there, and they will keep doing what they need to do…Eagles have been dealing with things like this for hundreds of years, for them this is just another bump in road."
In fact, for our Hays pair, this same scenario has even played out before. Their original nest was destroyed in a windstorm, but they rebuilt and have raised an estimated six offspring since then. And now, odds are they will rebuild again. They might even commandeer a nest like the Harmar eagles, who currently are using a former red-tailed hawk's nest!
If nothing else, the history of bald eagles shows they are resilient. In 1963, only 487 nesting pairs of bald eagles were left throughout all of the Lower 48 states. A century of hunting, persecution and detrimental pesticide use had crippled their populations from the thousands (more likely hundreds of thousands) into this small few scattered about the country. Yet when the situation seemed most dire, the tides began to turn. A series of legislative actions, including the ban of the pesticide DDT and the bald eagle's addition to Endangered Species List, set the stage for game managers, biologists, and ornithologists all over the country to begin one of the US's most dramatic and encouraging restoration stories. By 2007, the number of nesting pairs in the Lower 48 had reached nearly 10,000, and those numbers have increased every year. In Pennsylvania alone, there were only 25 nesting pairs in 1998; as of 2016, we had at least 239 active nests!
For Pittsburgh, we can take pride in the fact that the game-changing factors that allow bald eagles to thrive here are the cleaner waters and the clean air. Just last week, we talked about the Monongahela River and its progress over former contamination—as a species known for their fishing prowess, bald eagles truly need the clean waterways . Those of us who have watched the nest cameras have seen how many fish the parents brought back to the chicks; without all the efforts the city has worked through, these magnificent birds would not be able to live here. And as for their future?
"No need to be too concerned for the future of Pittsburgh eagles," says Handel, with a smile in her voice. "These guys will rebuild."
Connecting to the Outdoors: Though the Hays nest camera won't be sharing a nesting story this year, Audubon is still managing the camera on the Harmar bald eagle nest. This pair has consistently laid their eggs 2-3 weeks behind the schedule of the Hays birds, which means you can watch their nesting story from the very beginning! If birding has caught your attention, check out what the Audubon Society is doing through the month of February. And if you happen to be along the Allegheny Passage trail, just by Hazelwood, keep your eyes on the trees. If you have an eagle's eye, you might just spy an eagle!
Continue the Conversation: Share your nature discoveries with our community by posting to Twitter and Instagram with hashtag #bioPGH, and R.S.V.P. to attend our next Biophilia: Pittsburgh meeting.
Resources
US Fish and Wildlife Service: Bald Eagles
US Fish and Wildlife Service: Bald Eagle Population Size
Pennsylvania Pressroom: Bald Eagles
Photo Credit: USFWS CC-BY-2.0 and Wikimedia Commons CC-BY-3.0-DE