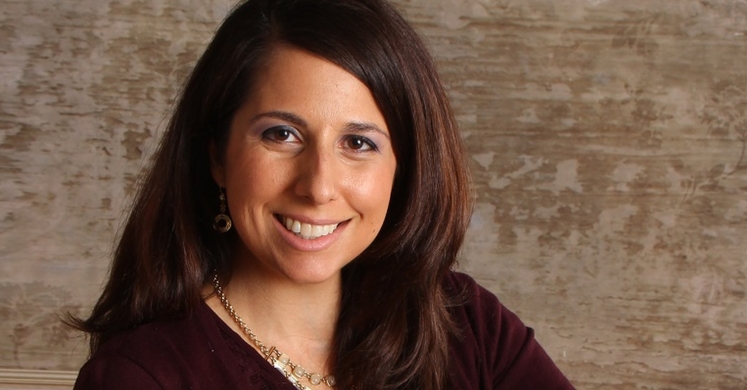 Health in Motion: Meet Dana Scarpino
Let's Move Pittsburgh had the pleasure of interviewing Dana Scarpino, a Marketing Manager for Community Relations at UPMC Health Plan and an active member of our Executive Committee. During her interview we discussed her work, how her and her husband stay healthy and the new addition to their family! Read on to learn more about Dana and her professional and personal connections to health and wellness.
LMP: You are an active member of our Executive Committee, but could you share a little about your full time job?
Dana: I'm a Marketing Manager for Community Relations at UPMC Health Plan. In this role, I am responsible for developing grassroots community health initiatives and managing UPMC Health Plan's relationships with various community-based organizations in southwestern Pennsylvania. This includes large institutions such as Phipps Conservatory and Botanical Gardens, but also community development corporations (CDC's) and small- to mid-size nonprofits that work in local neighborhoods to affect change and improve population health where it is most needed.
LMP: What issues related to health are you most passionate about?
Dana: Both of my parents had blood-related cancers when I was a child, and thankfully both survived. But watching them struggle with their illnesses got me thinking about my own health and longevity at a young age. Even the healthiest person can get cancer, but we know that certain types – such as colon cancer – can be potentially avoided by eating a variety of fruits and vegetables and limiting refined sugars. In light of this, I'm pretty passionate about eating fresh, organic fruits, vegetables, and meats, and avoiding added sugars as much as possible. (That last point is a tough one, because I'll admit I have a sweet tooth!) I may not be able to completely avoid cancer, but there's a peace of mind that comes in knowing what I put in my body is going to help me stay healthy and strong in the long-run.
LMP: As a new mother, are there any resources you have referenced that have been helpful for you?
Dana: My daughter, Liliana, was born in September 2016. Since then, I've realized there is so much information out there for new moms that it can be confusing where to turn! I'm the kind of person who likes to research everything before making a decision, but I know there are good sources of information and not-so-good sources. I try to mostly rely on information from research-based organizations and vetted institutions such as the National Institutes of Health, Centers for Disease Control and Prevention, USDA and the University of Pittsburgh, among others.
Even though I'm no longer pregnant, I still use the "What to Expect When You're Expecting" and BabyCenter mobile apps for informal tips and guidance about my daughter's health and developmental milestones during her first year of life. For instance, as I'm now preparing to wean her to solid foods, I've looked-up articles and referenced discussion boards for ideas about homemade baby food from other moms who have gone through this stage with their children. I combine what I've learned from those articles with direction from my daughter's pediatrician. However, if I come across conflicting information or something that just doesn't seem right within those resources, the pediatrician's advice wins.
LMP: Do you have any tips or advice for new or expecting mothers?
Dana: During the first few months of Liliana's life, I was very stressed out and didn't think I'd ever be able to get back into a healthy lifestyle, and manage work and home the way I used to before having children. I was living on takeout food, I was extremely sleep-deprived (what new mother isn't?), I was too exhausted to exercise, and I was up to my ears in baby spit-up. I now realize that chaos is a completely normal part of having a newborn baby. But I also think I fell into the same trap as many new mothers who neglect themselves because they're so focused on everyone (and everything) else. It took a while for me to grasp that, as with anything else in life, being a mom is all about achieving balance. I needed to take charge of my own health so I could take care of my daughter and my husband. When I started doing that – by getting into a routine, focusing on eating right most of the time, and squeezing in exercise whenever I could – things fell into place. Some days are still difficult; I am busier now than I've ever been and I'm by no means perfect in my pursuit of a healthy lifestyle. But as my daughter has grown and things have settled down, I've also been able to resume more healthy habits and demonstrate those for her. To me, that's the most important thing.
So yes, I do have some advice especially for new moms: Hang in there, I promise it gets better!
LMP: What are some ways you and your family stay healthy and active?
Dana: My husband and I love nature. As soon as the weather warms up we try to spend most of our free time outdoors. For us, that includes gardening, hiking, biking, and walking in our neighborhood and at local state parks. We are looking forward to taking our daughter on her first bike-ride this summer! During winter months or inclement weather, we go to the gym or do yoga/pilates at home. We also try to eat healthy at home – I do most of the cooking, so I ensure we have at least one fruit or vegetable available at each meal. My husband's parents are from Italy, and I also have strong Italian heritage, so pasta is a mainstay in our kitchen! But, we enjoy it in moderation. I use organic, whole wheat pasta and make my own marinara sauce with plenty of fresh tomatoes and spices (and no added sugar).
LMP: When you were a child, what was your favorite place in Pittsburgh to be active?
Dana: My own neighborhood! I was fortunate to live in a neighborhood with many kids my own age and cul-de-sacs without much vehicle traffic. I have fond memories of bike-racing, roller blading, playing street hockey with the other kids, going to our neighbor's swimming pool, and sledding and making snowmen in our backyards.