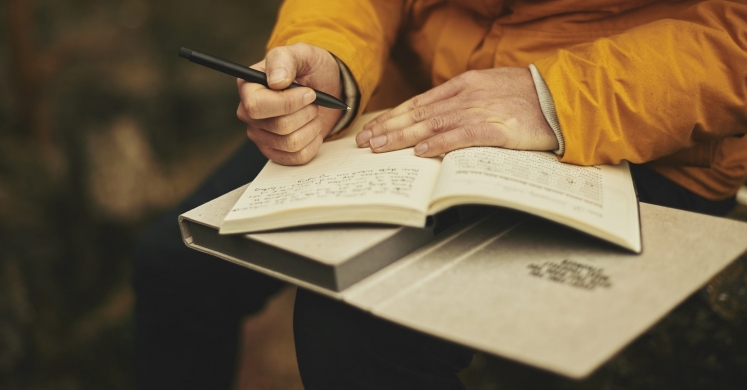 #bioPGH Blog: Backyard Biodiversity
We have now entered those tricky days of winter where hints of spring may tease us with a softer wind or a rainy day instead of snowy day. It might feel like time for the winter blues, but these are still great days to get involved in the outdoors and learn about our own backyard biodiversity! Whether you're enjoying the outdoors as a nature enthusiast or as a whole family, you're in for a wonderful time learning about our exciting local flora and fauna, and we have a few ideas below for how you can get started. All you really need is a journal to document your observations and questions, and you're ready to go!
Backyard Birding
A good number of bird species are year-round residents here in Pennsylvania, meaning this is still a great time for bird watching. You can go on a nature walk through one of Pittsburgh's many parks, or if you have a bird feeder, you can even observe birds from the warm side of a window. If you're interested in a guided walk, the Audubon Society of Western Pennsylvania regularly hosts nature walks in their nature preserves. You can also take advantage of bird identification kits from The Cornell Lab of Ornithology to help get you or your family started bird watching through their Celebrate Urban Birds program. The kit comes with ID guides, data sheets, and even some fun stickers!
Rain Gauge
A simple but fun activity is to monitor rainfall through a basic rain gauge that can be set out in the yard or on a porch. Especially with younger children, a rain gauge can open a whole wide world of discussion questions and learning opportunities. Why do we need rain? Do plants need rain? Where does rain come from? Where does the rainwater go? You can even compare your own rain gauge measurements to nearby US Geological Survey Collection stations.
Master the Trees
While the trees are still leafless, now is your chance to truly be the master of the trees and learn to identify them without relying on leaf shape! The Pennsylvania Department for the Conservation of Natural Resources has a great guide to the trees of PA. Try your hand at identification! In your notebook, write down a description of the tree's bark: is it smooth like a beech? Does it have ridges and furrows like a tulip poplar? Does it look like the trunk is covered in burnt potato chips like a black cherry tree? Now what do the buds on the branches look like? Are they short and rounded like oaks? Or are they thin and elongated like birch buds? Even if you have a difficult time identifying the trees without leaves (even many naturalists do), the power of observation is one of the most important aspects of science! It's a great skill to practice.
Budding Artist
This time of year is a bit tricky to learn to identify native plants, but it's the perfect time of year to expand your artistic horizons, especially with little ones! Try using different items from the outdoors as a part of an art activity. Instead of a normal paintbrush, try painting with a pine cone or a "brush" made of bundled grass. Or, the fallen dried fruits of a sweet gum can be covered in paint or biodegradable glitter and strung into a fun and unique decorative garland! You can also make a drawing of a tree, and then liven it up by gluing bits of actual dried leaves onto the drawn trees branches.
Connecting to the Outdoors Tip: Whatever your nature adventure looks like, be sure to check out the Allegheny County Parks, the Pennsylvania State Parks, and Pennsylvania State Forests. Even in the winter, they have activities and trails to enjoy!
Continue the Conversation: Share your nature discoveries with our community by posting to Twitter and Instagram with hashtag #bioPGH, and R.S.V.P. to attend our next Biophilia: Pittsburgh meeting.
Select Photo:CC-0 and Börhinger Friedrich CC-BY-SA-3.0-AT