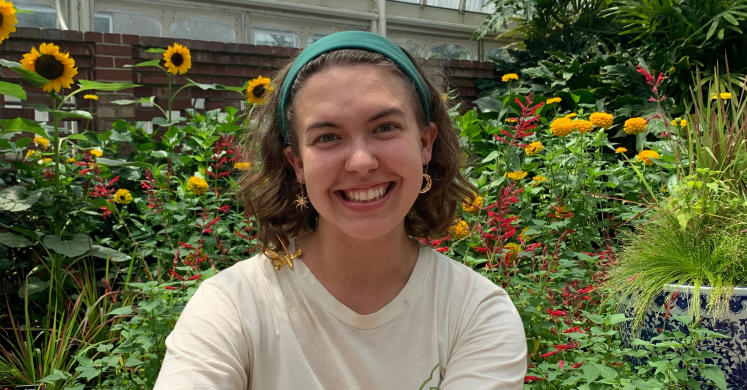 Horticulture Spotlight: Laken Burns
Horticulture is the art or practice of garden cultivation and management. Without horticulture, and the people who are most passionate about it, Phipps would not be what it is today. Phipps takes pride in having elaborate, beautiful and well-kept gardens throughout the conservatory which is possible because of the hard-working horticulture team. In this series of profiles, we meet some of the people who make Phipps possible.
Laken Burns, display horticulturist and edibles horticulturist, has been working at Phipps for the past three years. Since she was a little girl, Laken has always loved plants. Born and raised in Pittsburgh, PA, she spent much of her time growing up around nature through the influence of her mom and grandmother. "My love of horticulture is both nature and nurture. I never got to meet her, but I've heard that my great-grandmother's garden was her pride and joy. She influenced by grandma and my mom, and my mom passed that on to me. Maybe that's why I think of gardens and forests the way some people think of churches; there's a reverence there, something awe-inspiring and sacred."
Laken grew up attending Phipps – she even has baby photos that were taken here! As she continued to grow up, Laken's love for nature grew along with her. She eventually gained a degree in Horticulture, with a minor in Creative Writing, from West Virginia University. At University, Laken was president of the horticulture club and completed an internship with the American Horticultural Society.
Laken's achievements in Horticulture do not stop there! Aside from her own home gardening, she spent summers during her time at WVU working at Hahn Nursery. She spent a lot of time in the WVU Greenhouse and participated in identification events at the National Collegiate Landscape Competition in 2017 and 2018. She was also the GardenComm NextGen Scholar in 2019 and got to participate in their annual conference in Salt Lake City, UT.
Due to her special connection to Phipps, Laken used her extensive and impressive background in horticulture to eventually land a job here. She wanted to not only utilize her horticulture degree, but also wanted to share her passion with others, and Phipps seemed like the perfect place to do that. A typical workday for Laken is filled with various responsibilities, and each day is a little bit different from the last. She typically jumps around between many different gardens throughout Phipps, indoors and outdoors. She has responsibilities in the South Conservatory, Gallery Room, Edible Garden, Botany Hall Kitchen Garden, the Vertical Live Wall and one of our Production Greenhouses. Her favorite part of working at Phipps is the creative freedom she gets when planting in the Edible Garden, as well as her wonderful coworkers whom she shares the "most beautiful office" with.
Outside of her work at Phipps, Laken spends her time hiking, painting, taking road trips, writing short stories or songs and playing her guitar. She is also a lifetime Girl Scout! We asked Laken what her favorite plant was, and she said: "Jewelweed (Impatiens capensis) – I could talk about it all day!" Laken loves Phipps, and it is clear to see that love and passion for nature expressed in her work here. Thank you, Laken!
Header photo © Paul g. Wiegman