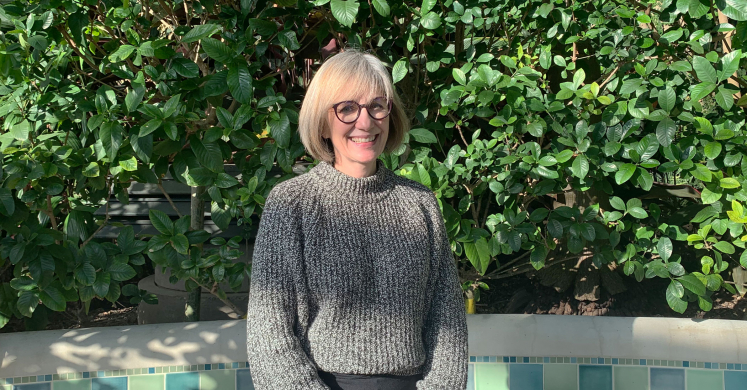 Horticulture Spotlight: Mary Lou Linton-Morningstar
Horticulture is the art or practice of garden cultivation and management. Without horticulture, and the people who are most passionate about it, Phipps would not be what it is today. Phipps takes pride in having elaborate, beautiful and well-kept gardens throughout the conservatory. This would not be possible without the hard-working horticulture team. In this series of profiles, we meet some of the people who make Phipps possible.
Mary Lou Linton-Morningstar grew up and went to school in Ontario, Canada. Her parents would share their love of landscape and nature with her starting at a young age. Her parents encouraged her to spend time outdoors and explore the surroundings, Mary Lou says that this support from her parents is what "planted the seed" for her interests in nature and landscapes. So much so, in fact, that Mary Lou decided to attend the University of Toronto for Landscape Architecture!
During her time in college, Mary Lou had her first introduction to horticulture as she would spend summers working for landscape contractors, where she would install small landscape designs as well as assist in lawncare maintenance. After her graduation she mainly worked with small firms that focused on streetscapes, housing developments, property development for businesses and schools, public open spaces and the F.D Roosevelt Memorial.
When Mary Lou and her family eventually moved to Pittsburgh, Phipps was the place where she would bring her daughters. It was somewhere that she always enjoyed and considered it to be a unique place to work. She said that, "My preference is working on projects that create environments/spaces for the public as opposed to individuals" and it was clear that Phipps would meet that criteria. So roughly four years ago Mary Lou made her thought a reality and joined the Phipps team!
Depending on the time of year, there are so many different things for Mary Lou to do! During installs for flower shows, she mainly works on removing or installing props and other details. That usually also includes coordinating where and how those props can be broken down and properly stored. Between shows you can often find Mary Lou working on ordering props or supplies for shows and organizing them for the next install. With the assistance of the facilities team, she can develop and build the necessary props! Sometimes she even works with volunteers to organize and create the smaller prop designs.
When May Lou was asked about what her favorite part of working at Phipps was, she had plenty to share. She stated, "First of all, the people that work here are wonderful and all very interesting. Secondly, I get to create and work on a lot of different things. It is always fun and challenging figuring out ways to make props for different shows. Lastly, I enjoy how each day is different. Some days I can plan out what I need to work on but then repairs or additions need to be addressed and the whole day can be spent addressing those needs. That certainly keeps things exciting!" Along with this she mentioned that her favorite plant is the Ginkgo Tree, saying "I appreciate that it is a survivor and I just love the shape and texture of the leaves. The summer green and the fall yellow color also add to their uniqueness."
Behind the scenes Mary Lou is responsible for the installation schedules for the flower shows. She holds meetings that lay out the process of how to uninstall one show and replace it with the next. While her work may not always be seen on the surface, Mary Lou goes above and beyond to bring beautiful flower shows to everyone who visits Phipps!
Photo © Paul g. Wiegman