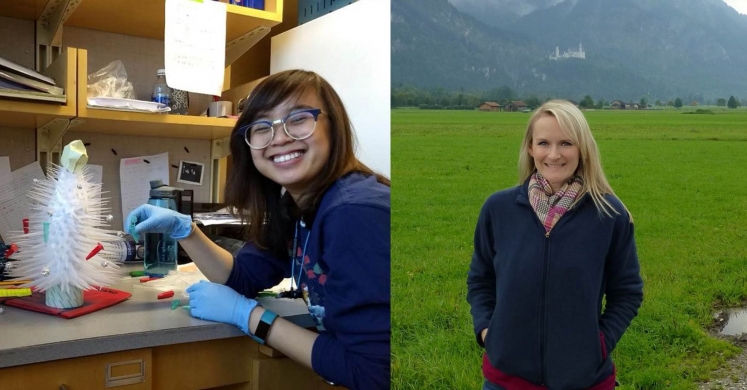 Meet a Scientist: Song-My Hoang and Melissa Secor
All of the researchers featured on our Meet a Scientist Saturdays have been trained through Phipps' science communication workshops. If you are young professional or graduate student in any field of STEM and you are interested in the workshop or participating in a Meet a Scientist Saturday, check out our website.
This Meet a Scientist Saturday at Phipps, come meet two women making an amazing difference in the world through their fields of science! One featured researcher is Melissa Secor, an environmental scientist who assesses the impacts of development projects on air quality, water quality, and land. Our other featured researcher is Song-My Hoang, a doctoral candidate at the University Pittsburgh, and her work is focused on how the maintenance of the ends of chromosomes is related to cancer growth. Read a bit more about them below, then be sure to stop by the new Tropical Forest Cuba this Saturday, March 17, from 1:30 – 3:30 p.m. to meet them!
Why did you become a scientist?
Song-My: Growing up in Vietnam, I was frequently exposed to alternative medicine to treat illnesses. I was curious about the synergistic nature of the bags of dried plants, fruits, and twigs that were given to me. This exposure to herbal medicine ignited a curiosity for me to pursue science in order to acquire a more concrete explanation. I am driven to understand biological mechanisms to develop more effective therapies against diseases.
Melissa: I enjoy understanding the nitty-gritty details of things and crunching numbers. My job offers me the opportunity to dive into tons of data involved in the project analysis and conduct calculations to present in our assessments. Also, my job is rewarding in the fact that the analysis helps ensure regulations are followed and potential impacts are minimized or avoided to protect our environment.
What is the most exciting thing you've ever done at work?
Song-My: My favorite technique is live cell imaging. We added a fluorescent probe on telomeres (the ends of chromosomes) so that we could track telomere movement in live cells! It was cool to be able to visualize these small structures in real-time.
What is your favorite part of your job?
Melissa: Variety! Working on the diverse subject matter of the projects and the nationwide locations gives me the opportunity to learn about new technologies, applicable regulations (federal, state, and local), and location-specific environmental resources.
If you weren't a scientist, what would you be?
Song-My: I would definitely be a chef because I love to cook and try new foods. Cooking is a science and an art. It's the perfect union between technical skills and creativity, which is also a major component of science research!
Melissa: A math teacher. I love math and would enjoy sharing that with kids, even those that hate math class!
Why is science education important?
Melissa: Learning about science is key to understanding the world around us. Giving children the opportunity to learn about the variety of science fields will help foster their creativity and potentially build opportunities for their future.
Song-My: I think it is important to promote a curiosity for learning. Science is everywhere in our lives and the scientific method imparts universal applicable skills, such as critical thinking, problem solving, and perseverance, that can be applied to any challenges. I believe that science education instills the notion that you don't have to be a scientifically trained person to become engaged with scientific questions. Science education also equips individuals with the scientific skills to develop more informed decisions about important scientific issues and policies that affect the community.