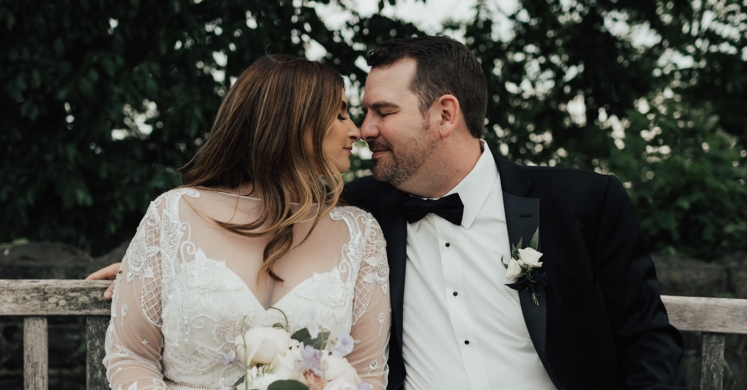 Weddings Under Glass: Rebecca and Rich
Weddings Under Glass is a monthly blog series where we highlight the stories of couples who chose to begin their happily ever after in the lush backdrop of Phipps, named one of the best outdoor garden wedding venues by Elle and Harper's Bazaar.
Rebecca and Rich met at Nordstrom, where they both worked together in the shoe department and shared a true love for shoes.
Rich decided to propose to Rebecca during a trip to Seattle on a Ferris wheel, recreating their favorite date in Ocean City. On that most perfect date, they spent the evening walking the boardwalk, taking pictures in an old school black-and-white photo booth, rode a Ferris wheel, ate delicious Maryland blue crab and Rich won Rebecca a stuffed animal. "It was hands down our favorite date, for both of us," says Rich. "And I proposed while out of town because that represented how we both love to travel and have adventures together."
"Phipps is such a great location for a wedding in the city," Rebecca says. "It gives you the best of both worlds: a garden and within the city. Yes, please!"
The couple decided on an Outdoor Garden reception following their ceremony on the rooftop of Hotel Monaco in Downtown Pittsburgh.
Their wedding style can be described in one word: eclectic. "It was a city wedding, but also a garden wedding. Florals were really important to us, and we used so many colors in our arrangements," Rebecca explains.
The couple wove blush pinks, purples, yellows, greenery and deep burgundy into their classic-meets-edgy theme with accents of gold. The bridesmaids wore blush and light beige and the groomsmen wore classic black tuxes.
One of the couple's favorite personal touches on their wedding day were their moto jackets for the reception. Rich's said "Just" and Rebecca's said "Married". Rebecca made them herself! She also made all of her signs and place cards through her calligraphy company, Copeland Studios.
Their absolute favorite part of having their wedding at Phipps, though, was the presence of their family and friends. "The wedding day was the happiest day of our lives," Rebecca says. "Having all of our favorite people in the world celebrating in such a gorgeous venue – I mean, it does not get better than that!"
After their wedding, the couple honeymooned in Riviera Maya at El Dorado Casitas Royale. "It was AMAZING!" Rebecca says.
Now, the couple is on the hunt to purchase their first home together. Their dream is to renovate a fixer-upper into a home! Rebecca has the design eye and Rich is the handyman. "We make the perfect team and we can't wait for this next adventure." Rich says.
Would you like to plan your special day at Phipps? Please contact our events team by email or by calling 412/315-0685.
Vendors
Photographer: Elizabeth Anne Studios
Second Shooter: Dawn Derbyshire
Florist: The Farmer's Daughter
Ceremony Venue: Kimpton Hotel Monaco Pittsburgh
Makeup: Adrienne Pace Makeup and Wanderlust Beauty
Hair: Destefino's Beauty Bar
Wedding Planner: Devoted To You
Tux: Vallotta's Tuxedo
Calligraphy: Copeland Studios
Videographer: JADO Media
Invitation Suite: Wedding Paper Divas and PrayingMantisPrints