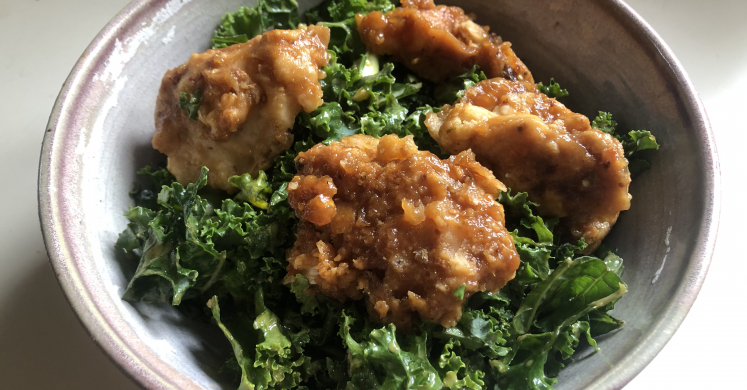 Sticky Honey Sesame Cauli Wings
Looking for a crunchy, crispy, soggy-free veggie wing recipe? Look no further! These sweet and salty sticky cauli wings will have you questioning, "Is that actually cauliflower?" Shout out to Jessica in the Kitchen for the recipe inspiration!
Sticky Honey Sesame Cauli Wings
Prep time: 15 minutes Cook time: 25 minutes Serves: 6
Wing Ingredients:
1 head cauliflower
1/2 cup whole wheat flour or flour of choice
1 cup panko bread crumbs
1/2 cup milk of choice (make sure it's unsweetened!)
1/4 teaspoon sea salt
1/2 teaspoon ground black pepper
1/2 teaspoon garlic powder
1/4 teaspoon crushed red pepper flakes (optional)
Sauce Ingredients:
5 tablespoons honey
3 tablespoons low sodium soy sauce
1/2 teaspoon sesame seeds
1/4 teaspoon ground black pepper
1/4 teaspoon ground ginger
1 teaspoon cornstarch + 1 teaspoon water mix together separately from the rest of ingredients in a small bowl
¼ cup water
chopped scallions for garnish
Note: if you like a saucier wing, double the recipe!
Instructions:
Preheat oven to 450 degrees. Grease a baking sheet with vegetable oil.
Remove florets from the cauliflower with a knife. Chop the cauliflower into smaller pieces to the size of the wings.
In a separate bowl, whisk the flour, milk, salt, ground black pepper and garlic powder in a bowl to make the batter. If the batter is too thick, thin it out with more milk. Pour breadcrumbs into a bowl and place it next to the batter bowl.
Toss the cauliflower in the batter mixture, using a spatula or spoon to coat them all. Transfer them to the breadcrumbs to coat completely, then place onto the baking sheet. Repeat until all of the wings are coated.
Bake for 22 minutes. While baking, prepare the ingredients for the sauce by whisking together.
Remove from oven. Toss the wings in the sauce then using tongs or a spoon, remove and place back on the baking sheet. Bake for another 5 minutes.
Remove from oven, top with scallions and serve immediately. Enjoy!