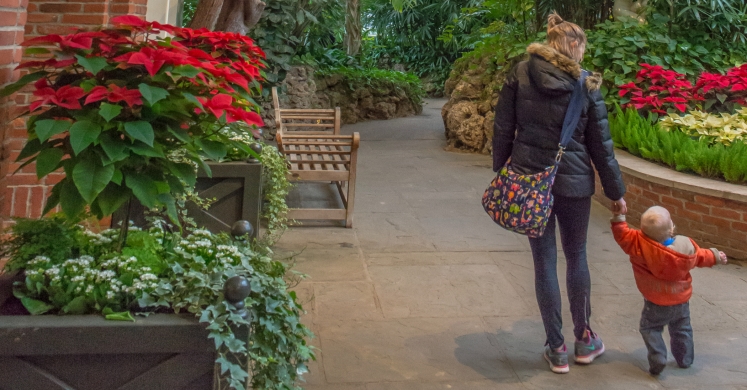 This Way, Please: Why We're Going Left
As visitors to this year's Fall Flower Show have discovered, instead of turning right at every intersection, we're currently guiding visitors to turn left, a policy that will continue through the Winter Flower Show and Light Garden. It's simple switch, but one which we expect will transform the way you experience our displays and make this year's show better than ever. Here are a few reasons why:
Going left will reduce crowd congestion. The holiday season is one of the most popular times of year at Phipps, which can sometimes lead to a very packed glasshouse. Upon analyzing visitor flow patterns from last year's show, we identified several "bottleneck" areas (particularly around our Fern and Orchid Rooms); the new flow is expected to reduce crowding in these key areas.
Going left will create a new story. Our dramatic Winter Light Garden, formerly one of the first stops in the show, will now occur near the end of the visit. This creates a new "story" for the show to tell, one in which the excitement and anticipation of our outdoor displays can build room by room throughout the show.
Going left allows for a bigger, better show. To make this year's show even bigger and better, we're extending the Winter Flower Show experience to two additional rooms: our Fruit and Spice Room – with considerably larger pathways than the Orchid and Fern Rooms – will serve as the gateway to Winter Light Garden, and on many nights, the large gathering areas in our Tropical Forest Conservatory will host the live music performances in our Candlelight Evenings series, which means there will be more room for everyone to enjoy the festive sounds of the season.
In our research, we also discovered that this isn't the first time Phipps has asked guests to turn left, as seen in this historic photo of our Palm Court:
So, as we look forward to seeing you at this year's Winter Flower Show and Light Garden, we hope you'll be as excited as we are to experience Phipps in a whole new direction!
Select photos © Paul g. Wiegman