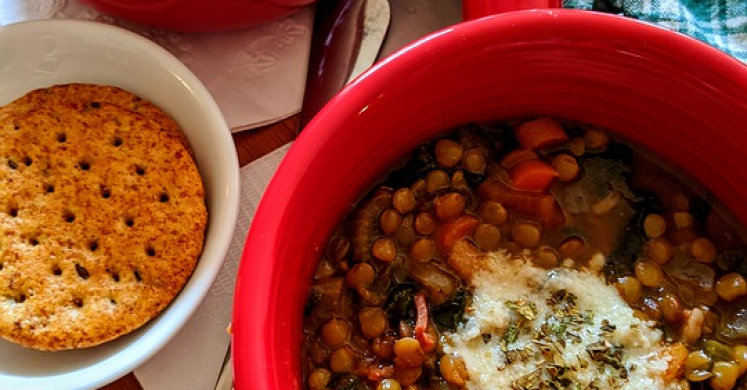 Veggie Lentil Soup (Diabetic Friendly)
Some may say it's pumpkin spice season – I say it's soup season. Whatever seasonal treats you like to enjoy, that enjoyment can be hindered if you're concerned that you have to limit your enjoyment of your favorite things due to a diabetes diagnosis.
This soup is full of fiber, micronutrients, and flavor, all while being diabetes friendly. If you use insulin, the nutrition facts as prepared are below. If you use carb choices, this soup counts as 2 carbs + 1 lean protein. So, bring on the blankets, sweaters, and steaming bowls of soup!
Italian Vegetable and Lentil Soup
Prep: 15 minutes Cook: 60 minutes Servings: 6
Ingredients:
2 Tbsp olive oil
3 medium carrots, diced
1 medium yellow onion, diced
4 cloves minced garlic
2 quarts low sodium vegetable broth
2 cans diced tomatoes, 14.5 oz each
1 ¼ cups dried brown lentils, rinsed
1 ½ tsp dried basil
½ tsp dried oregano
½ tsp dried thyme
Salt and freshly ground black pepper
1 medium zucchini, diced
2 cups chopped kale
1 Tbsp fresh lemon juice
Parmesan cheese, for serving (optional)
Directions:
Chop all vegetables and heat olive oil in a large soup pot over medium-high heat.
Add carrots and onions. Sauté for two minutes, then add garlic and sauté for two minutes longer.
Add in vegetable broth and tomatoes. Add in prepared lentils, basil, oregano, thyme, and season with salt and pepper to taste.
Bring to a boil, then reduce heat to medium-low. Cover and simmer for 35 minutes, stirring occasionally.
Add in zucchini and kale and simmer 10 minutes longer. Add kale in the last two minutes, then stir in lemon juice. Thin with a little water as desired.
If desired, sprinkle with parmesan cheese before serving. Enjoy!