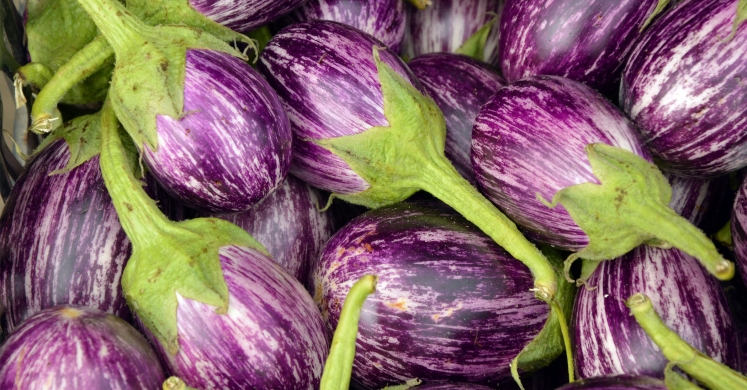 What We're Cooking With Now: Eggplant
Looking for adventure in the kitchen? Our monthly What We're Cooking with Now post features a fresh produce ingredient, explains how to find the market's finest, and includes a recipe to try at home.
Eggplant
Why: Eggplant, though considered a vegetable are actually a fruit. They are a nutrient dense food, high in antioxidants, fiber, manganese, folate, potassium, vitamin K, and vitamin C.
Shopping Tip: Eggplant harvest in late summer and early fall. They come in various shapes and sizes and a range of colors, from deep purple, to lavender, to jade green, orange, yellow-white, and purple-white striped. Eggplant regularly make the list of the clean 15 vegetables and fruits, which means they are less likely to be sprayed with a high amount of pesticides, which indicate it is not necessary to purchase the organic version. But to reduce the chance of exposure to pesticides, it is always best to buy organic. Look for eggplant with a solid shape and firm feel, with shiny skin, and without dents or bruises.
Preparation: Eggplant flesh is very porous and spongy which makes it ideal for absorbing sauces and flavor from marinates or sauteeing . It is not necessary to peel eggplant, the skin is edible and delicious, and contains many nutrients. Eggplant can hold for up to 2 weeks in a fridge and is very good grilled or sauteed. If eggplant is cut, and the flesh is exposed to oxygen, it will turn brown, but browning does not significantly alter the flavor or texture. Some people like to salt eggplant before cooking it. Letting it sit with the salt on it will pull out the moisture and some of the mild bitterness from inside. It is good to rinse the salt off before cooking, and then let dry before grilling or sauteeing. It is also not necessary to salt the eggplant first, it's just a matter of preference. Completely cooking eggplant results in a soft creamy texture while undercooking gives it a bland taste. Much of the flavor is released during the cooking process.
Recipe: Curried Eggplant with Spinach Roulade
Ingredients:

1 eggplant, sliced lengthwise, thinly
½ cup of golden raisins, unsweetened
½ cup of pine nuts
2 cups of organic spinach leaves
1 table spoon of curry powder
1 teaspoon turmeric
1/2 teaspoon black pepper
1 teaspoon salt
¼ cup of EVOO
1/4 cup of red wine vinegar
Directions:
Cut the eggplant thinly, lengthwise. Drizzle the thin pieces with half the EVOO and all the vinegar, season with salt and pepper and roast in an oven at 350 degrees for 5 minutes, or until soft. While the eggplant is roasting, saute the spinach in remaining EVOO and season with a pinch of salt and pepper. Let the spinach cool, and then wring out the moisture.Once the eggplant is cool, sprinkle the curry powder over the strips. Lay the spinach down the center of each strip, and sprinkle the golden raisins in the spinach. Roll the eggplant tightly starting at the thin end and rolling along the length of the strip, and transfer to a baking pan. Sprinkle the remaining curry powder over the top of the rolled, stuffed eggplant, then sprinkle the pine nuts over the top, so each eggplant roll looks like a tightly rolled pinwheel. Bake for an additional 5 minutes and serve warm as a delicious vegan side.