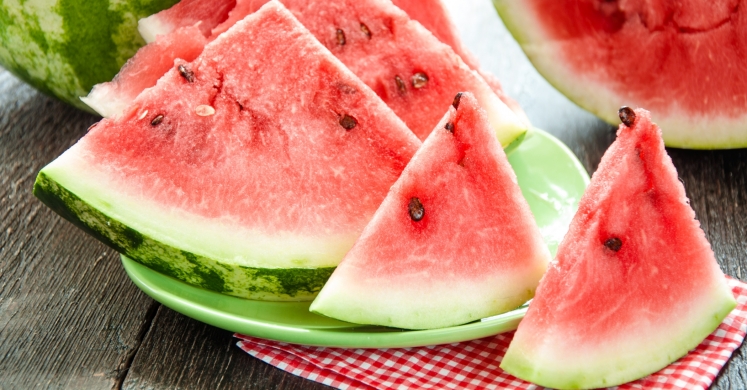 What We're Cooking With Now: Watermelons
Looking for adventure in the kitchen? Our monthly What We're Cooking with Now post features a fresh produce ingredient, explains how to find the market's finest, and includes a recipe to try at home.
Watermelons
Why: Watermelons are low in calories and are an excellent source of potassium and Vitamins A, C and B6.
Shopping Tip: Look for one that has bright skin, is firm and free of cuts, and is heavy for its size. The underside should have a yellow spot where it sat on the ground to ripen in the sun. The ultimate test of a good watermelon is to hold it two inches away from your ear and thump it — it should sound hollow.
Preparation: Watermelon is a refreshing summer treat just as it is, and it also makes a great salad, cold soup or juice. If you're feeling adventurous, you can also pickle and eat the rind.
Recipe: Watermelon and Feta Salad
Ingredients
5 cups cubed watermelon
4 oz. feta cheese
¼ cup fresh mint, chopped
2 Tbsp. champagne vinegar
2 Tbsp. olive oil
Salt and pepper to taste
Directions: Mix the watermelon, feta and mint in a bowl. Drizzle the vinegar and olive oil over everything. Stir, taste, and then add salt and pepper. It is best to let it set for at least 30 minutes before eating so that the flavors can blend.