Phipps Conservatory and Botanical Gardens is pleased to offer a six-week paid Learning for a Greener Future internship for highly motivated Pittsburgh-area high school students. As part of this program, participants with a strong interest in investigating the natural world gain knowledge in the areas of plant science, environmental education and communication, sustainability, vegetable gardening, and green careers.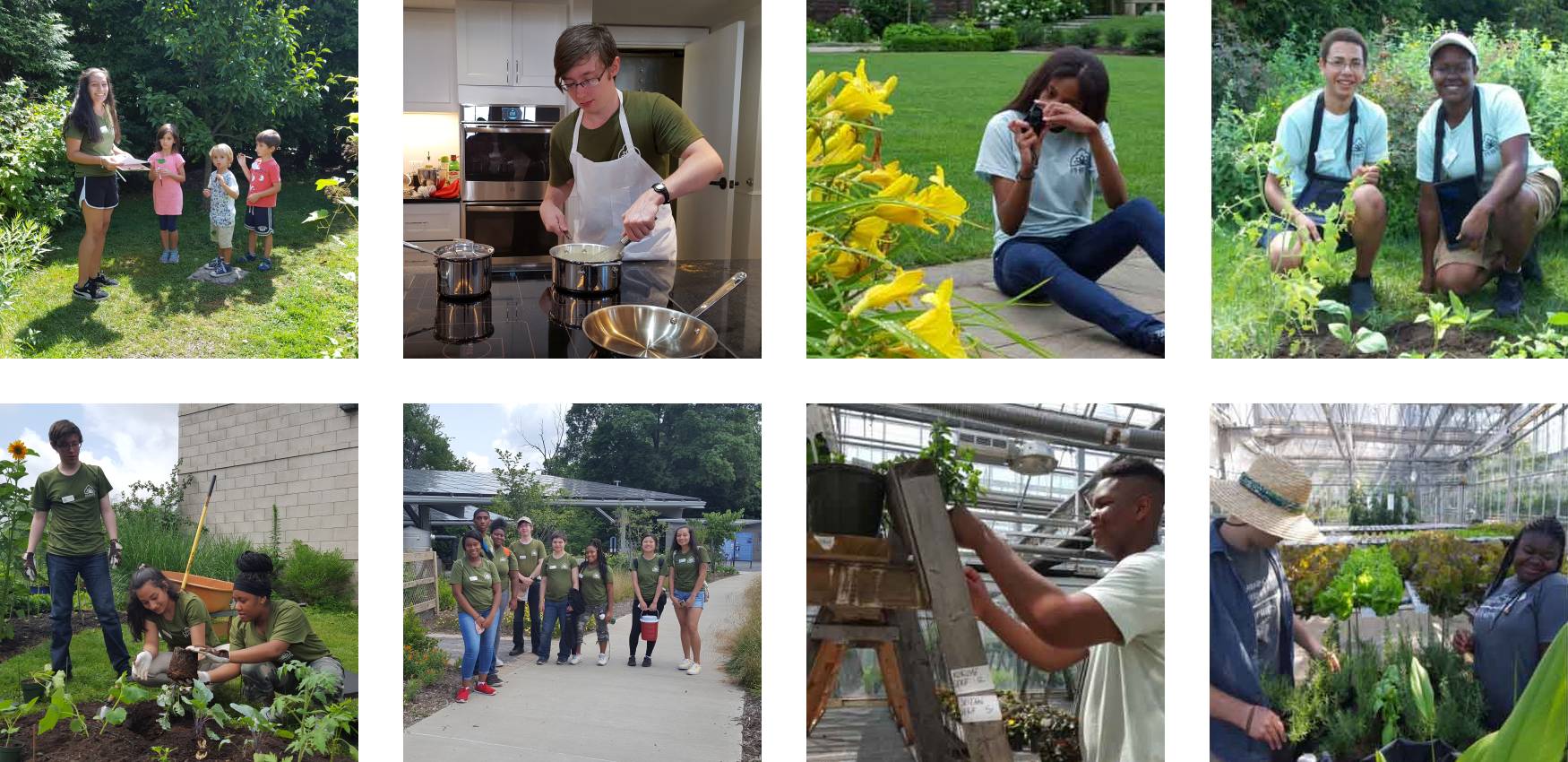 Learning for a Greener Future ǀ June 16 – July 28, 2022
The Learning for a Greener Future internship program offers a variety of work experiences, classes, community service projects and field trips in the diverse fields of environmental and plant sciences. Throughout the program, interns work with Phipps' skilled science education and horticulture staff, college interns and volunteers, as well as experts from Pittsburgh's environmental community.
While participating in this experience, interns have the opportunity to:
Investigate green careers in environmental science, horticulture, education, communication and related fields
Learn the science and art of plant care through working in the Conservatory's historic glasshouse and outdoor gardens
Share environmental knowledge with the general public by participating in Phipps' science education and outreach programs
Grow and learn to prepare seasonal vegetables in our Rooftop Edible Garden
Take weekly cooking classes by volunteers from Slow Food Pittsburgh
Learn nature photography and environmental photojournalism skills
Become informed about and involved in local and global environmental issues
Engage in sustainability-related advocacy through activities at Phipps and with local environmental groups
Build resumes for future education and career opportunities
---
How to Apply
All applicants must be at least 16 years of age by Thurs., June 16, currently in high school and qualify for free or reduced-cost lunch.
Applications will be accepted through Monday, April 18th. All interested students should submit the following to be considered for employment:
Brief essay (150-word minimum) describing your interest in the environment and nature and detailing why you are interested in becoming an intern at Phipps
Letter of reference from an adult non-relative who can speak about your motivation to work and learn
Please apply using the form below or submit your application materials via mail or email:
Jennifer Torrance, Science Education Coordinator
Research and Science Education Department
Phipps Conservatory and Botanical Gardens
One Schenley Park
Pittsburgh, PA 15213
jtorrance@phipps.conservatory.org
For more information, call 412/622-6915, ext. 3230 or email Jennifer Torrance today!
Download and print a flier to help spread the word.
This program is made possible by the generous support of the Grable Foundation and the Pennsylvania Education Improvement Tax Credit Program. Meals are provided to the high school interns through the Pennsylvania Department of Education's Summer Food Service Program. The program is a federally funded program administered by the PA Dept of Education. Phipps Conservatory and Botanical Gardens does not discriminate on basis of age, race, color, national or ethnic origin, sex or handicap in employment practices or in administration of any of its educational programs or activities in accordance with applicable federal statutes and regulations. EOE