The Artistry of Vincent van Gogh Comes to Life in Phipps Conservatory's Van Gogh in Bloom
For Immediate Release: Thurs., May 9
Contact: Julie LaBar | Director of Marketing and Communications
412/638-6008 ǀ jlabar@phipps.conservatory.org

The Artistry of Vincent Van Gogh Comes to Life in Phipps Conservatory's Van Gogh in Bloom
Immersive exhibition sets a new level in horticultural design, masterfully creating botanical renderings of the artist's iconic works in vibrant detail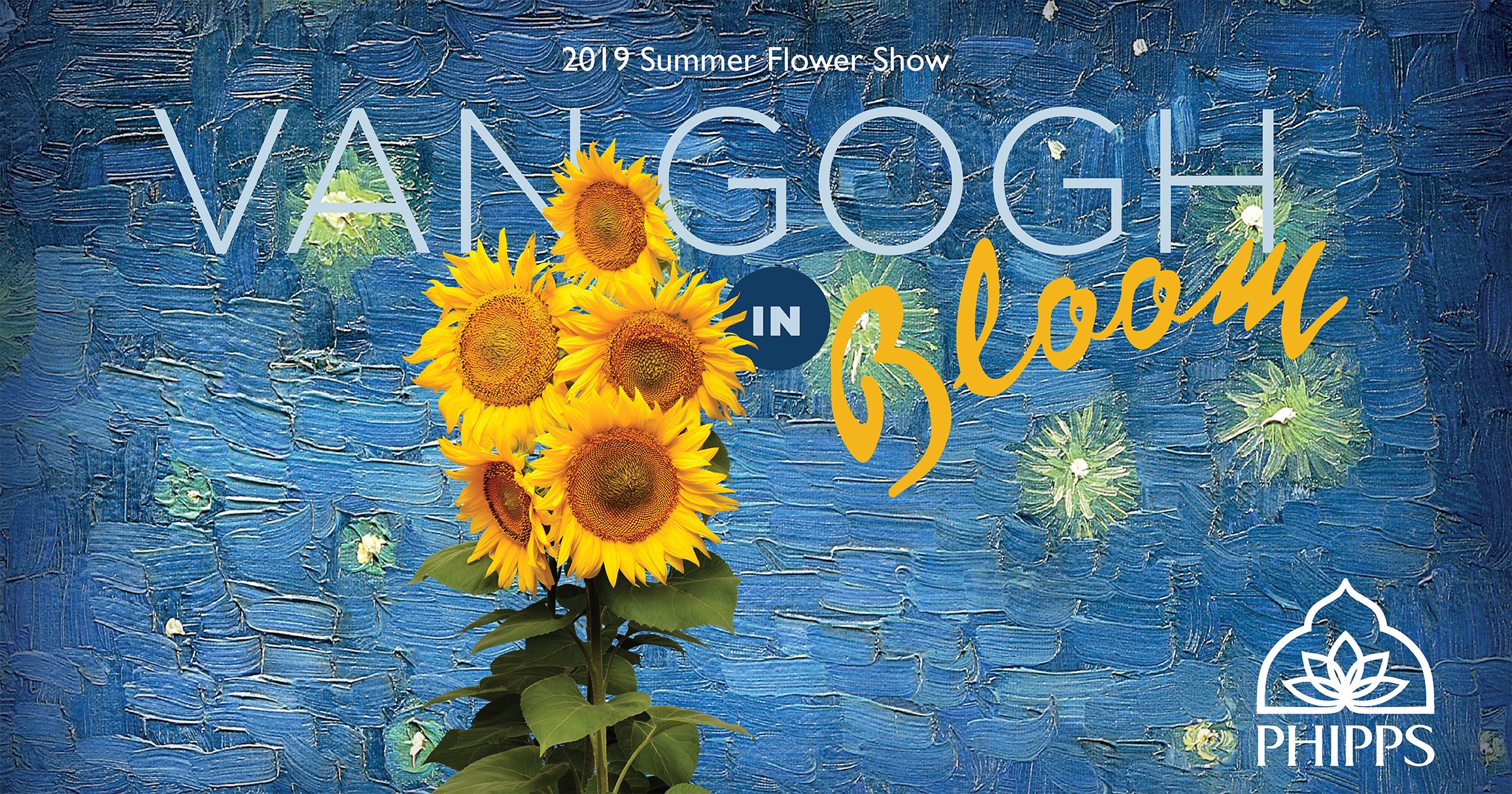 Pittsburgh, PA — Phipps Conservatory and Botanical Gardens announces Van Gogh in Bloom, opening Sat., May 11. Wander through dramatic recreations of Vincent van Gogh's legendary paintings brought to three-dimensional life through vibrant blooms, majestic trees and hand-crafted props in this breathtaking, immersive new show this summer at Phipps.
Inspired by painter Vincent van Gogh — whose landscapes and still-life paintings defined an artistic era and forged a new visual language to connect with the natural world – Van Gogh in Bloom presents captivating reimaginings of "Starry Night," "Sunflowers," "Wheat Field with Cypresses" and more in this spectacular combination of art and nature. Vivid botanical vignettes place visitors directly into each stunning scene as Van Gogh first captured it, surrounded by colorful blooms, trees, grasses and summertime splendor.
In Van Gogh in Bloom, guests will:
View Van Gogh's "Self-Portrait with Straw Hat" masterfully recreated with hundreds of flowers in a giant vertical mural.
Stroll through the lush and textured "Wheat Field with Cypresses" on a winding path that leads to the dark and dreamy "The Starry Night."
Visit the profoundly beautiful "Houses at Auvers" amid a landscape of oaks and cypress, vining mandevilla and blue and red summer blooms.
Stop into "The Night Cafe" through a vivid botanical rendering complete with planted pool tables, a rich carpet of yellow blooms and overhead plantings.
Be surrounded by "Olive Trees with Yellow Sky and Sun" complete with live trees, orange crossandra and New Guinea impatiens, blue browallia and a topiary sun.
Spark their imaginations with Van Gogh's "Sunflowers" series, creatively captured through a blend of bright yellow floral favorites.
Plus, enjoy the beautiful landscapes of Phipps, inspired by the vivid colors and blooms Van Gogh was fond of, along with more art-inspired surprises throughout the Conservatory.
Awe-inspiring by daylight, as well as on Friday nights when Phipps is open until 10 p.m. with custom architectural lighting that reveals a unique interplay of light and shadow, Van Gogh in Bloom is a masterful, moving exhibition all ages will enjoy. Plan multiple visits to enjoy this showcase of nature's greatest beauty seen through the eyes of one of the world's greatest artists.
Phipps' Butterfly Forest is also included with admission, an annual favorite which awes visitors with an up-close look of some of nature's most prized pollinators as they take flight alongside the blooming flowers that feed them, in addition to the Tropical Forest Cuba exhibit, acclaimed orchid collection and much more.
The public is invited to delve deeper into the Van Gogh in Bloom exhibit by exploring the Growing with Van Gogh education series. This special collection of courses provides new perspectives on Van Gogh and offers inspiring ways to bring the artist's iconic style into your home and garden.
Van Gogh in Bloom debuts Sat., May 11, open throughout the summer at Phipps. Hours are 9:30 a.m. – 5 p.m. daily and until 10 p.m. on Fridays. Admission is $17.95 for adults, $16.95 for seniors and students and $11.95 for children (2 – 18). Members and kids under 2 enter free. Don't miss this iconic, one-of-a-kind experience that only Phipps can provide.

For more information, visit phipps.conservatory.org/vangogh.
###
About Phipps: Founded in 1893, Phipps Conservatory and Botanical Gardens in Pittsburgh, PA is a globally recognized green leader with a mission to inspire and educate all with the beauty and importance of plants; to advance sustainability and promote human and environmental well-being through action and research; and to celebrate its historic glasshouse. Encompassing 15 acres including a historic 14-room glasshouse, 23 distinct indoor and outdoor gardens and industry-leading sustainable architecture and operations, Phipps attracts nearly half a million visitors annually from around the world. Learn more at phipps.conservatory.org.
Photo © Paul g. Wiegman